How to Build a Grapevine Arbor
Add a pretty architectural element to your garden with a DIY arbor that doubles as a trellis for climbing vines.
We're sorry, there seems to be an issue playing this video. Please refresh the page or try again in a moment. If you continue to have issues, please contact us here.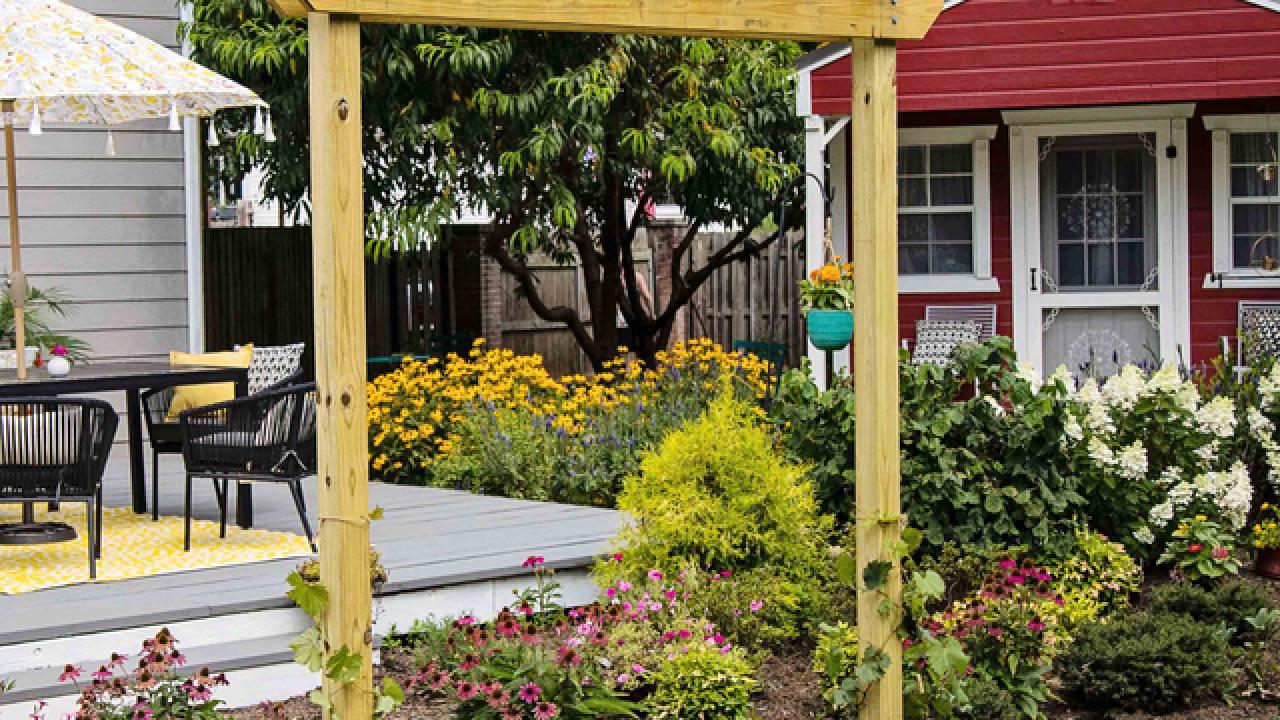 post hole digger
wheelbarrow
(2) 4x4 x 10' exterior treated posts
bag of gravel
cross check level
shovel
miter saw
(2) 2x6 x 8' exterior treated boards
(2) 2x4 x 8' exterior treated boards
(8) 3"x3/8" lag bolts
(8) 3/8" washers
3/8" socket bit
drill
(3) 3" exterior wood screws
2 grapevine plants
Use a posthole digger to create holes two-feet-deep for beams (Image 1), spaced seven feet apart. Place dirt straight into the wheelbarrow and keep it close so you can use it for backfill (Image 2).
Place one 4x4 post beam into the first hole and add some gravel. Use a cross-check level to ensure the beam is plum (Image 1). Fill in the hole with dirt from the wheelbarrow (Image 2). Repeat the same process on the second hole (Image 3). Add temporary braces to posts to keep everything in place for the next steps (Images 4 & 5).
Use a tape measurer and pencil to measure and mark 1-1/2 inches down from the top of both 2x6 boards, on all four ends (Image 1). Place a miter saw at the mark, then cut a 45-degree angle under the 1-1/2-inch mark (Image 2). Repeat on all ends. Cut 2x4 boards into 26-inch rafter pieces. Then, cut the ends of those pieces at a 45-degree angle, 1-1/2 inches down from the top to match the 2x6 boards (Image 3). Each board will have a 1-1/2-inch flat end above an angled cut (Image 4).
Pre-drill holes on the 2x6 boards where they will be attached, then use lag bolts with washers to secure them to the beam posts (Images 1 & 2). Use two bolts on one end of the board and two on the other. Repeat on the backside of posts with the second board. Rest the 2x4 rafters across the tops of the 2x6 beams, ten inches apart. Secure with three-inch exterior screws drilled in at an angle (Images 3 & 4). Remove temporary braces from bottoms of the beam posts. For visual instruction on this step, watch the video at the top of this article.
Dig a wide hole for the grapevine plants close to each post. Break up the roots before placing vine into the ground (Image 1). Fill with soil amender. Water heavily once planted as grapevines require a lot of water to establish (Image 2). Use garden twine to twist vines up and around posts and train the vines as they grow (Image 3).
Enjoy the "Fruits" of Your Labor