How to Remove Paint From Wood
These tricks and techniques will make it easier to get the paint off without damaging the wood surface.
There are a number of reasons why you might need to remove paint from a wood surface. Perhaps you're refinishing a piece of painted furniture or planning to repaint your home's exterior. Maybe you were painting the walls and splattered the hardwood floors in the process. When it comes to removing paint, it's important to consider which tools and materials are best for the job, and weigh the options to determine which would make the process safe for the wood and easy for you. Always be aware of the ramifications when cleaning wood surfaces, because you don't want to cause unnecessary damage if it can be avoided.
Though products run the gamut from "natural and safe" with low VOCs to the alternative (seriously chemical-laden strippers), paint stripper liquids and gels, in general, are an effective way to lift thick layers of paint off wooden surfaces. We've used it for removing decades of paint layers off wooden siding, and for assisting in removing paint layers that are already flaking and bubbling.
Start by lightly sanding the surface of the paint to agitate any topcoat. This will simply make it easier for the paint stripper to activate and saturate. Once sanded and dusted, use a paintbrush to apply a thick coat of the stripper to activate the removal process.
In front of your very eyes, you'll see the paint layers begin to bubble, and though you'll immediately be tempted to scrape at it, give it a little time (about 20 minutes).
Once the paint stripper has soaked in, you can use a metal or plastic scraper to push away the paint layers.
If the paint stripper only tackled some of the layers of paint, wipe the surface with a rag, and re-apply the stripper. Scrape it until the wood is nearly clean. (It's likely that some paint will remain in the grain of the wood.)
When the surface dries, use a palm sander or sandpaper to remove the rest of the paint from the wood surface.
Using Steam Strippers and Heat Guns
Water vapor strippers and heat guns are both effective ways of softening paint on wood surfaces without the use of chemicals.
When using either tool, the goal is to find the perfect cadence for heating the paint until it starts to bubble. You'll want to immediately scrape the surface to lift the layers of paint with a metal scraper as it bubbles, but without damaging the underlying wood. The downfalls of these products are that steam strippers can saturate underlying wood with moisture, which can be damaging, while heat guns can burn the wood.
Use caution to remove the topmost layers of the paint, and then, like with paint stripper, turn to sandpaper or a palm sander to lightly finish removing paint from the wood surface.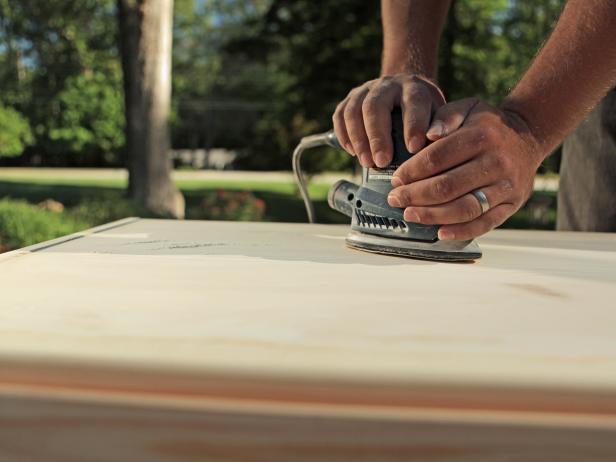 Sanding a Wooden Dresser
When choosing chests of drawers to give a chevron makeover, stick with styles that have smooth, flat drawer fronts. Using an electric sander, sanding pads and an extension cord, remove existing finishes from stained or painted wood. In order to ensure the best finish, add two coats of either primer or a base color to the chest of drawers using a paint roller. Then sketch your design with a carpenter's pencil. Outline your design with painter's tape, and then apply colorful paint. Repeat until all chevrons have been painted. Seal drawer fronts with a coat of sealant.
Let's say you just splattered some paint on the ground while you were cleaning. It's not likely you're going to need aggressive paint strippers or machinery – after all, you don't want to damage your floors. Instead, try a few gentle alternatives:
If the paint spots are small and dry, use the edge of a credit card to try to slide them loose.
Try dish soap and warm water on a cloth, or dab nail polish remover onto a tissue, and rub gently at the paint to loosen it. This will help whether the spot is wet or dry.
If the surface is especially delicate, try olive oil. Applied with a rag and massaged in circular motions, it can help to loosen paint on delicate wood surfaces, like your butcher block counters.
For Stubborn Paint Removal
If you're struggling to remove the paint layers, consider other effective removal products, such as mineral spirits, steel wool or a scouring pad, but always use the best judgment so as not to oversaturate or scratch the grain of the underlying wood. Pressure washers will effectively power away tough paint, but used incorrectly, they can cause permanent damage to the wood.