Fence Revival: A Guide to Painting and Staining
Is your fence in need of a makeover? Follow these quick painting and staining tips to turn your tired, old fence into backyard statement piece.
Your fence is an important part of your home. It provides security, privacy, and—with proper care—a great deal of curb appeal. Once you have invested in a fence, routine maintenance can keep it strong and looking good for years. By maintaining the finish, you will be preventing damage from rot and insects and helping to slow decomposition.
How Often to Paint Your Fence: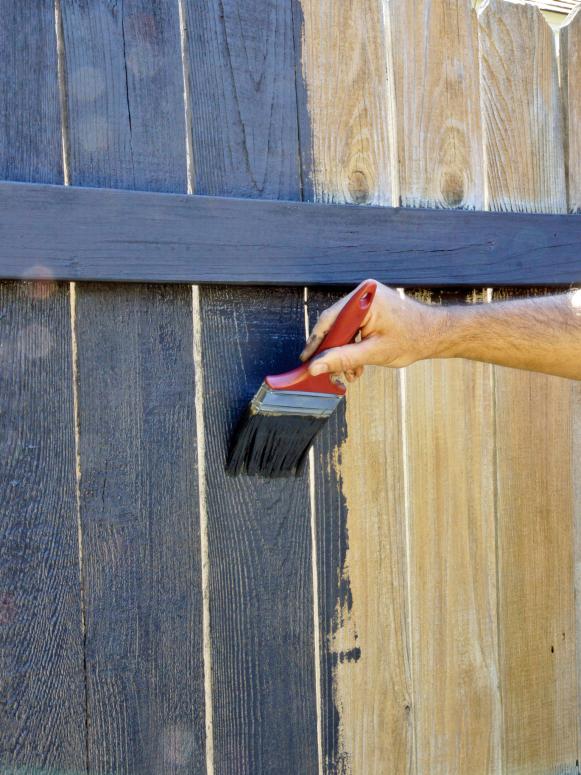 How to Paint a Fence
Paint the vertical pickets, working from the top of the fence to the bottom. If using a roller, back-brush every couple of feet to ensure even coverage and avoid lap marks. If you are using a paint sprayer, work in the same method, but stop every few feet and use a wide brush to back-brush. This will prevent lap marks and better help absorb the coating into the surface. Continue in this manner until the entire surface is covered. Allow to dry completely, then add another coat, if necessary. Once you're finished, remove any masking tape and the drop cloth.
Where fences are concerned, moisture is the enemy. Proper staining or painting creates a barrier that prevents moisture from doing damage to the wood. How often to paint or stain your fence is largely determined by the weather in your region. In particularly rainy regions you may need to do it more frequently, while arid regions may require less frequent maintenance. Many experts recommend every 2-3 years, but a better way to determine your need is to check for beading. On a stained and sealed fence, if water no longer beads up on the surface, but instead soaks in, it may be time for maintenance. Check painted surfaces for cracks, chips and wear.
Types of Paint/Stain to Use:
There is some debate on whether to paint or stain a fence. Either choice will provide protection from the elements, insects and normal wear to extend the life of your fence. While this is a personal choice, there are some things to consider:
Painting a fence can be less expensive, but may require more frequent maintenance depending on your region and the quality of paint used. Painting will also require some additional preparation before re-painting.
Staining can be more expensive initially. The stain may cost less per gallon than paint, but you may need more of it to complete the job. On the other hand, a stain like Thompson's WaterSeal absorbs into the wood better than paint. Instead of chipping and peeling like paint, the color will just fade away over time.

If you are concerned about color, stain now comes in a variety of color and opacity options.
Plan for any help in advance—working with a friend or neighbor will make the process faster and more manageable.
Research your paint or stain choice—ensure it is high-quality for a long-lasting finish and consider how the paint or stain color will look as the fence weathers.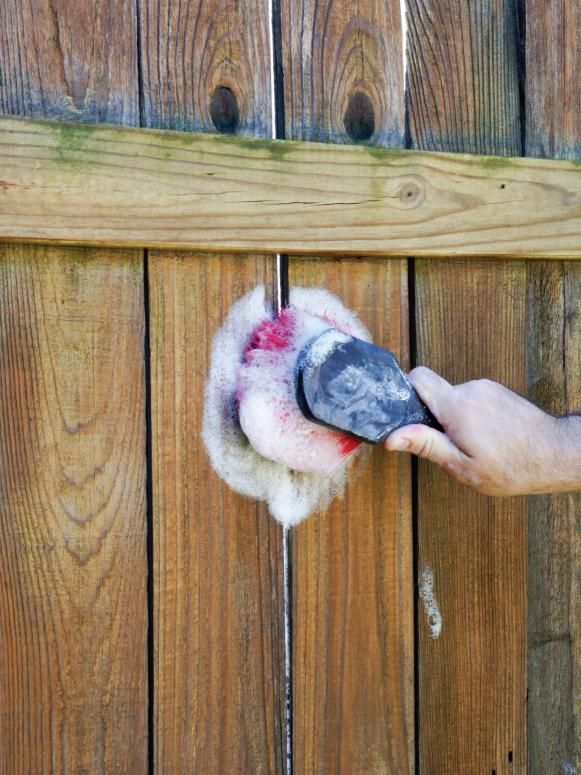 Clean the Fence
Clean the fence surface by applying a cleaner — a small solution of soapy bleach water may be all you need, but seek out a fence/deck cleaner for tough stains. Scrub with a stiff bristle brush to remove dirt, debris, and mildew. Rinse thoroughly with a high pressure nozzle attached to a hose or a pressure washer. Allow the fence surface to dry. Once dry, it's the perfect time to repair any damaged, cracked or warped boards. Sand away any small imperfections and replace boards with major flaws.
Budget your job and determine your needs for tools and materials.
Make necessary repairs and prepare the work area for painting/staining.
Check the weather forecast for optimal time period to complete the project. It is best to work on your fence when temperatures are between 40 and 90 degrees Fahrenheit and humidity is low to moderate. Do not paint when precipitation is in the immediate forecast or expected within the time necessary for drying. Avoid painting your fence on windy days to prevent paint drifting into unwanted areas.
Plan to complete the job within a specified time frame, including drying times.
In addition to maintaining the seal on your wood fence, be sure to keep moisture away from the surface by having the wood slightly above grass level, keeping grass trimmed and bushes and ivy out of direct contact.
Always use gloves and a face mask when sanding and working with toxic chemicals.
Ready to breathe new life into your old fence? Browse the gallery below for easy, step-by-step instructions.
We're sorry, there seems to be an issue playing this video. Please refresh the page or try again in a moment. If you continue to have issues, please contact us here.