Houseplants That Make Your Home Feel Like a Tropical Paradise
Tropical houseplants and select design details can bring the island vacation vibe into your home.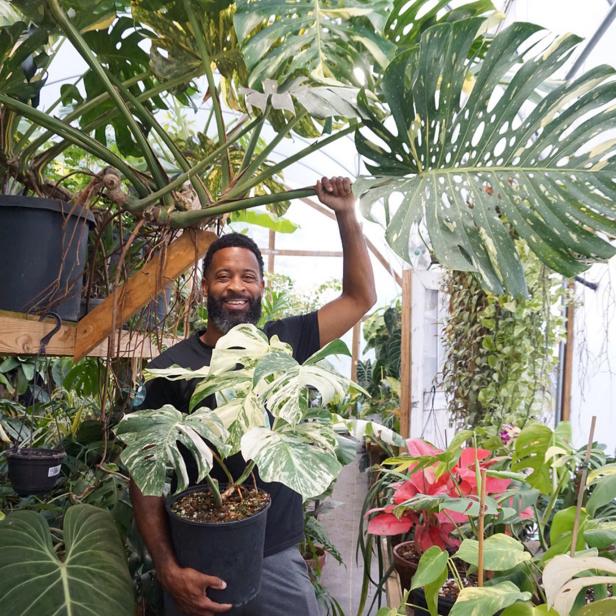 Calvin Owen, Owner of Tennessee Tropicals, Shows Monstera, One of His Most Popular Houseplants
With island vacations on hold for many of us, we can try for the next best thing: tweak your decor to bring the feeling of a tropical paradise into your home. Bring in the soft colors of sand, sky and water, and add lush greenery to complete the vibe of a relaxed island vacation.
Tropical houseplants are having a moment right now, says Calvin Owen, Jr., owner of Tennessee Tropicals in Springfield, Tennessee. Plants with large leaves, bold foliage, unusual shapes and sensuous textures are collectible commodities to show off in striking Instagram photos. Young adults working from home are especially interested in tropicals these days, Owen says. "People who live in apartments, don't have a yard to work in – they want to bring the garden inside." And design influencers like the Jungalow's Justina Blakeney, with her tropical vibe, have also shaped this trend.
Devonyeae Calbert
A most unusual philodendron, 'Pink Princess' provides a stunning display of green and pink variegated foliage that mirrors the colors of a tropical island.
Tropical Houseplant Stars
The group of plants called aroids — plants that bear tiny flowers within a leaflike bract called a spathe — are trending right now, Owen says. Favored species in that group include anthuriums, large monsteras and a range of curiously shaped and lobed philodendrons.
Variegation is also a sought-after look. "Variegated monstera is the number one tropical plant here. And any of the plants with trailing, hanging foliage," says Owen.
Devonyeae Calbert
With its large, striking, variegated leaves, Monstera deliciosa 'Borsigiana albo variegata' is the most sought after plant in today's market, growers say.
Calvin Owen's Top Tropicals
A favorite with interior designers to use as a houseplant or a cut stem, monstera is sometimes called Swiss cheese plant because of the holes in its broad leaves.
Devonyeae Calbert
With its large, bright yellow and green arrow-shaped leaves, variegated Philodendron 'Billietiae' is a striking accent plant that gives a room a tropical vibe.
Different species of philodendron hail from Central and South America — specifically, P. gloriosum, with velvety heart-shaped leaves and pale white veins; and P. pastazanum, with large, textured heart-shaped leaves. There is also a variegated version.
Devonyeae Calbert
Trending tropical houseplants such as Anthuriums and Alocasias are popular because of their large, textured dark green leaves and prominent white veins.
Also known as elephant ears, there are several types of upright varieties. Jewel alocacia is typically a smaller variety. "The small ones are collectible right now," Owen says.
Anthuriums are known for their colorful spathes, but now fancier foliage varieties are in demand. 'Queen' anthuriums have long, deep-dark green, heart-shaped leaves with striking white veins; 'Silver Dragon' foliage has contrasting shades of light and dark green.
If you're turning your place into a tropical paradise, the plants will stand out against a beachy backdrop. "Look at color palettes that invite that feeling — sand, water, sky," says interior designer Heather Kellow, chair of ASID-Tennessee's Nashville chapter and owner of Four Spaces Design Studio in Brentwood, Tennessee.
"Think about the lighting, too. Not only the fixtures, but the warmth or the coolness of the actual lighting itself," Kellow suggests. "That can bring the feeling of the sun, or provide that tropical warmth."
Add other elements that invoke a paradise vibe. "It doesn't have to be literal, or to look like you're in a Polynesian hotel," she says. "You don't need tiki torches!" But small touches — tropical-themed textiles, brightly colored accent pieces, teak or bamboo accessories can add just enough to tie it all together.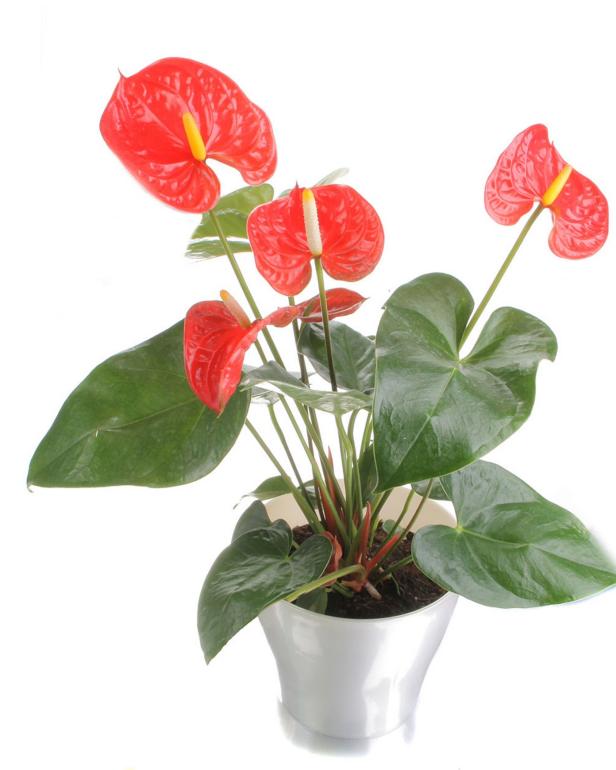 Anthurium
"Flowering houseplants like anthurium help decrease our stress levels, which is becoming increasingly valuable as our lives get crazier," says Justin Hancock, digital specialist at Costa Farms. "While we've always felt this was true, we were excited to see the Journal of Environmental Psychology prove it."
All images courtesy of Costa Farms
Keep Tropical Houseplants Healthy
As decorative as they may be, remember that houseplants are living things that need specific care — although many tropicals are safe even in the hands of beginners. Owen offers these tips for keeping plants healthy:
Water. The plant's need for watering depends on the weather, the time of year and the length of days. "It might need to be watered every two weeks, or once a week. Typically, just let the top two of inches of soil get dry, then soak the plant," Owen suggests. "That will save you from overwatering or underwatering."
Humidity. Tropical plants do best when the humidity level is 50 – 60 percent or higher. You may need to rely on humidifiers to create the environment they need.
Light. Bright indirect light is best. "Plants that would like to be in more sun do not do well unless you have supplemental lighting, or can place them in a south or west-facing window."
Pots and potting mix. "I recommend plain terra cotta, unglazed pots, which allow aeration," Owen says. "And I recommend a fairly chunky potting mix that includes orchid bark, medium to large perlite, and horticultural charcoal." New plants shouldn't be disturbed by repotting right away. And when they do need to be repotted, don't wait until fall. "Typically, I tell people that if you haven't repotted by September, don't do it."
Devonyeae Calbert
Tropical houseplants, such as Anthurium 'Ace of Spades,' with their large, dark green, textured leaves, can lend a tropical vibe to your room's decor.
If possible, find a place to let tropical houseplants spend summer outdoors, where they benefit from the heat, humidity and light. Find a shady space out of direct sun. Take them out when nighttime temperatures are at 50 or above; bring them back inside before night temperatures drop into the 40s.
Pick lifestyle sensation Justina Blakeney's brain and find out how to bring her Jungalow style to your home.