What's the Difference Between an Annual and a Perennial?
Should you pick annuals or perennials when planting your garden? Here's a rundown on the differences between these two types of plants and the pros and cons of each.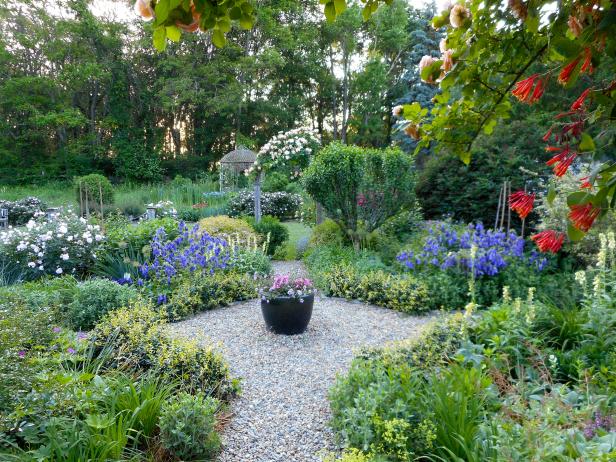 A Cottage Garden's Soft Planting Palette
Flowering shrubs like roses combined with annuals and perennials ensure this garden is in bloom from March until late fall.
Andrew Grossman
Flowering shrubs like roses combined with annuals and perennials ensure this garden is in bloom from March until late fall.
You see the words annual and perennial on plant tags and in garden books. What do these terms mean? And why is understanding the difference useful?
Simply put, annual plants die in the winter season so you must replant them every year, while perennials come back every year so you only plant them once.
Here's a rundown of annual versus perennial.
An annual plant completes its life cycle in one year. That means it germinates from a seed, sends out roots, shoots and flowers, and ultimately sets seed. The goal of every annual is to set seed and ensure the survival of the species. Once seed matures, the life cycle is complete, and the annual plant dies. Other annuals have their lives cut short before they can set seed because frost arrives.
Many annuals are tropical plants, native to south-of-the-border locales where frost doesn't darken the garden gate. These plants may perform as perennials in warmer regions, but in areas with frost, they behave like annuals. Lantana and geranium, for instance, are annuals in northern areas, but behave like perennials in South Florida, Texas or California, surviving over winter or sending up new growth from the roots each spring. Plants like impatiens and wishbone flower are true annuals in North America and need equatorial conditions to survive year-round.
Our Favorites
Annuals are known for their bright, showy color that lasts for a season to a year. Discover outstanding annuals for strong seasonal color, including tips on when and how to plant.
Annual plants that bloom usually boast incredible flower power, tossing open blossoms one after the other all season long. They introduce instant color to a container or planting bed. A more recent trend in annual breeding is developing plants with eye-catching leaves. Plants like coleus, polka-dot plant and plectranthus bring beautiful hues to the garden courtesy of foliage. These leafy annuals showcase steady color all season long. There's no downtime waiting for flower buds to form. Leaves continue to unfurl and create a beautiful display.
You can find annuals that perform in every growing condition, including full sun, shady porches and wet spots by the downspout. Some annuals thrive in hot, dry conditions, while others strut their stuff best in cooler air and moist soil. One annual plant might tend to trail along the ground, which means it looks fantastic in a hanging basket, while another may grow more upright, making it a suitable choice for a container or focal point in a planting bed.
Because annuals are ephemeral creatures, you can use them to experiment with color combinations in the garden or containers. They also make terrific additions to young perennial beds, quickly filling in empty spaces with stand-out color. Annuals in containers dress outdoor living areas with welcoming greenery and carefree color.
More Options
Brighten dark corners with the flower power of made-for-the-shade annuals.
Get the most out of your annual investment by giving plants well-drained soil that's rich in organic matter. For most annual flowers and plants, this type of soil gives plants a happy footing. Don't hesitate to remove spent blooms from flowering annuals. On foliage annual plants like coleus, remove flower buds as soon as you spot them to ensure a strong and steady leaf display.
Some annuals are "self-seeding," meaning you may wind up with new flowers the following year without having to plant them yourself, though they won't be exactly where you planted them this year. Since annuals live for just one season, they aren't assigned climate zones like perennials are.
Perennials, on the other hand, live for three or more growing seasons. They are less work than annuals because they grow back each year from roots that go dormant in the winter. They will be around from year to year, so they put their energy into growing strong roots instead of growing lots of flowers like annuals do.
Perennials can be planted from bulbs or seeds. Often bulbs must be planted in the fall to produce spring-blooming plants. Perennials generally have shorter blooming periods than annuals, so gardeners often pair them with annuals or perennials that bloom at various times of the year to maintain constant color.
Our Favorites
Discover easy-care perennials that don't need frequent division to look their best.
Most perennials are non-woody plants, meaning they don't have woody stems like a shrub or rose. Some perennials, however, can develop woody stems over the course of a growing season. Russian sage plants and most types of lavender develop woody stems during a growing season. In cold regions with freezing winters, these stems die back over winter. In spring, these perennials must be pruned to a shorter height of 6 to 12 inches. After mild winters, buds on the woody stem remains sprout; after hard winters, new growth emerges from the plant's roots.
Many garden catalogs and books tout perennials as forever plants. By comparing annuals and perennials, they show that annuals must be planted every year, while perennials come back new each spring. The reality is that most perennials live an average of seven years. Some perennials, like stokes aster and blackberry lily, are short-lived, lasting only a few years. Others like peony and hosta plants, can survive many years in the garden.
More Options
Pump up the color in your garden's sunny spots with perennials that love rays.
Unlike annuals, which flower non-stop until frost, many perennials have a specific bloom time. Flowers appear during this window and then stop. The rest of the growing season, a perennial's leaves create food that's shuttled to plant roots where it's stored as reserves to fuel next year's growth cycle. When designing a garden with perennial plants, part of the fun is mixing and matching plants that flower at different times to create a steady supply of blooms.
The best way to know what perennials will do well in your yard is to take a look around your neighborhood. If it grows well at your neighbor's house, given the same conditions — sun, soil and water — it should grow well at your house.
Though many popular garden plants can be classified as either annuals or perennials, there is actually a third category to consider: biennials. Biennial plants grow for two seasons but won't bloom until the second year.

Biennials can be tricky to get started because they need care over the winter between their first and second growing season. But once they've lived out their second season, biennials will drop seeds and in two years, you'll have blooms from the new generation. Gardeners often stagger plantings in order to have blooms every year. Poppies, sweet William and foxgloves are popular kinds of biennials.
Planting a variety of perennials that bloom at different times can create the backbone of your garden and will save you work down the road, while annuals can be a great way to experiment, maintain constant color and refresh your garden year after year. And while biennials may take a little extra work, many gardeners find them extremely satisfying to grow. No need to make a hard decision: Mix it up!