What's the Difference Between an Annual and a Perennial?
Should you pick annuals or perennials when planting your garden? Here's a rundown on the differences between these two types of plants and the pros and cons of each.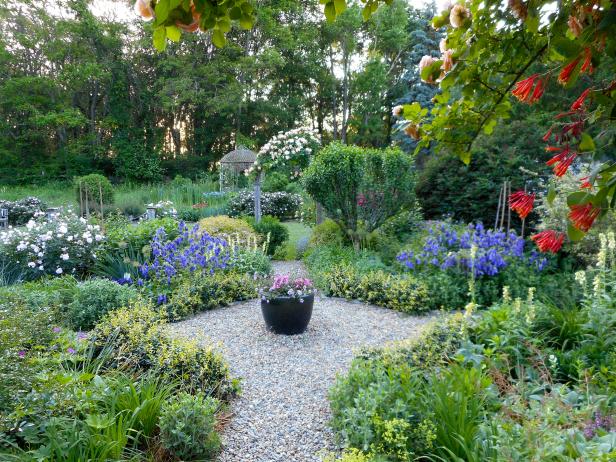 A Cottage Garden's Soft Planting Palette
Flowering shrubs like roses combined with annuals and perennials ensure this garden is in bloom from March until late fall.
Andrew Grossman
Flowering shrubs like roses combined with annuals and perennials ensure this garden is in bloom from March until late fall.
You see the words annual and perennial on plant tags and in garden books. What do these terms mean? And why is understanding the difference useful?
Simply put, annual plants die in the winter season so you must replant them every year, while perennials come back every year so you only plant them once.
Here's a rundown of annual versus perennial.
An annual is a plant that lives for just one season. Whether you plant from seed or purchase seedlings to plant, an annual will sprout, flower, seed and then die — all in the same year.
Annual Flowers for Your Garden
Discover outstanding annuals for strong seasonal color, including tips on how to plant.
Brighten dark corners with the flower power of made-for-the-shade annuals.
Annuals tend to bloom all season long and are often bright and showy. Though you will have to replant next year (or choose another plant to put in your annual's place), annual plants tend to cost less than perennials and are less of a commitment.
Some annuals are "self-seeding," meaning you may wind up with new flowers the following year without having to plant them yourself, though they won't be exactly where you planted them this year. Since annuals live for just one season, they aren't assigned climate zones like perennials are.
Perennials, on the other hand, live for three or more growing seasons. They are less work than annuals because they grow back each year from roots that go dormant in the winter. They will be around from year to year, so they put their energy into growing strong roots instead of growing lots of flowers like annuals do.
Perennials can be planted from bulbs or seeds. Often bulbs must be planted in the fall to produce spring-blooming plants. Perennials generally have shorter blooming periods than annuals, so gardeners often pair them with annuals or perennials that bloom at various times of the year to maintain constant color.
Our Favorite Perennial Flowers
Discover easy-care perennials that don't need frequent division to look their best.
Pump up the color in your garden's sunny spots with perennials that love rays.
The best way to know what perennials will do well in your yard is to take a look around your neighborhood. If it grows well at your neighbor's house, given the same conditions — sun, soil and water — it should grow well at your house.
Though many popular garden plants can be classified as either annuals or perennials, there is actually a third category to consider: biennials. Biennial plants grow for two seasons but won't bloom until the second year.

Biennials can be tricky to get started because they need care over the winter between their first and second growing season. But once they've lived out their second season, biennials will drop seeds and in two years, you'll have blooms from the new generation. Gardeners often stagger plantings in order to have blooms every year. Poppies, sweet William and foxgloves are popular kinds of biennials.
Planting a variety of perennials that bloom at different times can create the backbone of your garden and will save you work down the road, while annuals can be a great way to experiment, maintain constant color and refresh your garden year after year. And while biennials may take a little extra work, many gardeners find them extremely satisfying to grow. No need to make a hard decision: Mix it up!
We're sorry, there seems to be an issue playing this video. Please refresh the page or try again in a moment. If you continue to have issues, please contact us here.