How to Grow Portulaca (Moss Rose)
Got sun? Plant portulaca, also known as moss rose, for easy-care color from summer to fall.
Keep in mind: Price and stock could change after publish date, and we may make money from these affiliate links.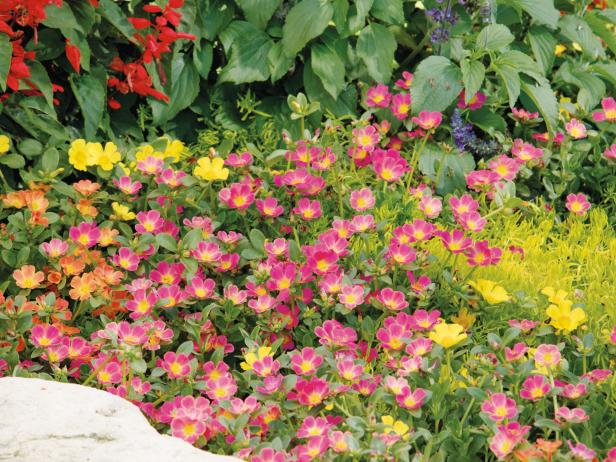 Mojave Portulaca
Also known as moss rose, portulaca is beloved for its ability to grow in the meanest, driest, sunniest and hottest spots. Mojave portulaca, shown here, is an annual that creates a carpet of bright blooms.
provenwinners.com
Also known as moss rose, portulaca is beloved for its ability to grow in the meanest, driest, sunniest and hottest spots. Mojave portulaca, shown here, is an annual that creates a carpet of bright blooms.
The portulaca plant (Portulaca grandiflora), sometimes called moss rose or sun rose for its saucer-shaped flowers, is a fast-growing annual in the Portulacaceae family. From summer to fall, it opens single, double or semi-double blooms in red, yellow, rose, white, orange, salmon or bicolors. Thanks to its succulent-like leaves, which resemble thick pine needles, moss roses can tolerate heat, sun and periods of drought. Use this South American native as a spreading groundcover or let its stems cascade from hanging baskets and other containers; varieties range from 3 to 12 inches tall and 6 to 24 inches wide. Portulacas are ideal for gardeners who love low-maintenance plants.
About Portulaca (Moss Rose)
Botanical name: Portulaca grandiflora
Common Name: Moss rose, sun rose
Plant Type: Annual
Blooms: Red, yellow, rose, white, orange, salmon or bicolors from summer to fall.
Special Features: Succulent-like leaves
Size: Grows 3 to 12 inches tall and 6 to 24 inches wide
Sun: Full sun
Water: Dry to medium, can tolerate drought
Hardiness: Zones 2-11
Uses: Groundcover or in hanging baskets
Maintenance: Low
For a jump on the growing season, start portulaca seeds indoors six to eight weeks before the last spring frost. Sow them 1/8-inch deep in seed starting mix. Keep them moist and in a spot that stays around 70 to 75 degrees F. After the seedlings pop up in 10 to 14 days, move them to a sunny window or put them a few inches underneath fluorescent plant lights for 16 hours a day. (Don't run the lights constantly.) If you're using a seed starting kit, watch for two sets of leaves to appear and then thin portulaca seedlings to one per cell. When the plants get taller, raise the lights as needed.

When the seedlings are about a month old, feed them a liquid houseplant fertilizer at half-strength, following the manufacturer's instructions. Harden them off (move them to a sheltered location outdoors for about a week) before you plant them in the garden or outdoor containers.
You can also sow portulaca seeds directly in the ground after the last spring frost. Sow them 1/8-inch deep, gently firm them down and moisten the soil. Like indoor seeds, they should sprout in 10-14 days.
Give portulaca full sun. The plants are very tolerant of high heat. Some close their flowers during the brightest part of the day, but newer varieties stay open longer.
ProvenWinners.com
Portulacas have shallow roots, which makes them a perfect fit for wide, shallow containers. This combination includes flowering 'Mojave' Yellow and 'Mojave Red' portulacas and 'Lemon Coral' sedum.
Portulaca plants are happy in average or sandy soil that drains easily. Before you plant, you may want to test your soil to see if it needs amendments. Otherwise, work in some compost or top-dress with a few inches of organic mulch.
Don't water too heavily or too often. Portulaca plants have shallow roots and grow well with only light watering.
Fertilize lightly when portulacas show new growth. Slow-release fertilizers work well. Keep granular fertilizers away from the crowns as they can burn plants. Don't overfeed; you may not have many flowers if you do.
You can often overwinter portulacas by bringing them indoors or propagating them from cuttings.
Other Portulacas: Purslane and Rock Purslane
Portulaca oleracea, or common purslane, is a weed that has naturalized to grow on roadsides and in untended areas. It's related to moss rose, or portulaca. This fast-growing annual is both edible and nutritious, but never taste or eat anything you cannot positively identify.

Despite its name, rock purslane (Calandrinia spectabilis) is not related to portulaca. It's a spreading plant often used in rock gardens. Drought tolerant rock purslane is also good for xeriscaping and bears purple and pink blooms from spring until fall.
Sometimes there's no treatment for a disease, and infected plants should be removed and destroyed. Don't put them in a compost pile, where the problem can spread.

Portulaca, or moss rose, can suffer from diseases like botrytis, a fungus that shows up as a gray mold in cool, wet weather. Remove and destroy any diseased plant parts and water only during the day so your plants dry out before the sun sets. Good air circulation also helps prevent botrytis. If needed, use a fungicide labeled for this problem.

Yellowing or stunted plants may have root-knot nematodes. These microscopic worms form knots, or swollen spots, on roots. Rotate your plantings and don't plant where this disease has previously occurred. Ask your county extension service for advice on how to control these pests.

Various pathogens can cause different kinds of root rots. Remove and destroy infected plants and don't replant in previously affected soil.

White rust makes leaves and branches swell, causes raised bumps on leaves and deforms branches. Remove and destroy diseased plants.

Portulaca pests include aphids, mealybugs, scale, spider mites and thrips. Insecticidal soaps or a strong blast of water from your hose (or kitchen sink, if your portulacas are houseplants) can remove aphids and spider mites. Repeat the spray as needed.
For scale, use an insecticidal soap. You may be able to rub off mealybugs with your fingers. Strips of aluminum foil spread between your plants will sometimes repel thrips. If these options don't work, ask your county extension service agent for other ideas on controlling these insects.
How to Propagate Portulaca
Portulaca plants are often sold in nurseries or home and garden centers, but you can also start them from cuttings. Make a cutting about 4 inches from the end of a stem, leaving at least one node (a bump on the stem where new leaves and stems appear). Take off all the flowers and buds and the lowest set of leaves. You can usually make several cuttings from one plant without harming it.

Fill a tray or clay pot that's more than three inches deep with a planting medium that drains quickly, such as perlite, peat moss or coarse sand. Stick the cuttings three inches deep into the medium and moisten it. Cover them with clear plastic and keep them in a warm, bright spot but out of direct sunlight. The spot should stay between 65 and 75 degrees F. The cuttings should root in a couple of weeks. Pot them up as houseplants or harden them off (put them outside in a sheltered spot for about a week) before you move them permanently into the garden or outdoor containers.

Portulacas will also self-sow. Instead of deadheading them, let some of their seeds ripen and drop naturally.
Varieties of Portulaca, or Moss Rose, to Grow
'Margarita' is a moss rose series of compact plants with purple, yellow, white, red, orange and pink blooms.
'Sundance,' unlike older varieties, is a portulaca that holds its flowers open almost all day. The blooms are semi-double.
'Sundial' is an early bloomer that flowers reliably even in cool, cloudy weather. Look for mixed colors or singles like 'Peppermint,' which has hot pink and white striped flowers or 'Mango,' available in red and yellow.
'Mojave' purslane (P. umbraticola), like portulaca, is in the Portulacaceae family. This selection has lovely fuchsia, pink, tangerine, red or yellow blooms.