Black-Eyed Susan: How to Grow and Care for This Cheery Perennial
Ignite your garden with the floral fireworks of black-eyed Susan.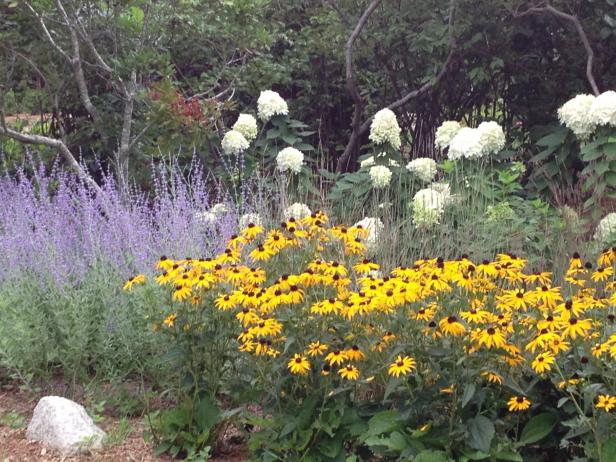 Fairytale Cottage Garden
Tuck spots of living sunshine into your landscape with the cheery yellow blooms of black-eyed Susan.
Rapoza Landscape
Tuck spots of living sunshine into your landscape with the cheery yellow blooms of black-eyed Susan.
Low-maintenance and lovely, black-eyed Susan flowers start opening in early summer and keep on coming until fall frost. Most black-eyed Susan plants are perennial, although some are short-lived at best. Happily, many black-eyed Susans self-sow readily, ensuring a continued presence in the garden.
Botanical Name: Rudbeckia
Common Name: Black-eyed Susan
Hardiness Zones: 3 to 10
Size: 24 to 36 inches tall and wide; blooms 2 to 3 inches in diameter
Bloom Time: Late spring through early fall
On average, black-eyed Susan plants grow 24 to 36 inches tall and wide. If plants are happy, they can spread somewhat aggressively with underground stems and self-sowing. Limit the spread by dividing clumps every four to five years. Snipping spent blooms in fall prevents self-seeding. But if you leave faded flowers in place, they'll add winter interest to the landscape and attract seed-eating birds.
Black-eyed Susan plants boast sturdy constitutions, offering winter hardiness in Zones 3 to 10. This perky perennial, especially Rudbeckia fulgida, is drought-tolerant once established.
Planting Black-Eyed Susan
When to Plant Black-Eyed Susans
It's best to plant perennial Rudbeckia in early fall so they can acclimate to their new environment, but they can also be planted in mid-spring.
Give this bright bloomer a spot in full sun, although in hottest regions, a little afternoon shade won't hurt. Plants survive in a partly shade location, but flower number will be reduced. Black-eyed Susan isn't picky about soil and thrives in average soil that drains well.
Water newly planted black-eyed Susans until they're steadily showing new growth, then gradually reduce moisture.
How to Use Black-Eyed Susan
Black-eyed Susan makes a great addition to a low-maintenance, low water-use landscape.


Plant plenty of black-eyed Susans and you'll have ample blossoms to pick for bouquets.


Black-eyed Susan flowers beckon pollinators by the dozen, including all kinds of bees, butterflies and hummingbirds.


Fuzzy, almost bristly leaves put black-eyed Susan on the do-not-disturb list for deer and rabbits.
Our Favorites
These vibrant flowers and plants provide nectar for butterflies and create a bold border for your yard.
Black-eyed Susan plants bring a coarse texture to the garden. Pair them with fine-textured ornamental grasses and prairie blazing star to mimic their native prairie environs. Black-eyed Susan comes into its own in autumn, making it a wonderful planting companion for Russian sage and autumn sedums.
Varieties of Black-Eyed Susan
Look for black-eyed Susan flowers in a variety of sizes and colors. The common type, Rudbeckia fulgida, features the classic black-eyed Susan flower form, with a dark button center surrounded by a sunburst of golden petals.
Gloriosa daisies (Rudbeckia hirta) open flowers with a blend of hues, including bronze, russet and orange.
'Prairie Sun' gloriosa daisy reveals a green center encircled with gold and yellow petals.
Embrace high-flying beauty by planting black-eyed Susan vine, an easy growing tropical climber.
If you like the look of black-eyed Susan flowers, don't miss an annual vine that goes by the same name: black-eyed Susan vine. It opens trumpet-shaped blooms with gold, orange or white petals and, in most cases, a dark-colored throat. These vines are tropical natives and grow easily from seed, but need warm soil to take off.