How to Grow and Care for Calibrachoas
Whether you call them million bells or baby petunias, easy-to-grow calibrachoas may be small, but they pack a big punch of color in the garden.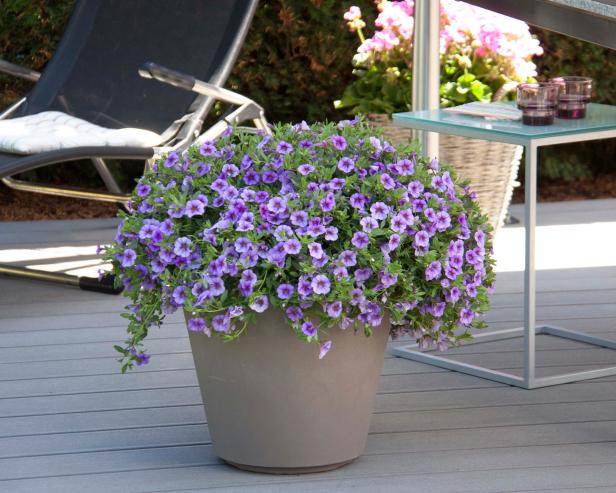 Calibrachoa MiniFamous Neo Light Blue
Calibrachoas, also called million bells, look like mini-petunias, but botanists often debate whether they're a variety of petunias or a different genus. Luckily, gardeners don't have to stress over what they're called. We can just enjoy them for their variety of colors and patterns, which include stripes, pinwheels, splashes and speckles. You can find single or double calibrachoas, which look like mini roses.
Like petunias, calibrachoas, which have been around since the early 1990s, thrive in six hours of sun a day, but they tolerate some shade, especially in regions with hot summers. They need fast-draining soil, so use a good quality potting soil if you plant them in containers. If you plant them in your garden, loosen the soil and rake out any rocks, roots and other debris. Then amend your soil with organic material.
Kiss boring container combos good-bye with these goof-proof container recipes that include calibrachoa.
As a rule of thumb, calibrachoas need a pH of 5.5 to 6.0, so you may want to use a soil test kit to be sure your garden soil is in that range. If it's not, use the test kit results to know what kind of amendments and how much to add. Once the plants start blooming in spring, they'll flower until frost.
How to Care for Calibrachoas
To keep your calibrachoas happy, water them when the top inch of soil feels dry to the touch. They don't like to stay wet, so let the soil dry out before watering again. If you're in an area with high temperatures and low humidity, you may have to water twice a day, especially if your plants are in containers. Cut back on watering when the temperatures cool down.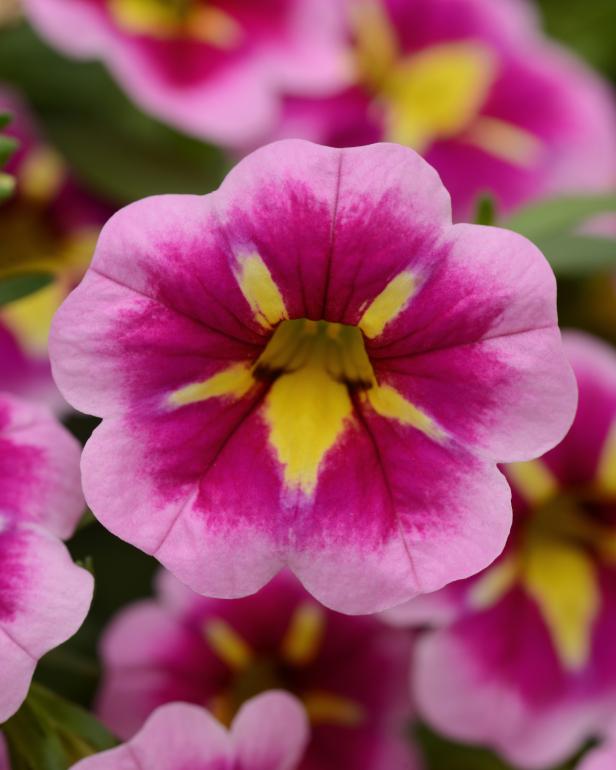 Calibrachoa 'Can-Can' Bumble Bee Pink
Calibrachoas are treated as annuals in most areas, but they grow as tender perennials in USDA Zones 9-11. They do best in temperatures from 55 to 65 degrees F and can usually tolerate a light frost. You don't have to dead-head these beauties; they'll drop their own blooms, so they're very low-maintenance. However, because they grow fast, they do need regular fertilizing. Read the directions on your product for how much and how often to feed them. If they start to look yellow, that may indicate a need for nitrogen.
Where to Plant Calibrachoas
Thanks to their trailing growth habit, calibrachoas are ideal for hanging baskets and other containers. If you plant them in borders, keep them near the front because they can get lost among larger plants. They'll spread 12 inches to 24 inches, but they'll grow only about four to six inches tall.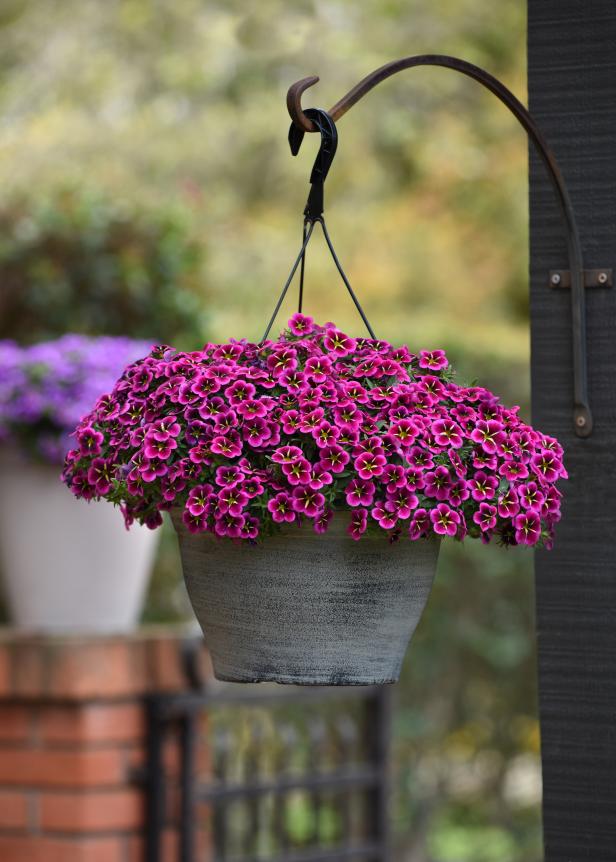 Calibrachoa Cabaret 'Good Night Kiss'
Wind can cause plants in hanging baskets to dry out faster than usual, so calibrachoas like Cabaret 'Good Night Kiss' may need watering more often.
Ball Horticultural Co.
Wind can cause plants in hanging baskets to dry out faster than usual, so calibrachoas like Cabaret 'Good Night Kiss' may need watering more often.
Calibrachoa Series To Try
'Million Bells,' an early series available in both mounding and trailing forms
'Superbells,' a series with larger-than-usual blooms in white and shades of blue, red and pink
'MiniFamous,' a compact calibrachoa series with single or double blooms. Some are bi-colored with a second, star-shaped color in their throats
Breeders have been working on a new hybrid, the petchoa, which is a cross between petunias and calibrachoas. While these plants aren't widely available yet, they'll fill a need in our gardens by combining a mounding growth habit with big, petunia-sized blooms.
Calibrachoa 'PinkTastic'
Award-winning calibrachoa MiniFamous 'Uno Double PinkTastic' has double blooms that bees and butterflies can't resist.
Selecta One
Award-winning calibrachoa MiniFamous 'Uno Double PinkTastic' has double blooms that bees and butterflies can't resist.
Pinching and Problem Solving for Calibrachoas
If your calibrachoas start to get leggy, as they often do by mid-summer, clip or pinch them back to encourage branching and new flowers. Just don't trim off more than 20 percent of your plants at one time, this can cause them too much stress.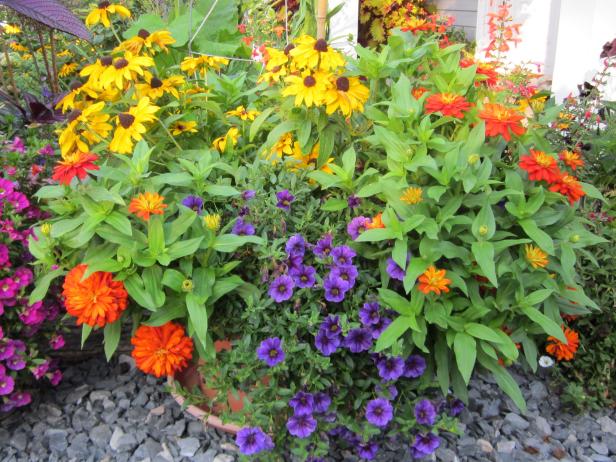 Annual Flowers In Large Planter
Keep calibrachoas like 'Callie Purple' blooming by pinching back stems when they start to get leggy.
Keep an eye on your calibrachoas and treat any problems as soon as they show up. Avoid root rot by not overwatering or letting your plants sit in water and give them good air circulation to help discourage pests like spider mites and aphids. If you do have issues with pests or diseases, treat for the specific problem first and avoid using broad-spectrum products that can harm beneficial creatures.
Calibrachoa are among these annuals known for their strong seasonal color.
Companion Plants for Calibrachoas
Since calibrachoas are small, they make great companions for taller plants, such as purple fountain grass, salvias, geraniums and Persian Shield and even other trailers like sweet potato vines, bacopas and, of course, large petunias.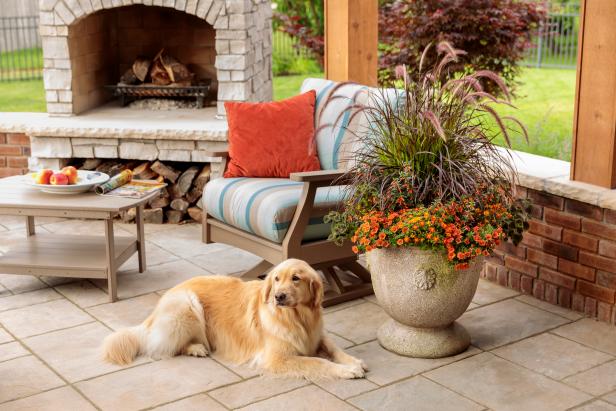 Calibrachoa Superbells 'Double Orange'
If you're creating a container, calibrachoas can be the "spiller" element in a thriller, spiller and chiller design that combines a thriller, or centerpiece plant, with one or more spillers, or trailing plants, and some chillers, which are plants used to fill in around the other plants.
For a big impact, use calibrachoas in masses in your garden or in containers, and don't be afraid to use contrasting or complementary colors.
We're sorry, there seems to be an issue playing this video. Please refresh the page or try again in a moment. If you continue to have issues, please contact us here.