This perennial cyclamen is very hardy so it's perfect for landscapes in the colder regions of the country.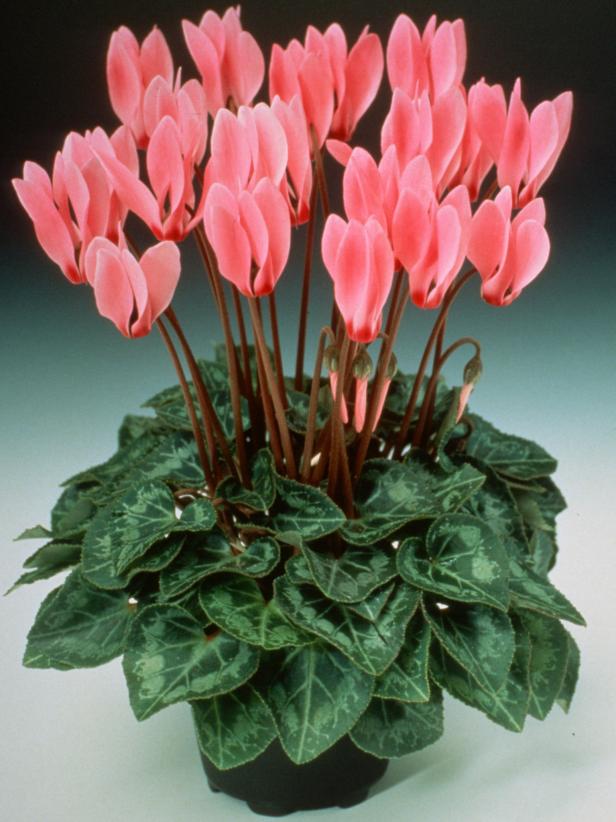 Cyclamen
After the holidays, cyclamens need a location with bright, indirect light and cool temperatures. They prefer high humidity, so try grouping them with other plants, or place them in a saucer filled with pebbles and a little water. (Just don't let the roots touch the water, which can cause rotting.) When the flowers finish, the plants will go dormant. Stop watering then and wait until new leaves emerge in fall before you water again. This cyclamen is 'Dixie Pink'.
If you're looking for a few good plants for the garden, why not try cyclamen? According to expert Hans Gerritsen, the perfect cyclamen flower features four petals up and one petal down and looks something like this.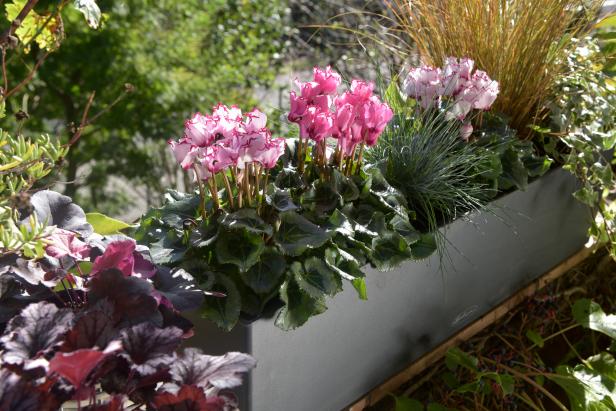 Cyclamen
Cyclamen are native to the eastern Mediterranean, so spring's cool temperatures bring out their blooms. After the flowers fade, their leaves turn yellow and the plants go dormant. That's when many of us, thinking they're dead, throw our plants away. The tubers are actually just "resting," and need only enough water to keep from completely drying out until new leaves emerge in the fall. They tolerate sun or partial shade, but need protection from hot sun in the afternoons. This variety, 'Victoria Deco Mix' is from the Metis mini series and has dark green leaves marbled with silver, a sweet fragrance and unusual crowned flowers. Growers say this cyclamen, which is hardy in zones 5-9, is more vigorous in winter than other types.
Ball Horticultural Company
They look delicate, but cool-weather cyclamen are actually tough soldiers on the planting fields. They spend part of the year in dormancy, and when conditions are right, they stand at attention. "If you have night temperatures that drop almost to freezing, the cyclamen will still survive," he says. In fact, perennial cyclamen are very hardy and are perfect for landscapes in the colder regions of the country.
The hardiest varieties are smaller than the standard-sized floral cyclamen, but if you're looking for a happy medium, mid-sized cyclamen fit the bill. "For the home gardener, I recommend planting a mid-sized to smaller one right into the soil," says Gerritsen, who suggests planting the larger type in a patio planter or deck setting. Many mid-sized cyclamen also have fragrance.
From flame-like blooms and fringed edges to ruffles, other novelties are being devised by breeders for adventurous gardeners. The latest trend is eight petals up, two petals down. "You've seen the single-flowering type; now we're looking at the double-flowering type" says Gerritsen. "The double-flowering type is not really something you see every day."
Most folks buy their cyclamen already in bloom, largely because growing from seed is so time-consuming. For the few, however, the challenge to grow from seed is like a call to duty. According to Gerritsen, the key is to plant the seeds in loose, well-draining soil. He also uses a dusting of vermiculite on top of the soil to cover and hold the seed in place. After the seed is planted and covered, water it well so it's nice and moist. He puts it in a germination chamber, a dark room where the temperature is roughly 58 to 60 degrees. After three weeks in a dark closet at home and five weeks in filtered light, the seedling will look like this. After 16 weeks, you can see the tuber and leaves forming. Two weeks later, there are a few more leaves. But if you're willing to wait seven to nine months, the results are sensational.
The drill to keeping cyclamen looking good is much quicker. "If a flower is really over the hill, you twist the stem a little bit and pull," says Gerritsen. "The trick is really twisting the stem and pulling it. That's how you clean a cyclamen. Then you have a gorgeous plant again."
Three things will hurt cyclamen: over-watering, heat and extreme light. If you place a potted cyclamen in bright sunlight or in very dark conditions, the plant will not do well. Perhaps the biggest complaint of cyclamen raised as houseplants is their seemingly untimely demise. Remember, these are cool-weather plants. If they wind up in too warm of a place, they may go dormant. Find the chilliest room in the house, and that will make a happy home for your cyclamen. Then, water only as needed. "If you water it once a week, soak it heavily and then you're in good shape," says Gerritsen. "Almost let it dry out."
When the plants die back in the summer, you can stop watering altogether. Move the plants to a cool place under a tree or onto a porch while the flowers go on furlough. Most cyclamen are perennials because they develop a tuber. So the tuber, if placed in the right location, will come back year after year. And to give you an idea of the longevity of this plant, the tubers can live up to a century.