The HGTV Stars' Favorite DIY Halloween Decor Crafts
No tricks here — just easy Halloween decorating ideas from the HGTV stars. DIY, if you dare ...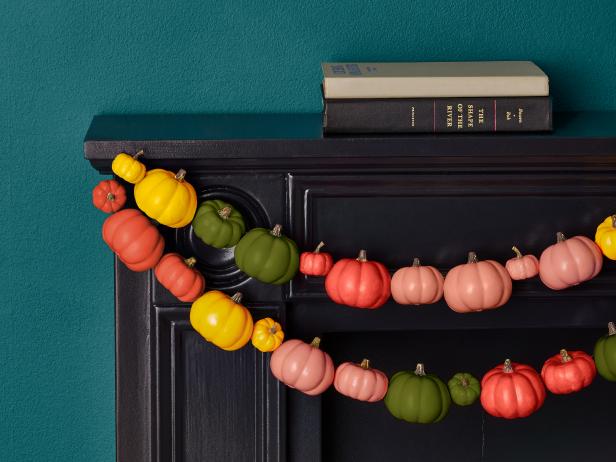 DIY Colorful Halloween Pumpkin Garland
This multicolor painted pumpkin garland craft was featured in HGTV magazine.
Scary season is here, which means it's time to get your house up to haunted status. These wicked-easy crafts from the HGTV stars will do the trick.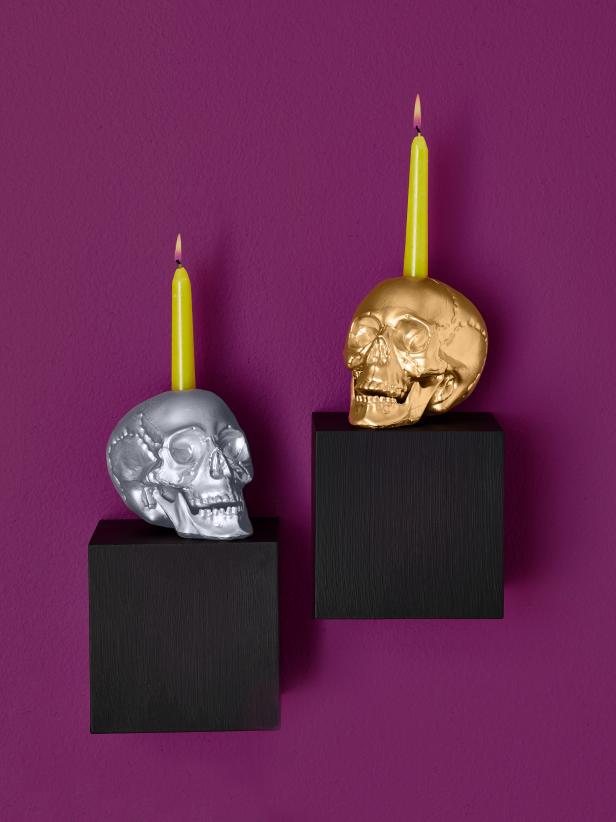 Halloween Skull Candle Holders
This spooky taper candle holders are created using faux skulls and metallic spray paint.
"Nothing against orange, but silver and gold will match any existing decor you have." —
Breegan Jane, HGTV Dream Home 2023
Using a drill and a 7/8-inch hole saw, drill a hole in the top and bottom of two 5-inch plastic skulls (some may already have bottom holes).
Spray-paint one skull silver and one gold. Let dry.
Roll museum wax into a 1-inch ball and use the wax to plug the hole on the bottom of each skull, leaving extra wax hanging out of the holes.
Place the skulls on your surface — the extra wax on the bottom will help steady them. Put a taper candle in each skull, pressing it into the wax. Replace the candle

when it burns to a few inches above the skull.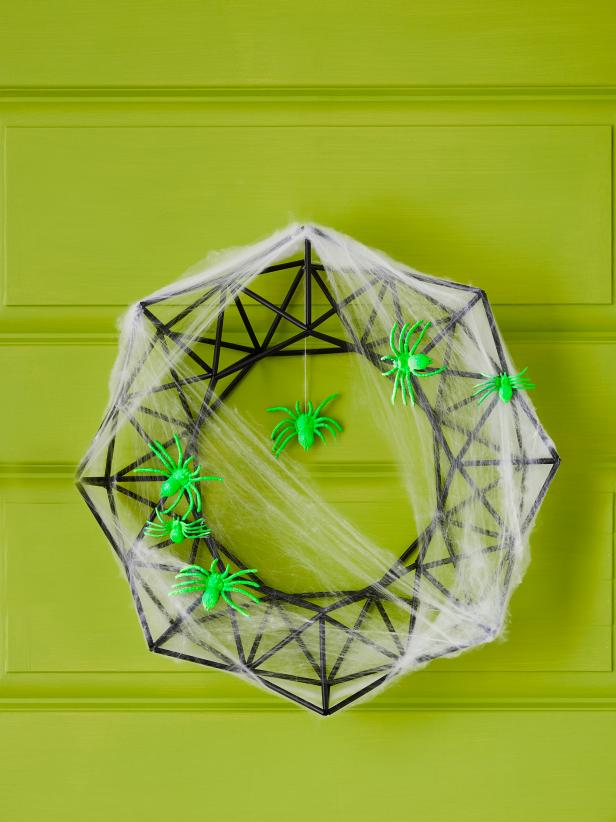 DIY Halloween Spider Web Wreath
This spooky DIY wreath for Halloween features cobwebs and spiders.
Place different-size plastic spiders in a cardboard box and prime the tops with spray primer (we used

Zinsser Cover Stain Oil-Base Primer); let dry. Flip over and prime the bottoms, then repeat with neon green spray paint.
Drape a faux spiderweb onto a geometric wreath and hot-glue it in a few spots to keep it in place.
Hot-glue the spiders onto the wreath. Hang one from the top using a piece of white string.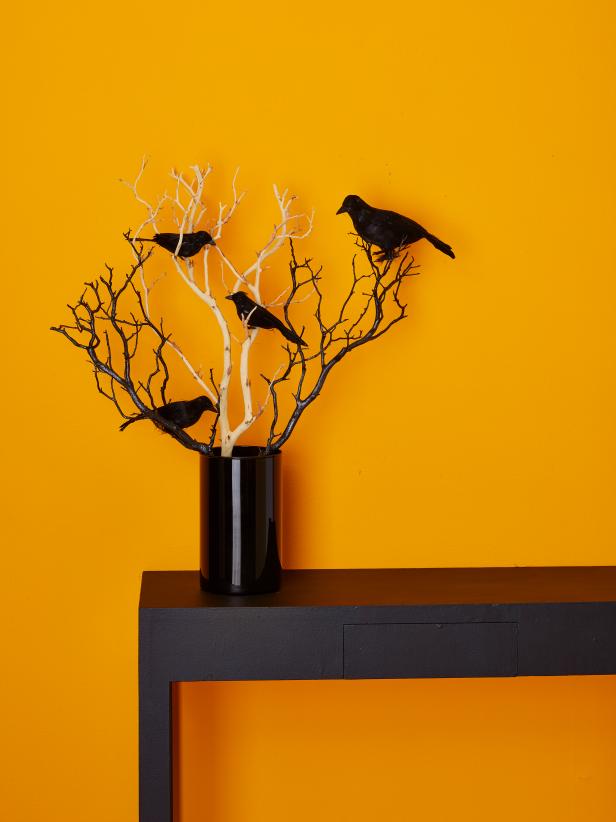 Halloween Centerpiece With Branches and Blackbirds
This spooky Halloween centerpiece is created using a vase, branches and crows.
"My go-to move for fall is putting tall branches in vessels around the house. Start in your yard and get creative!" — Veronica Valencia-Hughes,
Revealed
Trim branches (ours are manzanita, but you can use branches from your yard) to fit a cylindrical clear glass vase. Spray-paint some branches black. Let dry, then spray-paint them with a glitter-effect topcoat; let dry.
Attach fake crows to some of the branches. (Use wire or hot glue if your crows do not have wire attached to the feet.)
Spray-paint the interior of the vase black. Let dry, then place the branches inside.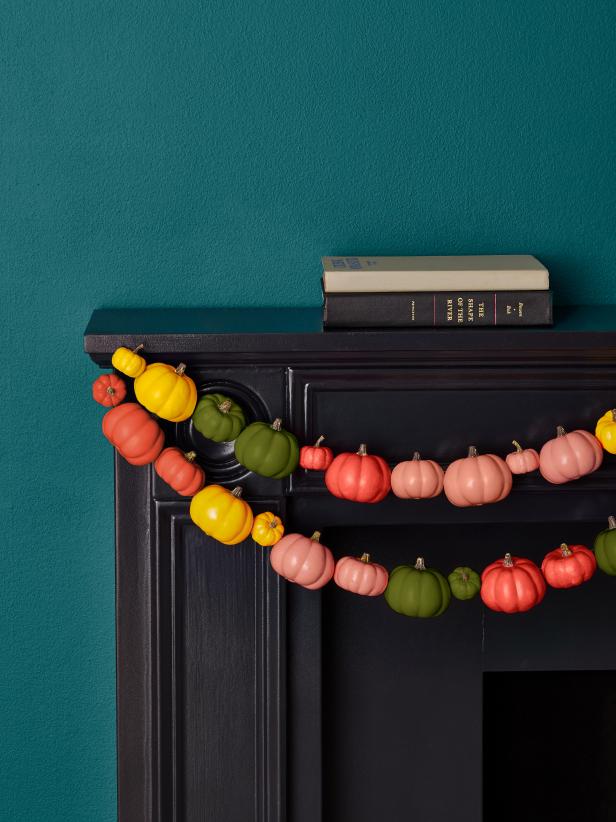 DIY Colorful Halloween Pumpkin Garland
This multicolor painted pumpkin garland craft was featured in HGTV magazine.
Paint about 40 foam mini pumpkins in various sizes with a small flat brush and craft paint in

green,

orange,

yellow

and

pink. (Our pumpkins came with gold stems.)
Cut a piece of fishing line about 125 inches long. Thread one end on a 6-inch upholstery needle. Knot the other end, leaving a 5-inch tail. Put a blob of hot glue on the knot — this will keep the pumpkins from sliding off.
Thread the needle through the top part of each pumpkin to string them, grouping them by color and mixing up the sizes. Tie another knot at the end, leaving a 5-inch tail. Trim any excess fishing line, then use the tails on each end to make loops for hanging. (We folded our garland in half to make two strands.)