15 Outdoor Halloween Decorations to Spook Up Your Yard + Porch
Bring the holiday fun to your block with these Halloween projector lights, props, window clings, wreaths and more.
Keep in mind: Price and stock could change after publish date, and we may make money from these links.
Halloween might look a little different this year, but thankfully, one thing that's still socially acceptable (and strongly encouraged) is going all out with your outdoor decorations. In my neighborhood, jack-o'-lanterns and plastic witches are already appearing on porches, a full two weeks before the start of October. Just imagine how festive the block will be by the end of the month.
Suffice it to say, more is definitely merrier when it comes to this candy- and costume-filled holiday. This year, take your typical Halloween display over the top and delight your own neighbors with these classic, cheeky and slightly creepy outdoor decorations. You can hang them anywhere, from the front yard to the porch to the garage.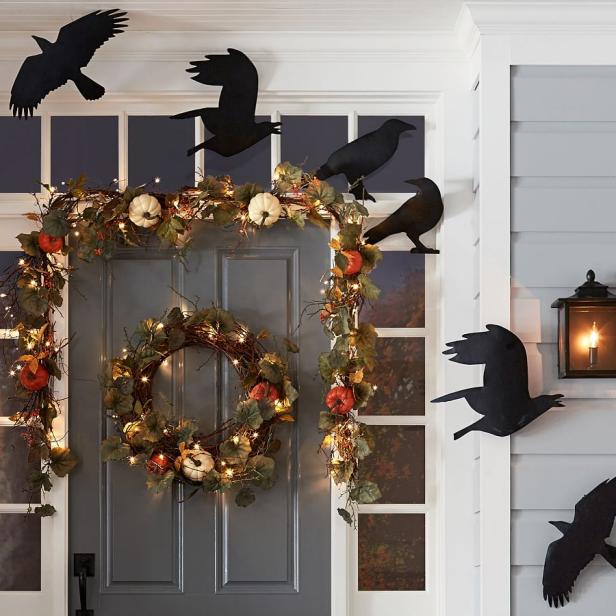 Pay homage to The Birds and cover your front door with a flock of these eerily life-like crows. Each one is crafted from iron with a powder-coat finish to give it that perfect matte-black look with a subtle loop on the back for attaching to string lights or installing around a door frame.
Buy It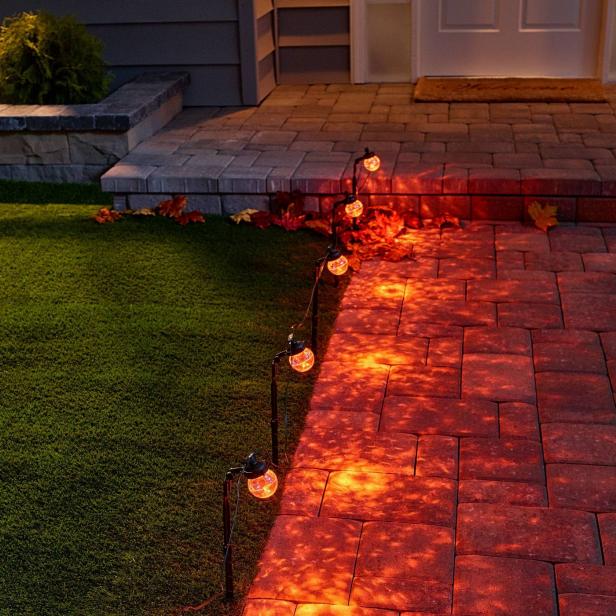 Lead all the little ghosts and ghouls straight to your door with these enchanting orange Halloween projector lights. Each set comes with six stakes that — once plugged in — cast a shimmering glow on your walkway or front door.
Buy It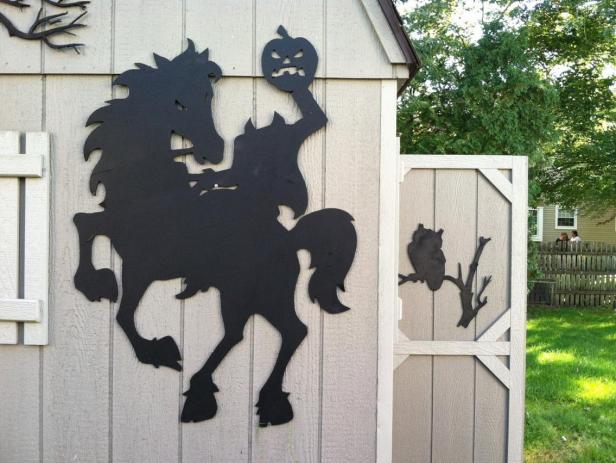 The Headless Horseman rides again! Bring The Legend of Sleepy Hollow to life in a big way this year by adding this sinister silhouette to the side of your house or shed. The figure is made from durable PVC, so it will last through all types of weather and continue to frighten other Ichabod Cranes for generations.
Buy It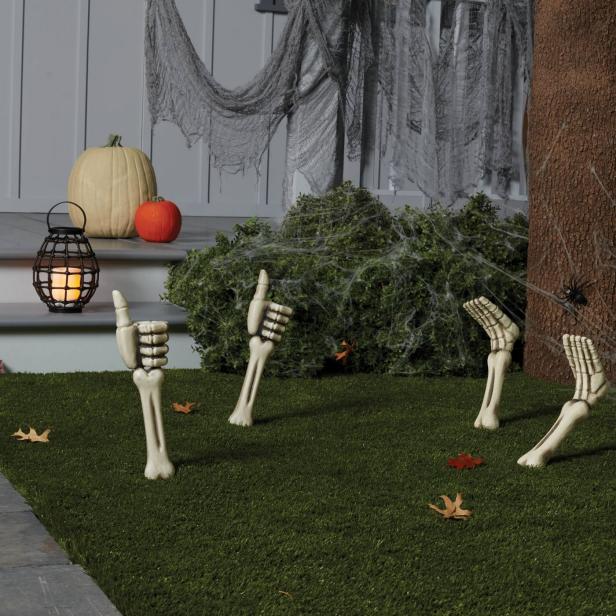 Earn big grins from kids and parents alike with this hilarious two-thumbs-up from beyond the grave. You can recreate this look at home by shopping the matching feet set, or you could snag several pairs of hands and use them to line your front walkway.
Buy It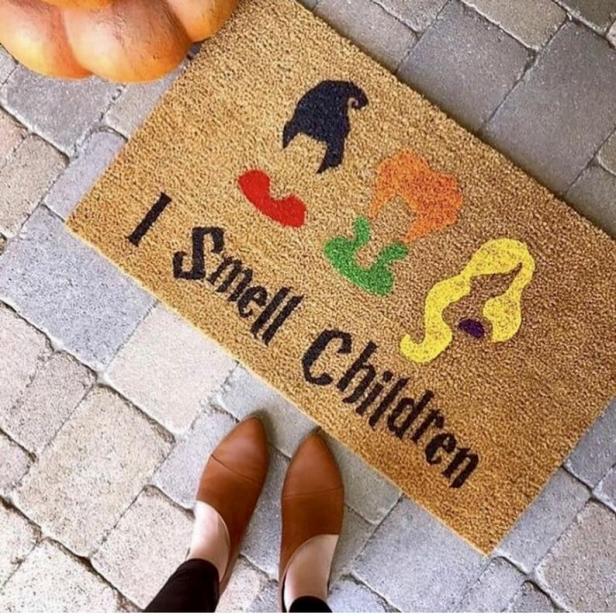 We can hear Mary Sanderson now! Welcome tiny, costume-clad humans with this coir doormat that reads, "I Smell Children." Right above the black text, you'll find the likeness of each Sanderson Sister in their signature color.
Buy It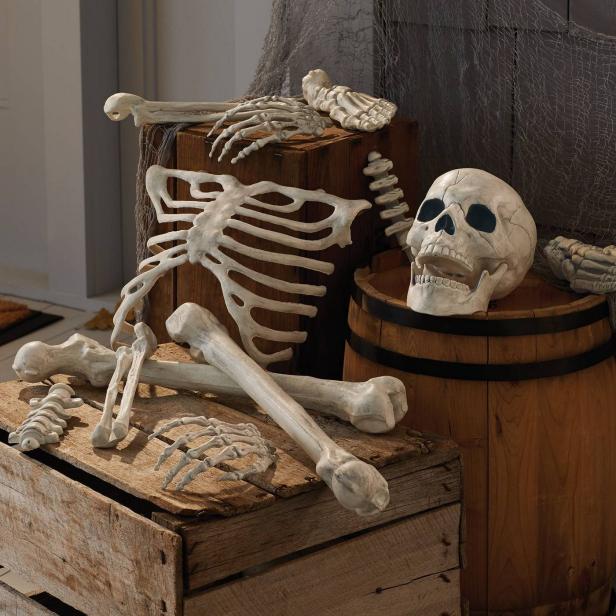 What do pirate ships, haunted mansions and cemeteries all have in common? Bones. Lots and lots of them. Bring your scary scenery to life (and have plenty of hair-raising options for next year) with this 13-piece kit. Inside, you'll find a skull, rib cage and more that you can use to create various creepy arrangements.
Buy It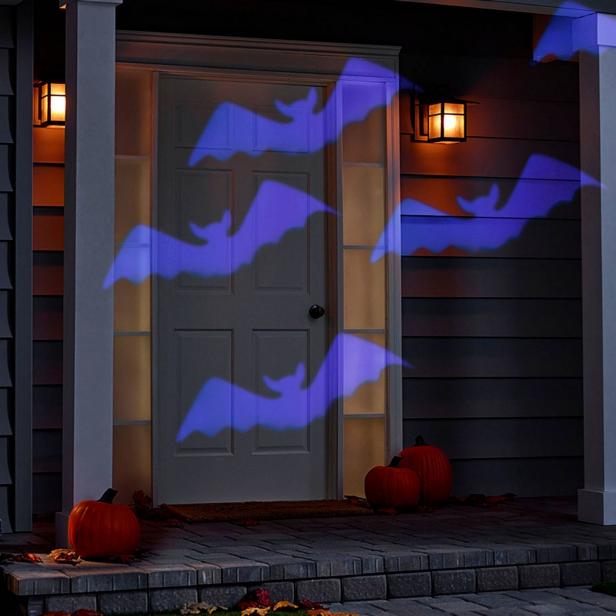 Bring on that bats! Once the sun goes down, switch on this Philips Halloween Motion Projector and send bright purple bats flying across your front door or garage. They work on any flat surface up to 20 feet away and can be adjusted to fit any position as well.
Buy It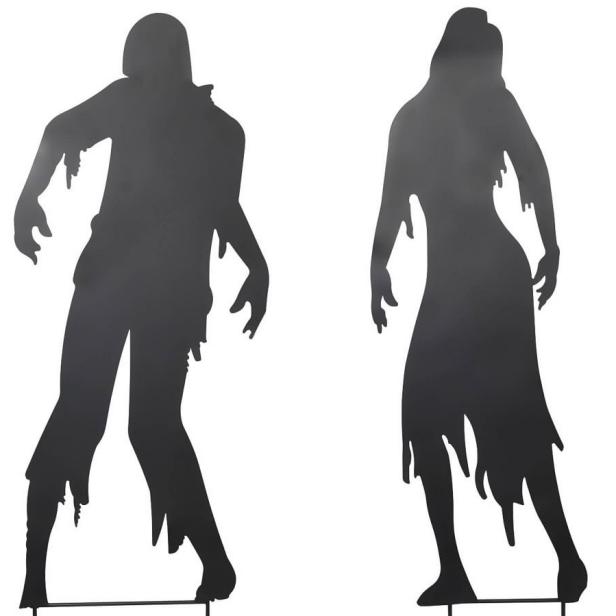 Make neighbors wonder if they took a wrong turn and wound up in a frightening scene from Night of the Living Dead by sticking these creepy zombie silhouettes around your doorstep. Though crafted from sturdy metal, with stakes that sink right into the ground, the two silhouettes look incredibly realistic at a distance — especially in the dark.
Buy It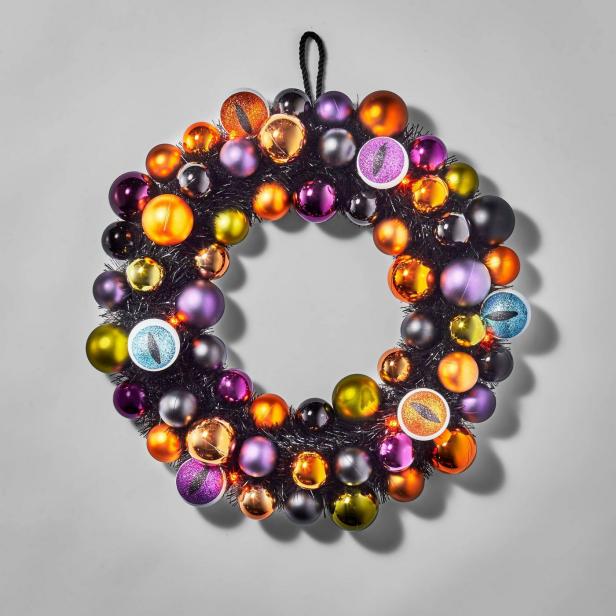 Do you ever get the feeling that you're being watched? Ha! Get in the Halloween spirit and give your neighbors the heebie-jeebies by hanging this eyeball-clad wreath on your front door. The shatterproof orange, black, purple and green ornaments will easily complement your current decor and can even light up with a few batteries. (Sold separately.)
Buy It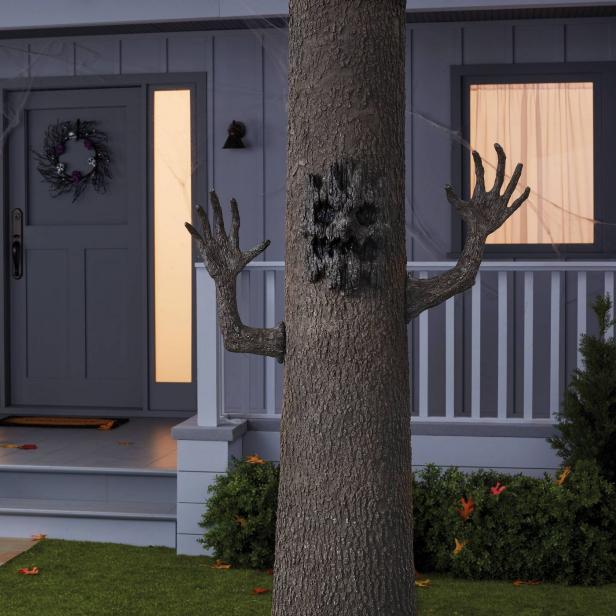 Create a whole haunted forest outside your home with little more than the trees on your property, a few screws and these spooky face and arm kits. All of the props have a special bark-like texture that will blend right in with the trees and make them seem like they're coming to life at night. Yikes!
Buy It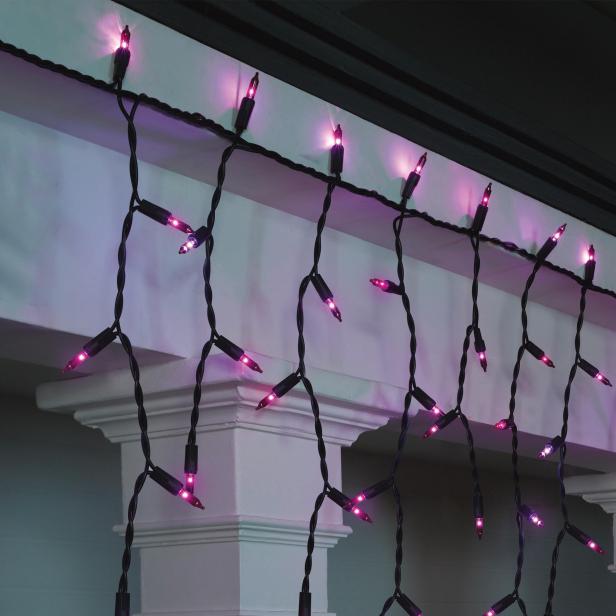 Strike fear in the hearts of all who pass by your home by illuminating your skeletons, spiders and other creatures with these Halloween-style icicles. Each strand is about 7-feet-long and available in spooky purple and eerie orange.
Buy It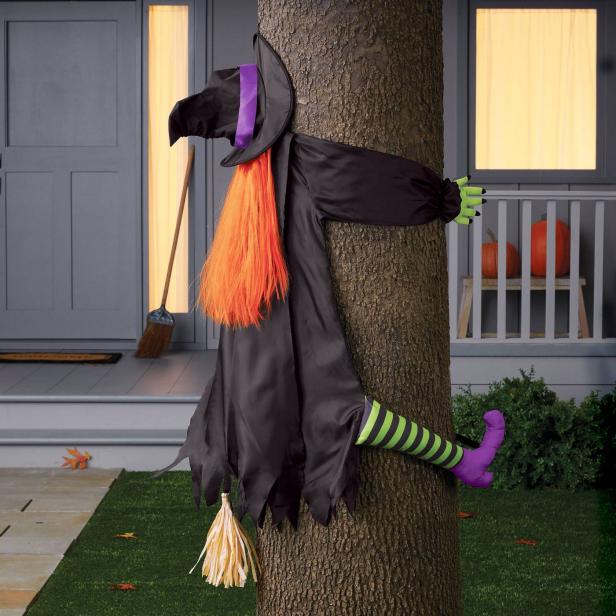 Some witches are good, some witches are scary and others are downright funny. Delight the children and adults in your neighborhood with this fabric witch who appears to have crash-landed right into a tree. If you're feeling particularly punny, you can even add a small sign above the pointed hat that says, "Don't drink and fly!"
Buy It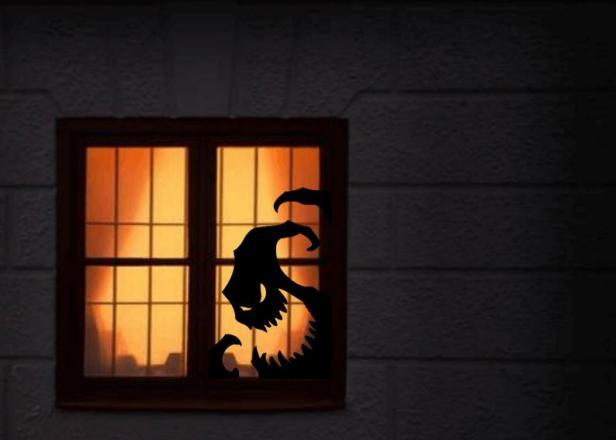 For the record, Oogie Boogie definitely gave me nightmares as a kid. Share your love of Tim Burton's The Nightmare Before Christmas with everyone on the block by putting this creepy cling in one of your front windows. At night, the lights inside your home will illuminate Boogie's silhouette and make it seem as though he's lurking right around the corner.
Buy It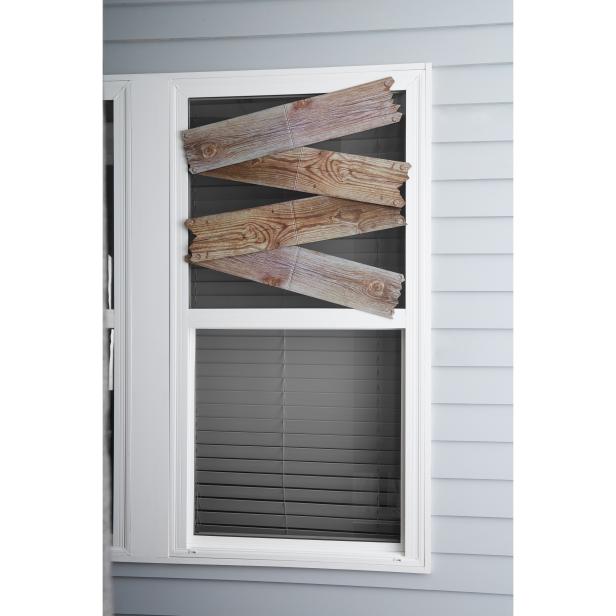 Nothing says, "Haunted House, Keep Out" like a bunch of boarded-up windows. Dial-up the dreadful nature of your home by installing these plastic-and-paper planks in all of your front windows. You could even further the aesthetic by covering them with cobwebs or adding a few bloody handprint window clings.
Buy It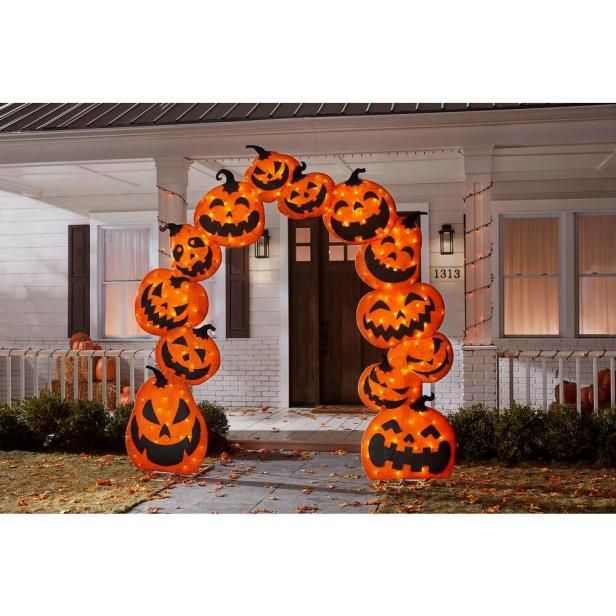 Prepare to be the most popular home on the block, because absolutely everyone will want to pass through this festive pumpkin arch. Jack-o'-lanterns featuring all kinds of expressions give the piece plenty of personality, while warm LED lights illuminate their faces at night.
Buy It
Shop More Halloween Must-Haves