How to Make Superhero Boots
Transform your old, worn pumps into stylish superhero boots for this year's Halloween costume.
We're sorry, there seems to be an issue playing this video. Please refresh the page or try again in a moment. If you continue to have issues, please contact us here.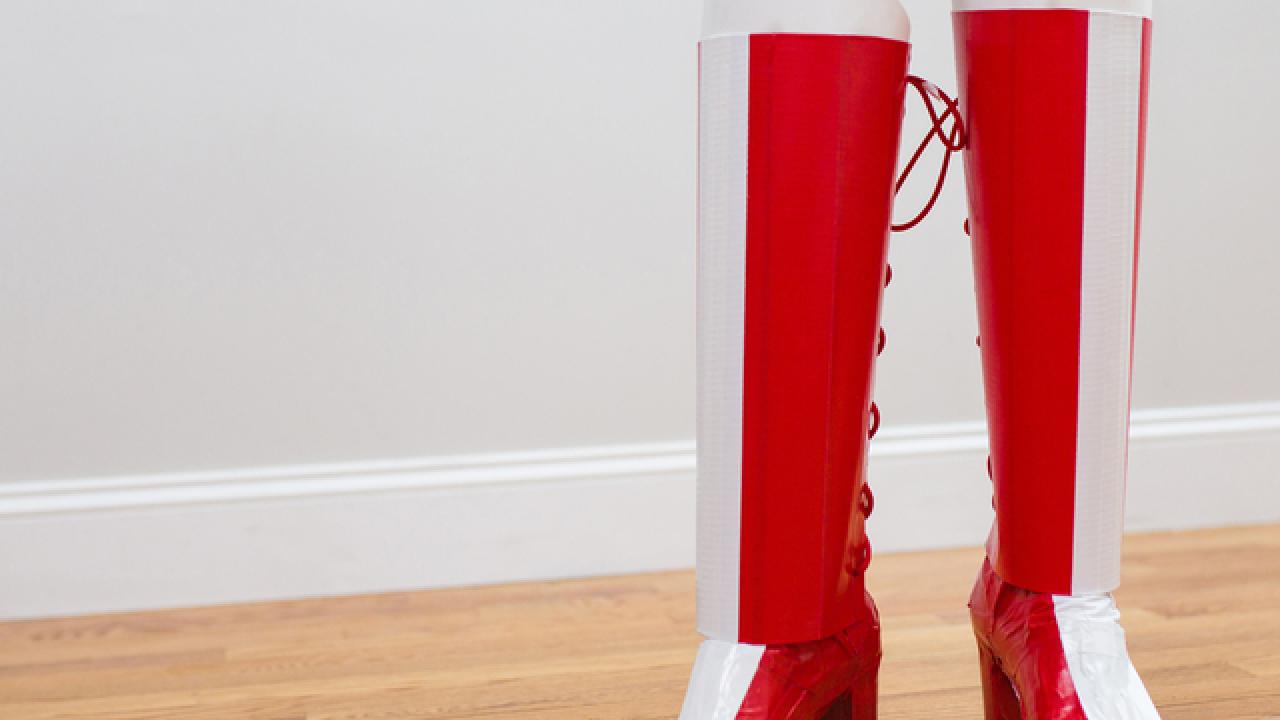 Is it even Halloween if you didn't craft together at least part of your costume last minute? Here, we're taking it to the next level. Superhero for Halloween? We have you covered. No need to go out and spend tons on boots. We show you how to make your own stylish yet durable superhero boots that will last you through all your Halloween endeavors this year.
Keep in mind: Price and stock could change after publish date, and we may make money from these links.
(2) thin poster boards
pencil
scissors
old pair of pumps
ruler
permanent marker
hole puncher
Step 1: Apply Duct Tape to Shoes
Apply horizontal strips of red duct tape until the pumps are completely covered.
Step 2: Measure and Cut Poster
Wrap the poster board around the shin, making sure it's not too tight. Mark at the biggest part of the leg (calf) and the ankle. Connect the markings by drawing a line with a ruler and marker. Cut out shape using scissors.
Step 3: Apply Duct Tape to the Poster
Apply vertical strips of red duct tape to the poster board until it's completely covered. Turn over the board, and fold down all the excess tape in the back of the poster board for a clean finish.
Step 4: Punch Holes for Lacing
Hole punch the poster board all along the edges on both sides of the board. Make sure there's an even amount of space between the punched holes on both sides.
Draw a V shape on a scrap piece of the poster board with a ruler and permanent marker. Cut out the shape using scissors.
Attach the V-shape to the top of the tape-covered board. Make sure the point of the V is facing up.
Step 7: Apply White Strips
Apply three vertical strips of white duct tape down the middle of the poster board and shoes.
Insert shoelaces into the punched holes, and tie in the back. Repeat all these steps for the other shoe. Tip: Wrap a small piece of white tape around the end of each side of the shoelaces to easily insert the ends into the punched holes.