How to DIY a Hanging Bat Planter for Halloween
Get creepy-crafty to give your houseplants a haunted home for Halloween.
Break out the black paint because it's time to get crafting. Okay, okay — you may need a little more than black paint to craft this creepy-cute bat planter, but it's as fun to make as it is to look at. Once finished, hang it up on your porch to greet unsuspecting trick-or-treaters or place it inside to usher in all sorts of toil and trouble.
We're sorry, there seems to be an issue playing this video. Please refresh the page or try again in a moment. If you continue to have issues, please contact us here.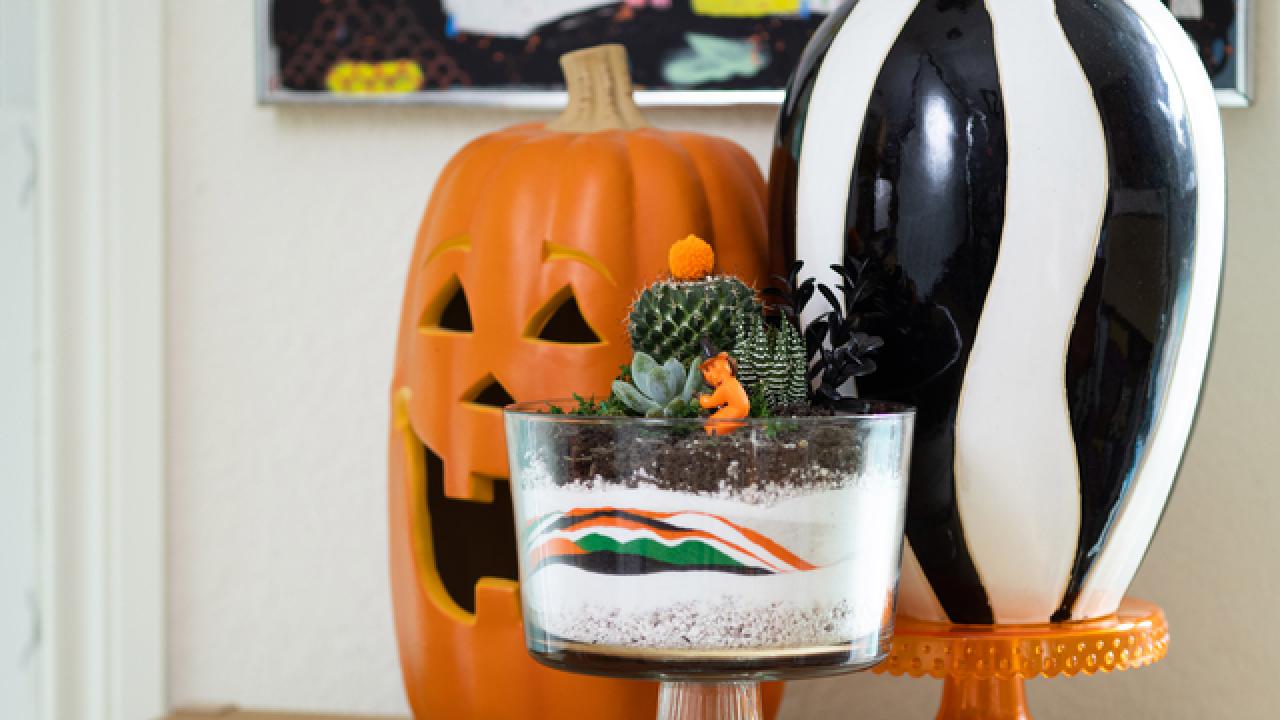 2-liter bottle
black craft paint
pink craft paint
white craft paint
foam paintbrush
round foam stippler brush
white paint pen
green paint pen
black paint pen
scissors
single hole punch
black cording
stick-back black felt
Start by painting an empty, clean 2-liter bottle with black paint and let dry (Image 1). If necessary, paint multiple coats until you achieve a solid black color (Image 2).
Once the bottle is fully coated and dry, use a white paint pen to draw a simple bat outline (think rounded head and pointy ears) near the top before the bottle starts to taper, then cut off the top portion using scissors and discard (Images 1-3).
Use a round foam stippler to stamp two white eye circles and two pink cheeks below the bat's ears (Image 1). Once dry, add details with paint pens. We chose green for eyelids and black for the pupils and eyelashes (Images 2-4). Don't forget to add a cute little white glint in the eyes. Last but not least, use a white paint pen to finish off this frightening face with a smile and a couple of vicious vampire teeth (Image 5).
To help this bat take flight, it will need some wings. Create them by drawing bat wings onto adhesive black felt and cutting the shapes out with scissors (Images 1 & 2). Repeat four times so that you have two left wings and two rights.
Connect the coordinating bat wings using the sticky backing. To aid in attaching each wing to the planter, leave about a 3/4-inch section of the paper backing on when sticking the wings to each other (Image 1). Then, remove the paper backing and stick the loose portions of the wings to the sides of the planter (Image 2).
If you plan to place the planter on a shelf or table, then all that's left to do is fill it with your plant of choice. If you'd rather hang it up, use a single hole punch to punch a hole beside each ear and one at the back (Image 1). Insert black cording through each hole and tie them off in a single knot at the top (Image 2). Add your favorite plant and some rocks for drainage, then hang (Image 3).