Halloween Dessert: Marshmallow Spider Web Doughnuts
Serve up some creepy-crawly fun this Halloween with these purple candy-dipped doughnuts covered in marshmallow "webs." A spider candy mold is needed for this recipe and can be found at most well-stocked craft stores and online. You can also use ready-made gummy spiders for an easy shortcut.
2 cups cake flour, sifted
3/4 cup granulated sugar
2 tsp. baking powder
1 tsp. salt
3/4 cup buttermilk
2 eggs, lightly beaten
2 Tbs. vegetable oil
2 tsp. vanilla extract
Glaze, Web & Decor Ingredients
12 oz. bright purple candy melting wafers
1/3 cup heavy cream
5 jumbo marshmallows or 10 regular marshmallows
4 oz. semisweet chocolate chips, melted
3 Tbs. candy bug sprinkles
spider-shaped candy mold with (16) 2" cavities
Preheat oven to 425°F. Spray a doughnut pan with nonstick cooking spray. In a large mixing bowl, sift together cake flour, sugar, baking powder and salt. Add the buttermilk, eggs, oil and vanilla extract. Beat until just combined. The batter will be thick. Transfer the batter to a piping bag with a 1/2-inch opening cut in the tip. Pipe the batter into the donut cavities until approximately 2/3 full (Image 1). Bake for 7-9 minutes, or until the tops of the doughnuts spring back when touched. Allow the doughnuts to cool in the pan for 2 minutes, then turn out onto a wire rack to cool completely (Image 2). Repeat the process until all the batter is used and all the doughnuts are completely cooled.
Place a grid cooling rack in two large baking pans. Combine the purple candy wafers and heavy cream in a microwave-safe bowl (Image 1). Heat the mixture at 100% power for 1 minute and 15 seconds. Allow the mixture to stand for 1 minute, then whisk together until smooth and glossy (Image 2). Lay the top of each doughnut down into the surface of the melted candy, and lightly press so the front side of the doughnut is covered (Image 3). Remove and lay each doughnut face up on the wire rack (Image 4). Let stand until set, about 20 minutes.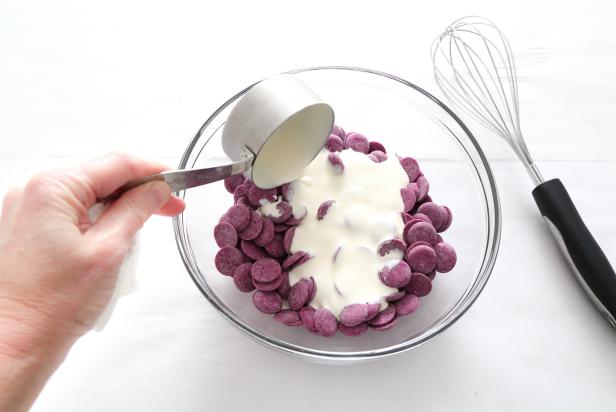 Heather Baird SprinkleBakes.com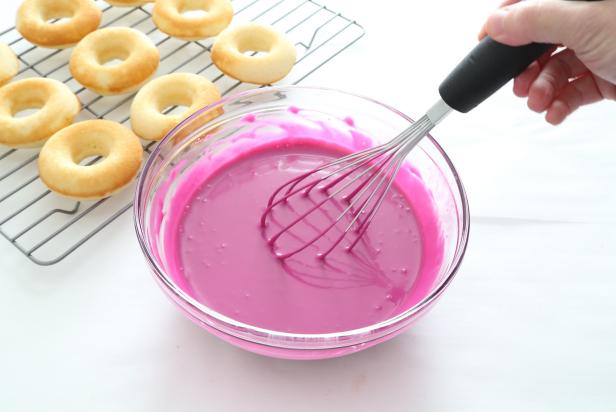 Heather Baird SprinkleBakes.com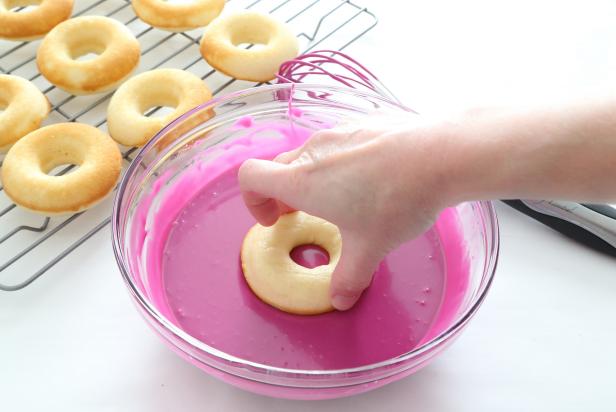 Heather Baird SprinkleBakes.com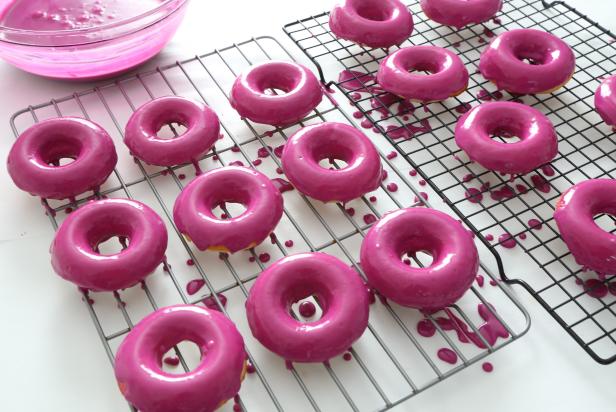 Heather Baird SprinkleBakes.com
Place the marshmallows in a microwave-safe bowl and heat for 30 seconds at 100% power (Image 1). The marshmallows should puff up and lose their shape. Stir the hot marshmallows briefly to deflate (Image 2). Let cool slightly. Pick up some of the marshmallow using your thumbs and forefingers and stretch it over the surface of a doughnut (Image 3). Note: Disposable gloves make this process slightly less messy, so use them if you have them. Repeat the process until all of the doughnuts are covered in marshmallow webs (Image 4).
Heather Baird SprinkleBakes.com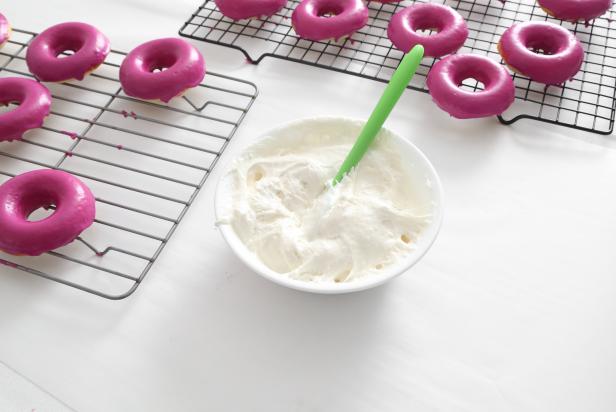 Heather Baird SprinkleBakes.com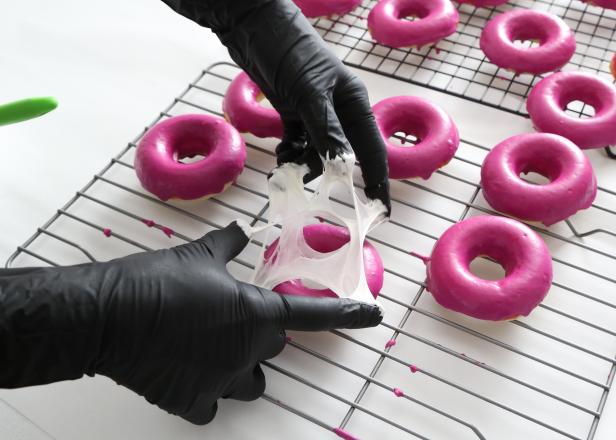 Heather Baird SprinkleBakes.com
Heather Baird SprinkleBakes.com
Make Chocolate Spiders & Decorate
Place the melted chocolate candy in a disposable piping bag or zip-top bag with the corner snipped. Pipe the chocolate into the cavities of a 2-inch spider candy mold. Freeze until firm, about 20 minutes. Turn the chocolate spiders out onto a work surface and bring to room temperature (about 7 minutes) (Image 1). Top each doughnut with a chocolate spider and sprinkle candy bugs over the marshmallow webbing for a creepy-crawly treat big and little monsters alike will devour.
More Spooky Sweets to Try
Guaranteed to thrill at your next monster mash, these creative homemade desserts are all treat, no trick. Check out our favorite ways to dress up cupcakes, cake pops, candy apples and more for Halloween.