Halloween Dessert: Jack-o'-Lantern Candy Bucket Cake
Inspired by the classic pumpkin-shaped candy carrier, this treat-filled Halloween cake is a not-too-spooky yet oh-so-fun way to ring in the season. The round jack-o'-lantern shape is made easily from two bundt cakes stacked together and frosted.
YIELD 1 bundt cake, 20 servings Note: Double this recipe and prepare two bundt cakes to form the jack-o'-lantern.
2 1/2 cups granulated sugar
1 cup vegetable oil
3 large eggs, room temperature
3 cups all-purpose flour
2 tsp. baking soda
1 tsp. ground cinnamon
1 tsp. ground nutmeg
1/2 tsp. salt
1/4 tsp. ground cloves
15 oz. can of solid-pack pumpkin
Buttercream Frosting Ingredients
1 lb. unsalted butter, softened
2 lb. confectioners' sugar
milk or cream to thin
2 tsp. vanilla extract
2 tsp. orange gel food color
Decors & Special Equipment
8 chocolate candy chews
2 cups assorted candies such as candy corn, chocolate pieces, candy coins, lollipops, sour belts and candy dots
1/4 lb. licorice laces
10 pieces fabric-coated florist wire, 14" long
Preheat oven to 350°F. In a large mixing bowl, combine sugar and oil until blended. Add eggs one at a time, beating well after each addition. In a separate bowl, combine flour, baking soda, cinnamon, nutmeg, salt and cloves. Add to egg mixture alternately with pumpkin, beating well after each addition. Evenly coat a 10-inch fluted tube pan with non-stick cooking spray. Fill pan 3/4 full with cake batter (Image 1). Bake 60-65 minutes, or until a toothpick inserted in the center comes out clean. Let cool 10 minutes before turning out onto a wire rack. Remove pan and let cake cool completely. Repeat this process so that you have two cakes to form the jack-o'-lantern. Trim the bottoms of the bundt cakes flat (Image 2).
In the bowl of an electric mixer, combine the butter and confectioners' sugar. Mix on low speed until crumbly. Add milk or cream a little at a time while mixing on low speed until mixture is of spreading consistency. Increase speed to high and whip until fluffy, about 3 minutes. Add vanilla extract and food color. Beat until the buttercream is consistently orange with no white streaks remaining.
Place a bundt cake cut-side-up on a cake board or serving plate. Place 1 cup of frosting on top of the cake and spread evenly (Image 1). Top with a second cake cut-side-down (Image 2). Frost the entire cake with a crumb coat of frosting and let chill until firm, about 20 minutes. Frost the cake with the remaining buttercream using an offset spatula, spreading it as evenly as possible (Image 3). Chill again until firm, about 20 minutes.
Cut Out Jack-o'-Lantern Face
Press together two chocolate candy chews and heat in the microwave for 5 seconds until soft, then immediately roll flat using a rolling pin (Images 1 & 2). Repeat this step with two more chews. Using a small 2-inch triangle cookie cutter, stamp a triangle shape from each rolled piece. You can also use kitchen-dedicated scissors to cut two triangle shapes. Press together the remaining four candy chews and heat for 8 seconds in the microwave. Roll flat using a rolling pin. Use kitchen scissors to cut a rough jack-o'-lantern mouth (Image 3). Use leftover frosting to attach the eyes and mouth to the front of the cake (Images 4 & 5).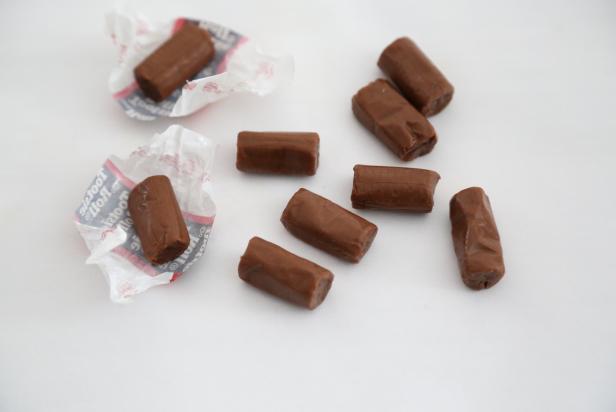 Heather Baird SprinkleBakes.com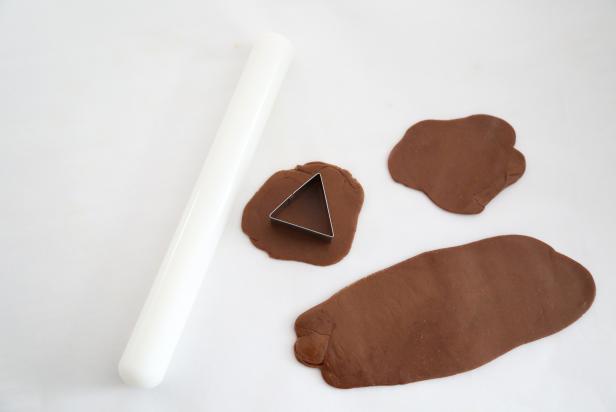 Heather Baird SprinkleBakes.com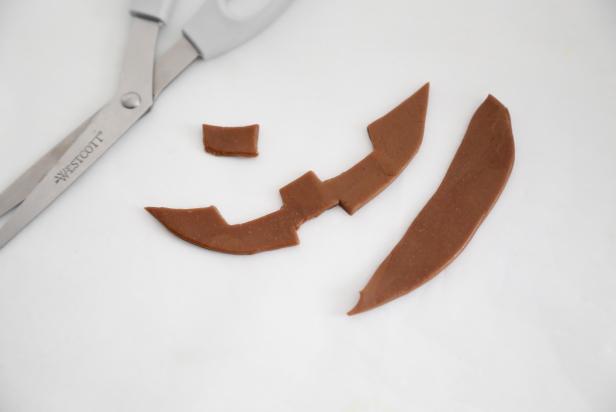 Heather Baird SprinkleBakes.com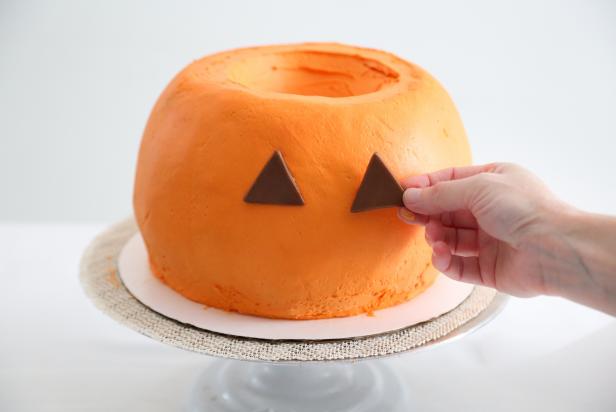 Heather Baird SprinkleBakes.com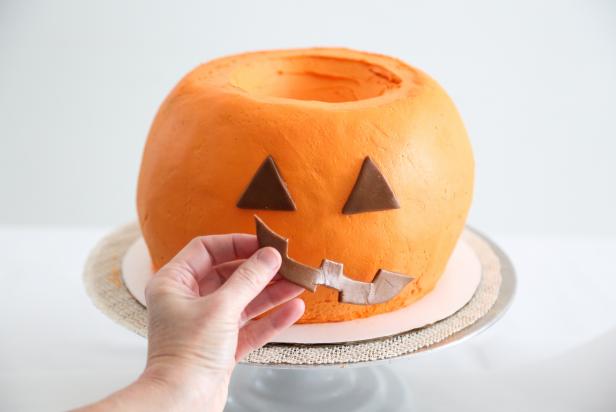 Heather Baird SprinkleBakes.com
Gather assorted candies (Image 1). Measure out 1 cup of smaller candy pieces and pour into the center hole of the stacked bundt cakes (Image 2). Arrange remaining candies on top of the cake so that they appear to overflow the edges. Place lollipops on top of the cake standing upright and finish with a few wrapped or packaged candies (Images 3 & 4).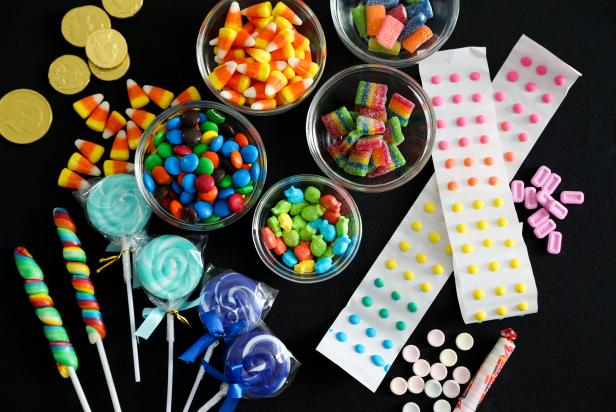 Heather Baird SprinkleBakes.com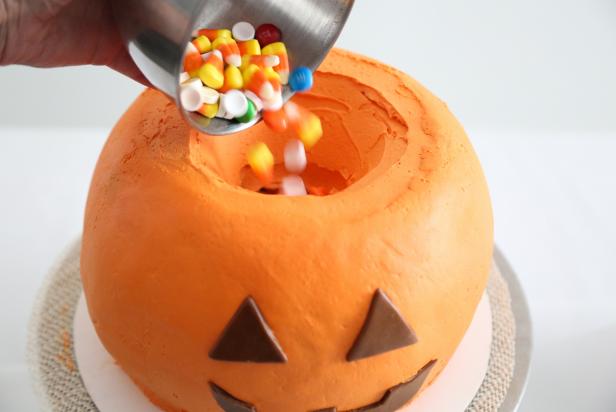 Heather Baird SprinkleBakes.com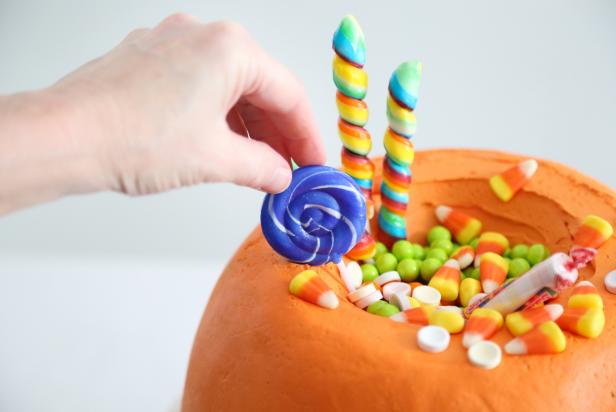 Heather Baird SprinkleBakes.com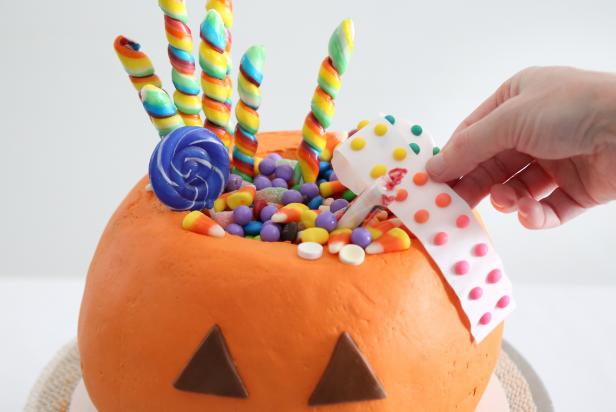 Heather Baird SprinkleBakes.com
Twist together eight pieces of florist wire so that you have one sturdy piece (Image 1). Wrap and twist the licorice laces around the wire and secure each end with the remaining two pieces of florist wire (Image 2). Trim away the excess licorice laces at each end. Insert each end of the licorice piece on opposite sides of the center hole. Place candies around the bottom edges of the licorice piece to camouflage any exposed wire.
This creative cake is sure to be the star of your next spooky shindig. Serve slices at room temperature for best flavor.
More Spooky Sweets to Try
Guaranteed to thrill at your next monster mash, these creative homemade desserts are all treat, no trick. Check out our favorite ways to dress up cupcakes, cake pops, candy apples and more for Halloween.