Halloween Dessert: Witchy Cauldron Brownie Bites
Double, double toil and trouble! Bewitch your party guests with these two-bite, bubbling brownie cauldrons. Short on time? Use a family-size boxed brownie mix in place of our scratch-made recipe.
Brownie Cauldron Ingredients
1 cup unsalted butter, softened
2 cups granulated sugar
1 tsp. vanilla extract
4 eggs
2/3 cup unsweet cocoa powder
1 cup all-purpose flour
1/2 tsp. baking powder
1/4 tsp. salt
Bubbling Green Buttercream Ingredients
1 cup unsalted butter
5 cups confectioners' sugar
milk or cream
2 tsp. neon green food color
1 cup lime green sugar pearls
2 Tbs. white nonpareils
Witch Hat & Stirring Spoon Ingredients
12 chocolate drops
12 thin cream-filled sandwich cookies
4-6 pieces rainbow sour candy laces
12 pretzel sticks
Preheat the oven to 350° F and coat a standard-sized cupcake pan with cooking spray. Place the butter in a large microwave-safe bowl and heat in the microwave at 100% power at 30-second intervals until completely melted, about 1 to 1-1/2 minutes. Stir in the sugar and vanilla. Add the eggs one at a time, stirring together well after each addition. Stir in the cocoa. In a separate bowl, whisk together the flour, baking powder and salt until well combined. Add the dry mixture to the cocoa mixture and fold together until no streaks of white flour mixture remain. Divide the batter evenly between the muffin cups (Image 1) and bake for 20-25 minutes, or until a toothpick tester inserted near the center comes out mostly clean, with a few moist crumbs clinging to the toothpick. Remove from the oven and let cook 5 more minutes in the pan. While the brownies are still warm, use the back of a tablespoon to press the centers down to create a bowl in the top of each brownie cupcake (Image 2). Transfer the brownies to a cooling rack to cool completely.
For the frosting, combine the butter and confectioners' sugar in a large mixing bowl (Image 1). Beat together using an electric mixer on medium speed. Add milk or cream while mixing to thin the mixture to spreading consistency (mixture should be thick and fluffy). Add the neon green food color and mix until the color is consistent and no white streaks remain (Image 2).
Fill the divot in each brownie with about 2 tablespoons of buttercream using two spoons (Image 1). Gently coax a little of the buttercream over one side, as if the frosting is spilling over the brownie's top edge (Image 2). Immediately sprinkle the freshly frosted brownie with green sugar pearls (Image 3), then finish with a sprinkle of white nonpareils (Image 4). Reserve the leftover buttercream. Set aside and gather the ingredients for the witch hats.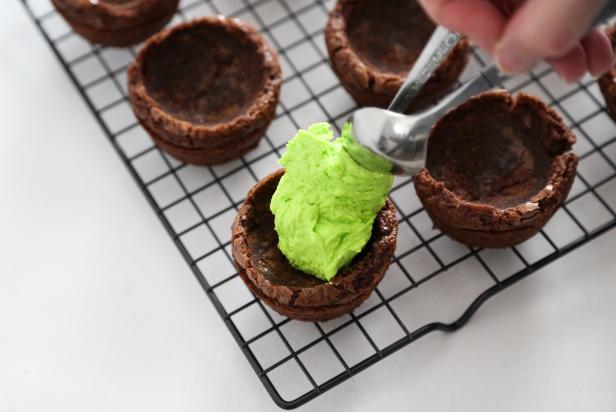 Heather Baird SprinkleBakes.com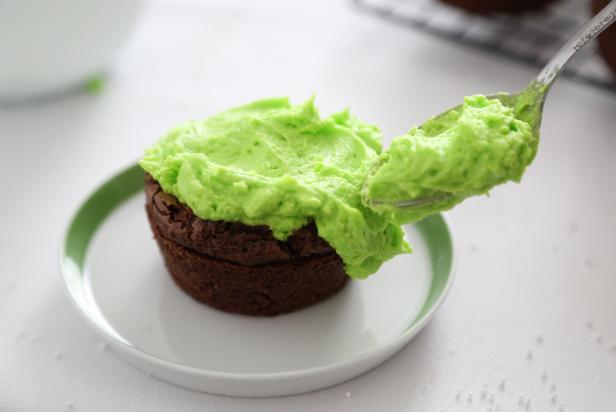 Heather Baird SprinkleBakes.com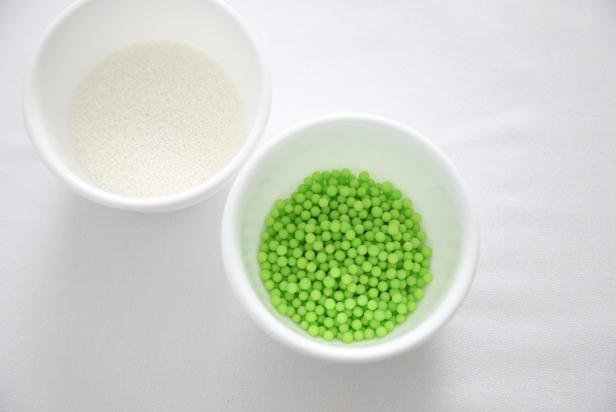 Heather Baird SprinkleBakes.com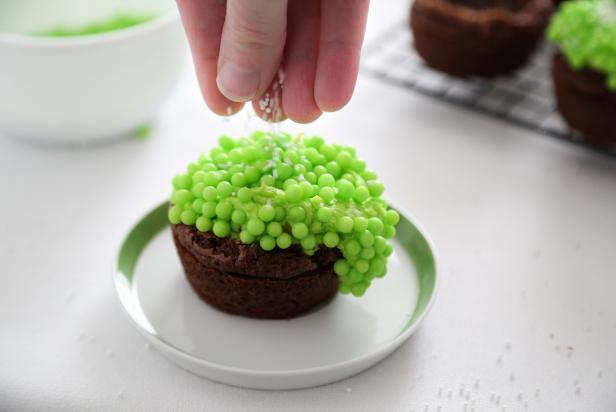 Heather Baird SprinkleBakes.com
Place a cream-filled sandwich cookie on a plate and top with a small dollop of buttercream in the center, about 1/2 teaspoon (Image 2). Place a chocolate drop on top of the frosting and press down until the frosting squeezes out around the edges of the chocolate (Image 3). Wrap a length of sour candy lace around the bottom edge of the chocolate drop and trim using kitchen-dedicated scissors (Image 4). Repeat with remaining ingredients to make 12 witch hats.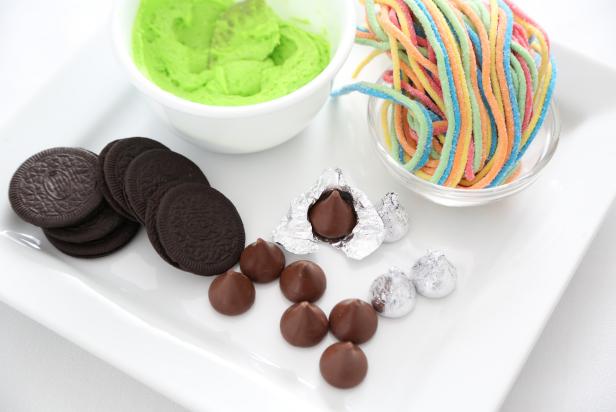 Heather Baird SprinkleBakes.com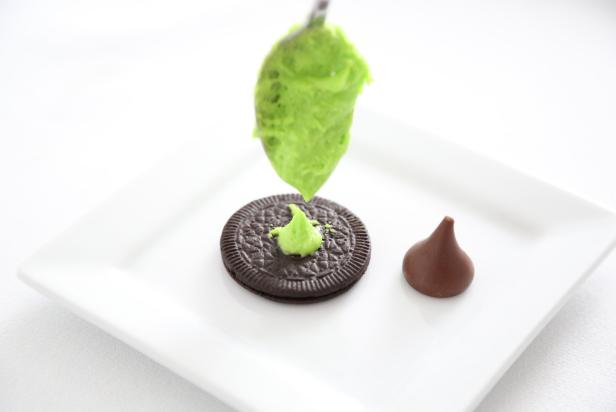 Heather Baird SprinkleBakes.com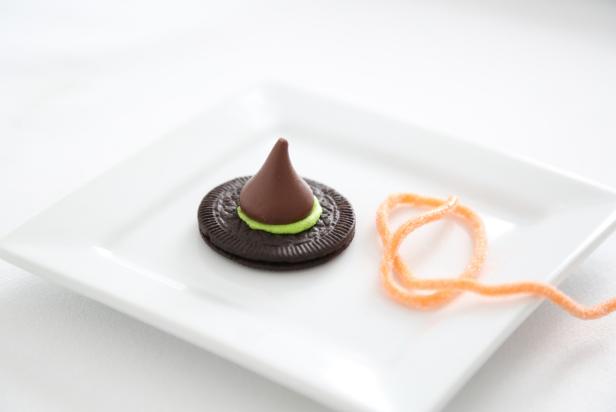 Heather Baird SprinkleBakes.com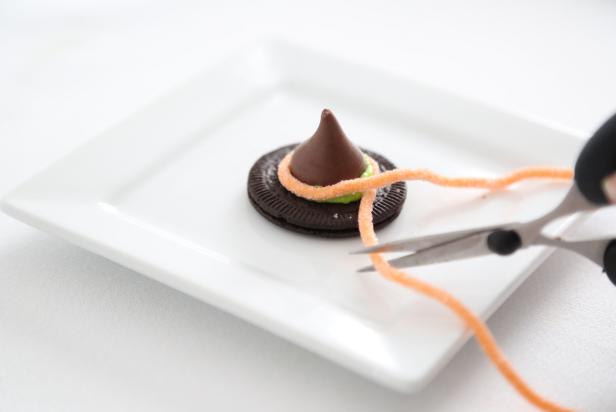 Heather Baird SprinkleBakes.com
Spoon a nickel-sized portion of buttercream on the underside of each witch hat and place them on top of the cauldrons, slightly off-center (Image 1). Insert a pretzel stick upright into each cauldron to create the appearance of a magic stirring spoon (Image 2). And abracadabra! Just like that, you've crafted a batch of bewitching brownies guaranteed to charm even the pickiest partygoer.
More Halloween Treats to Try
Guaranteed to thrill at your next monster mash, these creative homemade desserts are all treat, no trick. Check out our favorite ways to dress up cupcakes, cake pops, candy apples and more for Halloween.