Diwali Craft: DIY Rainbow Diyas
Brighten up your Diwali decor with these colorful and fun-to-make clay diyas.
We're sorry, there seems to be an issue playing this video. Please refresh the page or try again in a moment. If you continue to have issues, please contact us here.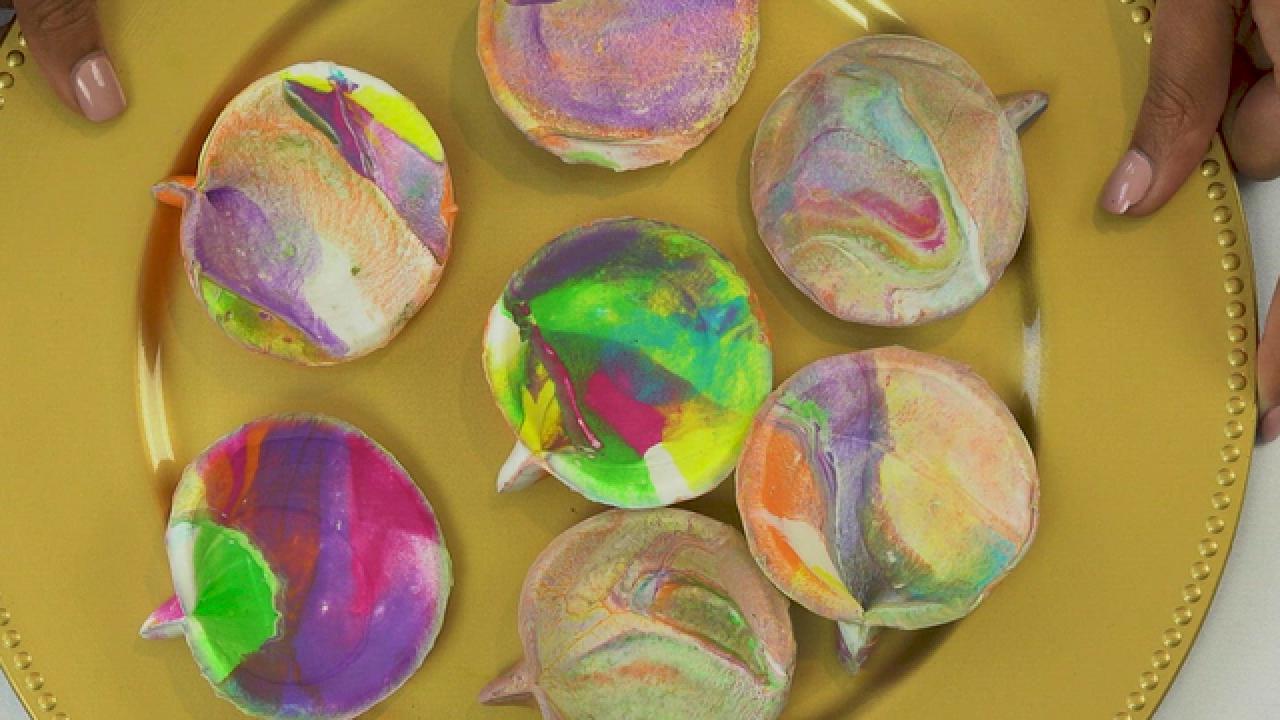 Diwali, or Festival of Lights, is a holiday in India that celebrates the triumph of good over evil, or light over darkness. During this time, thousands of diyas — an oil lamp usually made of clay — are lit around the world to symbolize knowledge, power and wealth. This year, get the kids involved in the fun by crafting your own homemade diyas for the celebration. Instead of the traditional oil and wick, we used tea lights for an easy and mess-free alternative. These gold-accented and colorful creations are sure to light up your Diwali display.
white polymer clay
colorful polymer clay
small rolling pin
gold liquid gilding
small paintbrush
baking tray
parchment paper
Line a baking tray with parchment paper and set aside. Using a rolling pin, roll out the white clay to create the base layer.
Incorporate cubes of colorful clay on top of the white, using a variety of bright hues (Image 1). Next, roll together and combine the clays (Image 2). Use your hands to further incorporate the colors, and keep rolling until a 1/4-inch thickness is achieved (Image 3).
Create patterns, marbling effects and multiple variations for the diyas by combining the clay in different ways such as stacking the colors together before rolling (Images 1 & 2).
Once your clays are combined and rolled out, use a cookie cutter or small bowl to cut out a round shape (Image 1). Shape the round disc into a small bowl (Image 2). Pinch one tip of the bowl to create a pointed tip (Images 3 & 4). Repeat this shaping process for the remaining clay.
Arrange the diyas on the baking tray and bake in a preheated oven at 265 degrees F for 45 minutes.
Let the diyas cool to room temperature, then paint the rims gold.
Once the gold paint is dry, add a tea light and light. Have a bright and colorful Diwali!
Flowers bring an elegant finish to this symbol representing the divine universe just in time for Diwali.
Discover our top tips for setting a cozy and thoughtfully put-together tablescape to welcome guests this Diwali.
Celebrate your loved ones by gifting them custom mithai boxes filled with delicious pistachio rose chocolate bark.