Gift This Pistachio Rose Chocolate Bark + Mithai Box for Diwali
With the festival of Diwali near, celebrate your loved ones by gifting them custom metallic-accented mithai boxes filled with delicious pistachio rose chocolate bark.
We're sorry, there seems to be an issue playing this video. Please refresh the page or try again in a moment. If you continue to have issues, please contact us here.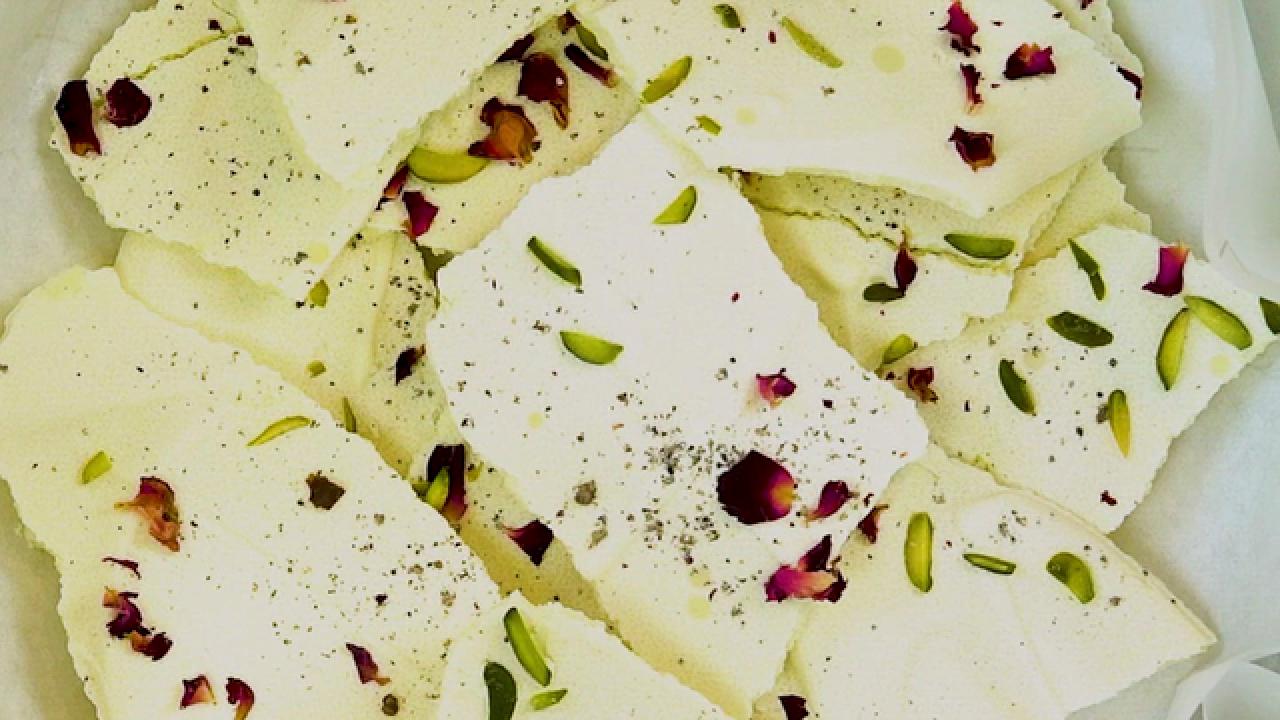 During the nights leading up to the Diwali celebration, a common activity is putting together mithai boxes filled with sweet treats for loved ones. Here, we're utilizing metallic temporary tattoos to easily dress up metal cookie tins, then whipping up deliciously sweet pistachio rose chocolate bark to fill the boxes. This is one gift your family and guests are sure to love.
solid color metal cookie tin
metallic henna temporary tattoos
scissors
bowl of water
sponge
paper towel
Using scissors, cut out henna tattoo designs you want from the sheet (Image 1) and decide the placement of the design on the box/tin. Once decided, peel the plastic cover off of the temporary tattoo and place upside down on the box. With a damp sponge, dab on top of the tattoo paper and apply pressure evenly across the design (Image 1), making sure to completely saturate (not soak) the paper. Hold for 30-60 seconds to ensure the whole tattoo is transferred. Carefully peel the paper off to reveal the design (Image 2), and pat dry with a paper towel if wet. Repeat the transfer process around the entire tin (Image 3).
Pistachio Rose Chocolate Bark
4 cups chocolate (milk, dark or white)
4 tablespoons slivered pistachios
2 tablespoons edible rose petals
1/2 teaspoon cardamom powder
1/4 teaspoon flaky sea salt (optional)
Line a large baking sheet with parchment paper or wax paper. Melt the chocolate in a double boiler (Image 1) or microwave and stir until smooth. Pour the chocolate onto the parchment paper (Image 2), and use a spatula to spread it into an even layer about 1/4-inch thick. Sprinkle the pistachios, rose petals, cardamom dust and sea salt on top of the chocolate (Image 3). Next, place the baking sheet in the refrigerator to chill for about 30 minutes or until the chocolate has fully hardened.
Remove the bark from the refrigerator and carefully slide it onto a cutting board. Cut or break the bark into similarly shaped pieces. Serve it immediately or store it in an air-tight container, such as the mithai box, in a cool place.
Flowers bring an elegant finish to this symbol representing the divine universe just in time for Diwali.
Discover our top tips for setting a cozy and thoughtfully put-together tablescape to welcome guests this Diwali.
Celebrate the Festival of Lights by crafting your own colorful and festive diyas made from clay and accented with gold.