Blood Orange Chocolate Tart Recipe
Make morning tea feel extra decadent with a rich chocolate tart and surprising notes of blood orange and sea salt.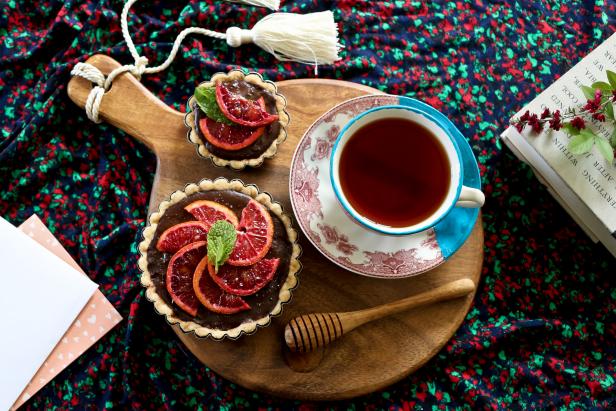 Blood Orange Chocolate Tart
Enjoy dessert for breakfast with this flavorful blood orange tart recipe.
4 tablespoons unsalted butter
1 1/2 tablespoons sugar
1 teaspoon vanilla extract
pinch of salt
1/2 cup flour
4 tablespoons flour (as needed)
For filling:

1/2 cup chopped dark chocolate, approx. 6 ounces
1/3 cup heavy cream
1 teaspoon blood orange extract
1 tablespoon blood orange zest
dehydrated blood orange discs
sea salt
1. Preheat oven to 350 degrees F. Mix melted butter, sugar, salt and vanilla in a bowl. Slowly add flour, mixing until dough sticks together. Add more flour if needed.
2. Sprinkle dough into the bottom of two 4-inch tart tins, pressing the dough firmly on the bottom and up the sides. Cover with plastic wrap, and set in the refrigerator for 30 minutes.
3. After they chill, prick with a fork and bake for 20-25 minutes or until golden brown.
4. Bring a small pot of water to a boil, and place glass bowl on top to create a double boiler. Add chopped chocolate, and stir until half melted. Add cream, and continue to stir until mixture is glassy and smooth. Add additional cream if needed for consistency.
5. Pour mixture carefully into each tart tin, and place in refrigerator to set for at least one hour.
6. Top with dehydrated blood oranges and a sprinkle of sea salt.