Heart-Shaped Fried Eggs Recipe
Show someone special how much you love them by serving double-heart fried eggs over tangy wilted greens and radishes for breakfast.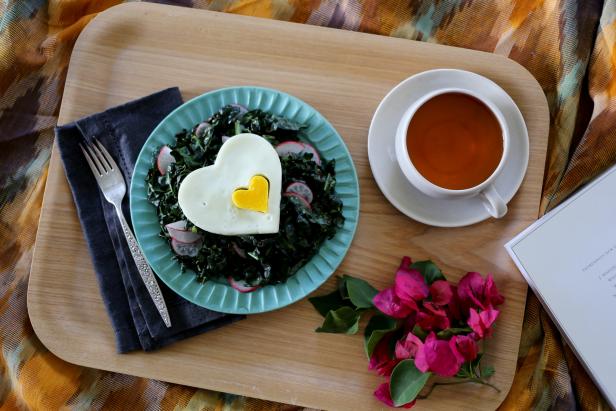 Heart-Shaped Fried Egg Recipe
Make heart-shaped fried eggs for breakfast on Mother's Day or any other special occasion.
2 eggs
1 bunch Italian kale
radishes
4 tablespoons extra virgin olive oil
1/4 cup champagne vinegar
juice of 1/2 lemon
1 heaping tablespoon whole grain Dijon mustard
cracked pepper to taste
1. Preheat a non-stick skillet on medium. Butter two heart-shaped cookie cutters (1 1/2-inch and 3-1/2 cutters), and separate the egg whites from the yolks.
2. Place the smallest cookie cutter on the skillet, and gently pour yolk inside. Place the larger cookie cutter around the yolk, and carefully pour the egg whites into the mold.
3. Cover and cook on low for three minutes. Cookie cutters should easily pop off when transferring your egg to a plate.
4. Mix dressing ingredients in a bowl, and toss with finely chopped kale and radishes, massaging salad for at least 15 minutes until wilted. Top with heart-shaped eggs.