Matcha Green Tea Biscotti Recipe
Add a unique flavor profile to your morning tea. A generous drizzle of rich chocolate ganache enhances the earthy notes of green tea and salty roasted almonds.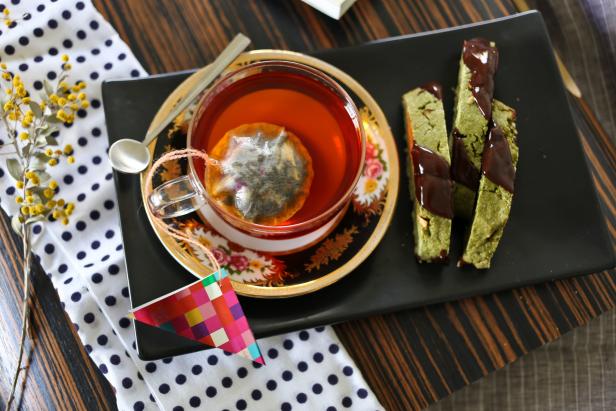 Matcha Green Tea Biscotti
The earthy flavor from the green tea complements the salty roasted almonds and chocolate drizzle in this matcha green tea biscotti recipe.
1 3/4 cup all-purpose flour
1/2 cup granulated sugar
1/2 teaspoon baking powder
1 1/4 tablespoon matcha powder
1/8 teaspoon Kosher salt
2 large eggs
2 tablespoons unsalted butter, melted and cooled
1/4 cup roasted unsalted almonds, roughly chopped
1/2 cup dark chocolate chips
1/3 cup heavy cream
1. Preheat oven to 350 degrees F. Mix sugar, flour, salt, baking powder and matcha powder into a bowl. Set aside.
2. In a stand mixer, combine eggs and melted butter. Slowly add flour mixture, and add roasted almonds once combined.
3. Knead dough to form an almond-shaped log. Place on a baking sheet lined with parchment paper, and bake for 30-40 minutes or until slightly golden.
4. Bring a small pot of water to a boil, and place glass bowl on top to create a double boiler. Add chopped chocolate, and stir until half melted. Add cream, and continue to stir until mixture is glassy and smooth. Add additional cream if needed for consistency.
5. Cut cooled biscotti loaf into 10 strips. Drizzle generously with chocolate ganache.