Blood Orange Dates Almond Salad Recipe
Give your guests a salad they won't find anywhere else. Combine almonds, dates and blood oranges for a fresh, mouthwatering taste they'll love.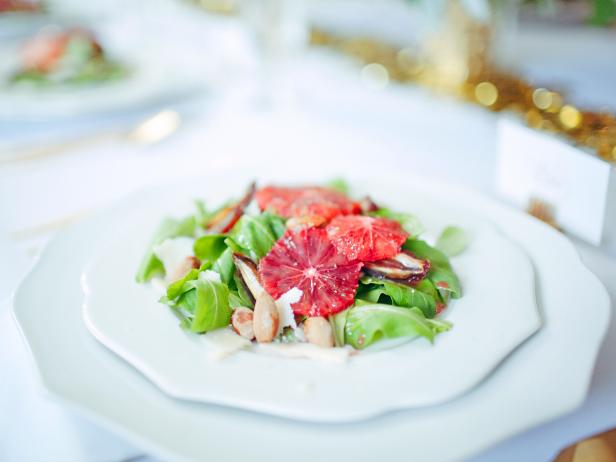 Green Salad With Blood Oranges, Almonds and Dates
Pefect for sit-down holiday meals, in-season blood oranges bring unexpected color to this simple salad. Get the recipe
1/2 cup raw almonds
15 Deglet Noor dates
4 large blood oranges
1/4 pound hunk Parmigiano-Reggiano cheese
2 ounces arugula
3 tablespoons pure almond oil
fleur de sel and freshly ground black pepper to taste
Preheat oven to 375° F. Spread the almonds on a baking sheet. Toast, about 8 to 10 minutes, until they are slightly darkened and smell nutty. Cut dates in half lengthwise and remove pits.
Slice the stem and blossom ends from blood oranges. Stand blood oranges on one end. Following the contour of the fruit with your knife, remove peel and white cottony pith. Work from top to bottom, rotating the fruit as you go.
Slice each orange thinly into about 8 to 10 pinwheels.
Place Parmigiano-Reggiano, flat-side down, on a cutting board. Using a chef's knife, shave 18 large, thin slices of cheese from the hunk.
Scatter 1/3 of the arugula on a large platter. Arrange 1/3 of the oranges, dates, cheese and nuts. Scatter another layer of arugula and continue layering in the same manner, letting the ingredients intertwine together but not pile up on one another. Drizzle almond oil over the salad and season lightly with fleur de sel, pepper and a squeeze of blood orange juice.