Speckled Egg Petit Fours Recipe
These colorful speckled egg cakes make a cute addition to Easter baskets or spring dessert buffet tables.
1 tub (16 ounces) ready-made vanilla frosting
2 drops blue food coloring or other color
1 loaf pound cake (Click here for our recipe.)
1/4 pound ready-made, white-rolled fondant
vegetable shortening
2 teaspoons unsweetened cocoa powder
1/2 teaspoon vanilla extract
1. Remove the plastic lid and foil covering from the top of the frosting tub. Place in the microwave and, and heat for 30 seconds. Stir well. Heat again for 20-30 more seconds or until frosting is melted and smooth.
2. Add 2 drops of food coloring, and stir until a uniform pastel color is achieved.
3. Slice the pound cake loaf into 1" slices, and cut two shapes from each pound cake slice using 2 1/2" egg-shaped cookie cutters (Image 1).
4. Place the cakes onto a wire rack, and place the rack on a parchment-lined baking pan. Spoon the melted frosting over the cakes until they are completely covered (Image 2). Repeat with remaining pound cake slices.
5. Knead a small portion of fondant with one drop food coloring. When the fondant color is consistent, roll it out on a smooth work surface using a small rolling pin. If the fondant wants to stick, knead in a small portion of vegetable shortening. Cut egg shapes from the fondant, and transfer them to the tops of the frosted cakes (Images 3 and 4).
6. In a small cup, mix the unsweetened cocoa powder with vanilla extract. Add additional drops if needed to achieve a wet but slightly thick (paint-like) consistency. Dip a stiff bristle brush into the cocoa mixture. Bend the bristles back using your finger, and flick onto the cakes about 4-6 inches from the cake's surface (Image 5).
7. Let the cakes stand until completely dry. Transfer to small boxes, or display them in cupcake liners.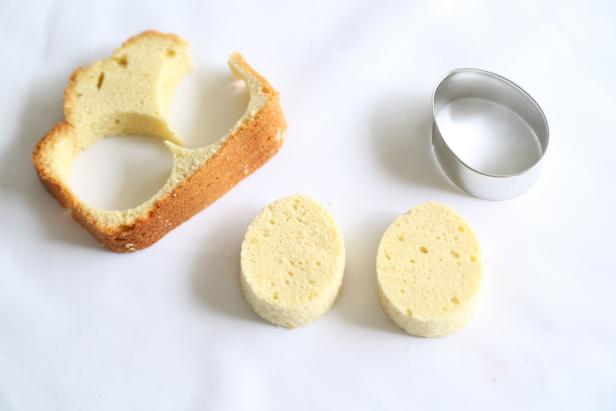 Heather Baird SprinkleBakes.com
Image 1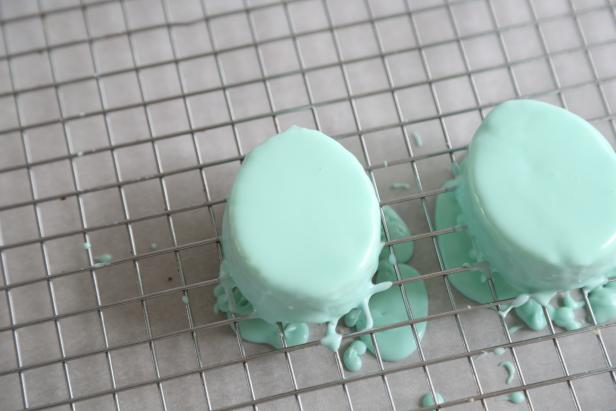 Heather Baird SprinkleBakes.com
Image 2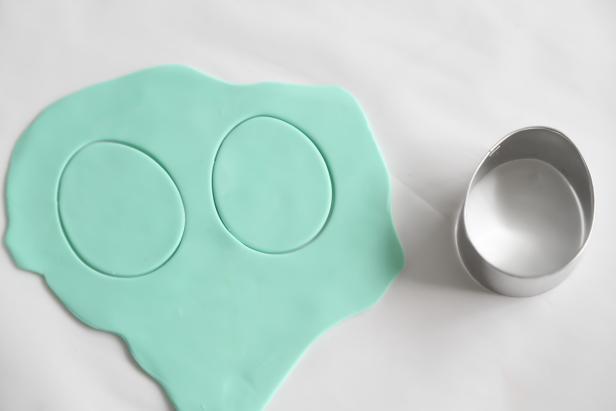 Heather Baird SprinkleBakes.com
Image 3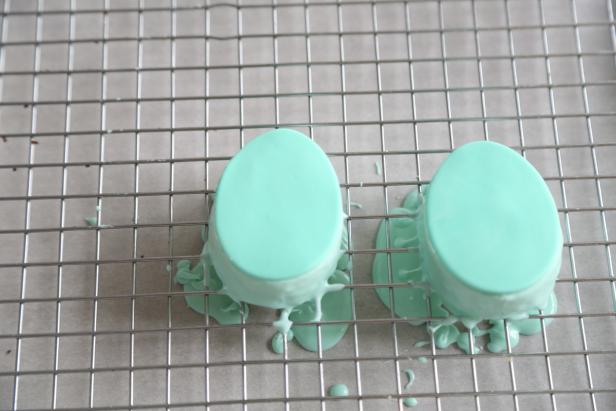 Heather Baird SprinkleBakes.com
Image 4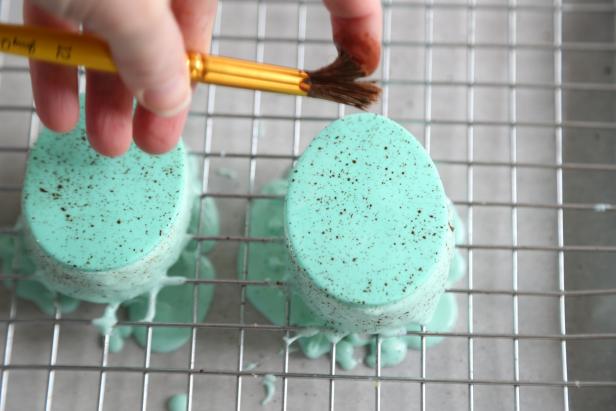 Heather Baird SprinkleBakes.com
Image 5