Individual Maple Sweet Potato Souffles
Maple syrup adds just the right amount of sweetness to these light and airy fall side dishes. Top with toasted pecans for an earthy crunch.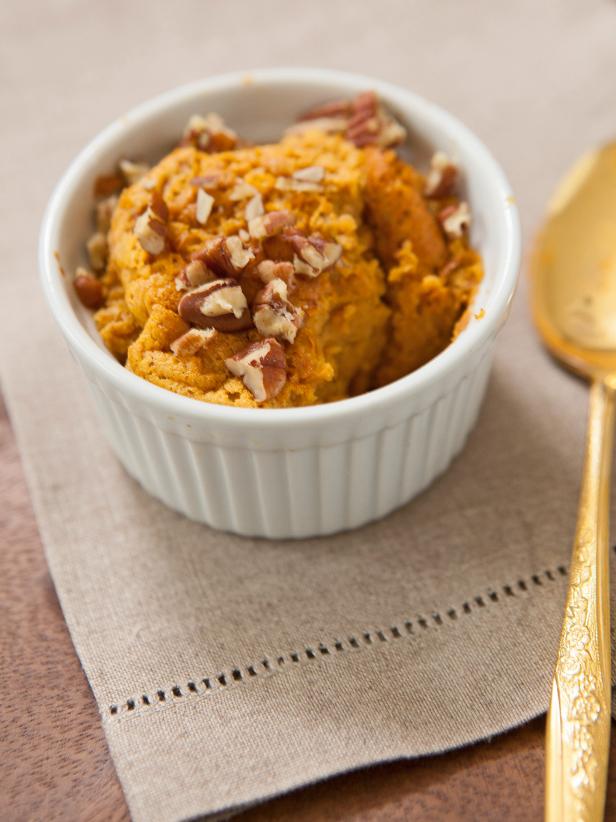 Individual Maple Sweet Potato Soufflé
Sweet potatoes, maple syrup and toasted pecans combine for an indulgent treat that's sure to please even the pickiest palette. Prepared individually in ramekins, they make for easy serving. Get the recipe: http://www.hgtv.com/entertaining/individual-maple-sweet-potato-souffles/index.html
1 tablespoon butter for ramekins
2 large sweet potatoes, skin pierced all over with a fork
1/2 teaspoon kosher salt
1/2 teaspoon allspice
2 tablespoons maple syrup
3 tablespoons orange juice
1 large egg yolk, plus 6 large egg whites
2 tablespoons granulated sugar
1/4 cup all-purpose flour
1/2 cup toasted pecans
Preheat oven to 425 degrees F. Wrap sweet potatoes in foil and roast in oven until very tender, about 1 1/2 hours. Set potatoes aside to cool but leave the oven on.
Meanwhile, butter 12 6-ounce ramekins and set aside. Peel sweet potatoes and transfer to a food processor. Add salt, allspice and half of the maple syrup; puree. Pulse in orange juice to achieve a smooth consistency. Transfer to a medium bowl, stir in egg yolk and flour; set aside.
Put egg whites in the bowl of an electric mixer fitted with the whisk attachment. Beat on medium-high speed until soft peaks form. Gradually add sugar, beating until stiff, glossy peaks form. Whisk one-third of the egg whites into the sweet potato mixture. Using a rubber spatula, gently fold in remaining egg whites.
Divide among the ramekins. Place on a rimmed baking sheet. Bake until puffed and cooked through, about 15 minutes. Top with toasted pecans and serve immediately.