Savory, sweet and crunchy, this fall favorite really satisfies with pure maple syrup, mixed nuts and a kick from cayenne pepper.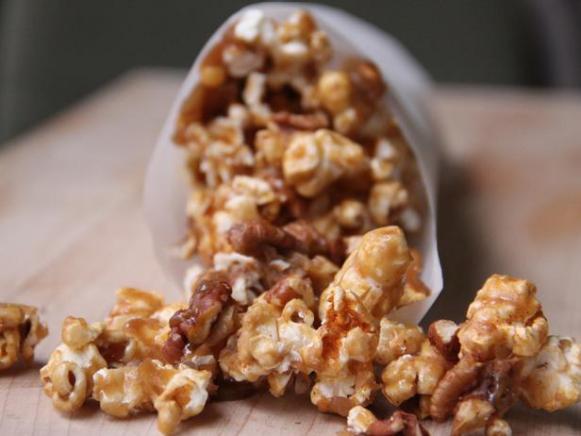 Maple-Nut Popcorn
The sweet-and-spicy snack mix is seriously addictive. Place bowls of this nutty mix around your holiday party and watch it disappear. Get the recipe.
Courtesy Kelsey Nixon, CookingChannelTV.com
10 cups plain popcorn, popped
2 cups mixed nuts, such as pecans, walnuts and almonds
1 teaspoon salt
1/2 teaspoon paprika
1/2 teaspoon cayenne pepper
Nonstick spray, for greasing
1 stick unsalted butter
1 1/2 cups pure maple syrup

Combine the popcorn, mixed nuts, salt, paprika and cayenne pepper in a large serving bowl.
Line a large baking sheet with aluminum foil and coat with nonstick spray.
Melt the butter in a heavy-bottomed saucepan over medium-high heat. Pour in the maple syrup and continue cooking until the mixture reads 275 degrees F on a candy thermometer, about 15 minutes.
Carefully pour the mixture over the popcorn and nuts. Toss, using a spoon that has been coated in nonstick spray, to coat the popcorn evenly with syrup. Allow the popcorn to cool before serving.

Total time:
35 minutes

Yield:
6 servings

Level:
Easy