Ganache-Dipped Chocolate Chip Cookies Recipe
Chocolate chip cookies are the perfect treat for any occasion. Add a layer of ganache and you have an award-winning dessert that any chocolate lover will devour.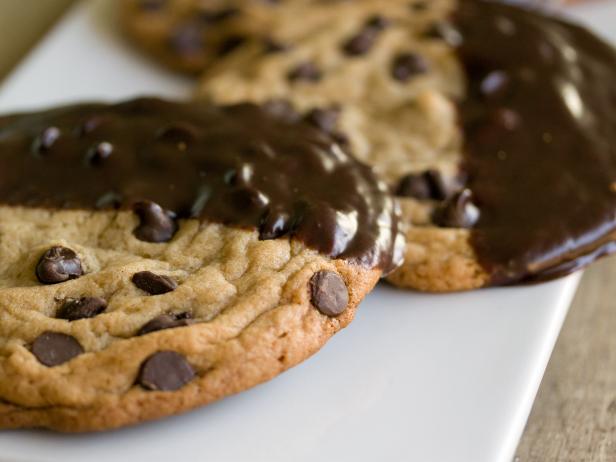 Ganache-Dipped Chocolate Chip Cookies
Make this perennial favorite special enough for the any season by dipping each cookie into a simple-to-make chocolate ganache. Get the recipe.
1 cup unsalted butter, at room temperature
1 cup brown sugar
1 cup white sugar
2 eggs
2-1/2 teaspoons pure vanilla extract
2-1/2 cups all-purpose flour
1 teaspoon salt
1 teaspoon baking soda
1 teaspoon baking powder
2 cups chocolate chips
8 ounces bittersweet chocolate
1: Preheat oven to 350 degrees F.
2: Cream together butter and sugars in a mixer for 2-3 minutes.
3: Add the eggs and vanilla, making sure to scrape down the sides of the mixing bowl so everything is evenly incorporated.
4: Add flour, salt, baking soda and baking powder, and mix on low until everything is just incorporated, making sure not to overmix.
5: Chill dough in refrigerator for at least 45 minutes and up to 4 hours. While dough is chilling, place chocolate chips in a wide, shallow bowl.
6: Scoop out a 1/4-cup size of dough and roll it into a ball. Roll it around in the chocolate chips and place on a parchment-lined baking sheet.
7: Place 6 cookies on a sheet. Note: They will spread due to their size, so it's better to bake fewer at a time so they don't run together.
8: Bake for 12-14 minutes until just slightly golden around the edges. Remove from oven and let cool on baking sheet for about 5 minutes more. Remove cookies from baking sheet and transfer to a wire rack to cool. Repeat this process for the remaining dough.
9: While cookies are cooling, go ahead and make the ganache. In a small pot, bring cream to a low simmer.
10: Remove from heat and stir in bittersweet chocolate with a wooden spoon until fully incorporated and all the chocolate is melted. You should have a glossy chocolate mixture. Dip half of each cooled cookie into the ganache and set on parchment paper to dry. Refrigerate chocolate-dipped cookies for 20 minutes to set the chocolate.