Mini Black Forest Cake Recipe
This rich chocolate cake hails from the Black Forest region of Germany. It's a layered confection soaked with Kirsch (cherry liqueur), and filled with whipped cream and Morello cherry preserves. Make several of this mini version to feed an Oktoberfest party crowd. Petite but with a tasty punch of rich chocolate and tart cherries, these mini mouthfuls are the perfect way to end an Oktoberfest feast.
18 tablespoons unsalted butter at room temperature
3 cups sugar
6 large eggs at room temperature
1 tablespoon vanilla extract
3 cups all-purpose flour, sifted
1 teaspoon fine grain sea salt
1 teaspoon baking soda
1 cup unsweetened Dutch-process cocoa powder, sifted
1-1/2 cups whole milk
Whipped Cream Ingredients
3 cups heavy cream
1/2 cup powdered sugar
1 tablespoon kirsch cherry liqueur or 1-1/2 teaspoons cherry extract
1/2 cup kirsch cherry liqueur
1-1/4 cups Morello cherry preserves (tested with Tiptree)
chocolate curls
20 whole fresh dark cherries
Preheat the oven to 350F. Spray an 18x12x2-inch sheet pan with flour-based baking spray, or grease with butter and flour, then tap out excess flour.
Cream the butter and sugar on medium-high speed in the bowl of an electric mixer fitted with the paddle attachment until light and fluffy (about 5 minutes). On medium speed, add the eggs, 2 at a time, then the vanilla. Mix well.
Sift together the flour, salt, baking soda and cocoa powder. With the mixer on low speed, slowly add the flour and whole milk, alternating between the two and beginning and ending with the flour mixture. Mix just until smooth. Pour the mixture into the prepared pan and bake for 25 to 30 minutes, or until a toothpick tester comes out clean. Cool in the pan to room temperature. Turn out onto a large piece of parchment paper.
Level the cake using a cake leveler or a large serrated knife, so that the cake's height is about 1-1/2 inches tall (Image 1). Cut 20 circles from the cake using a 2- 3/4-inch round cookie cutter (Image 2). Torte each mini cake so that you have a total of 40 cake layers. Place them in a pan (Image 3) and cover them; refrigerate until firm, about 1 hour. Tip: Refrigerating will make the fragile cake layers easier to handle.
Whipped Cream Instructions
In the bowl of an electric mixer, beat the heavy cream to soft peaks. Add powdered sugar a little at a time. Dribble in the kirsch or cherry extract. Beat to stiff peaks. Transfer half of the mixture to a piping bag fitted with a plain 1/2-inch round tip. Transfer the other half of the mixture to a piping bag fitted with a plain large French decorator piping tip.
Brush one mini cake round with the kirsch liqueur using a pastry brush (Image 1). Spread a thin layer of cherry preserves onto the cakes. Pipe a layer of whipped cream on top of the cherry preserves using the piping bag with the plain 1/2-inch decorator tip (Image 2). Stack a second cake layer on top. Pipe a swirl of whipped cream on top using the piping bag fitted with the large French piping top (Image 3). Garnish with a single fresh cherry and chocolate curls (Image 4). Repeat steps with remaining cake layers until you have 20 mini cakes finished.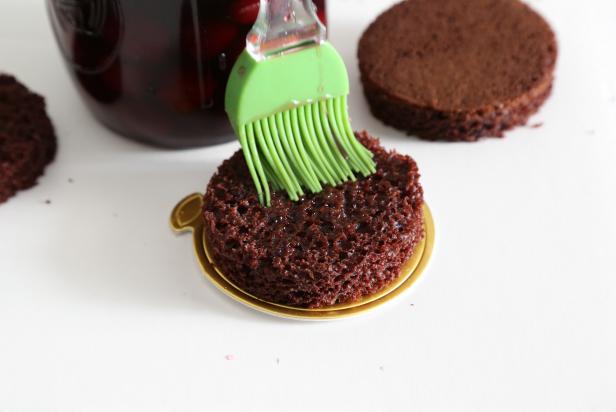 Heather Baird SprinkleBakes.com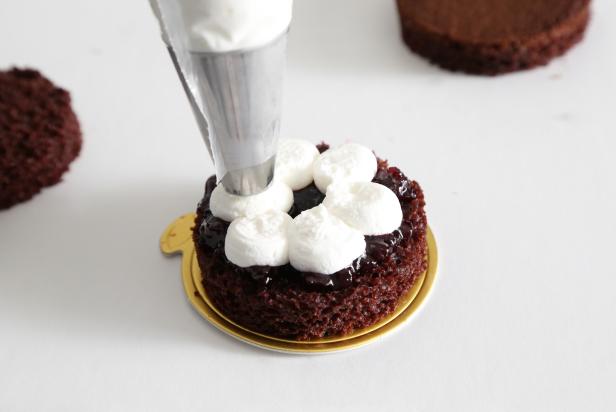 Heather Baird SprinkleBakes.com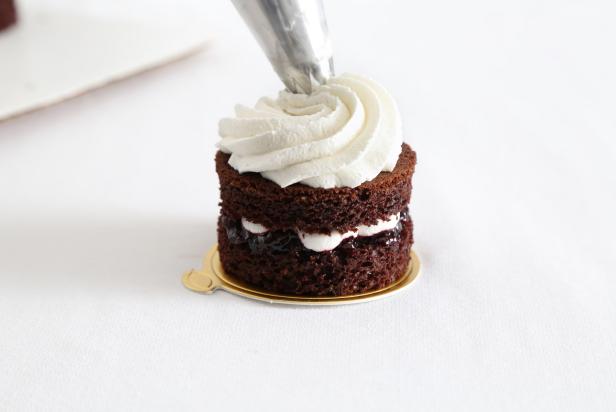 Heather Baird SprinkleBakes.com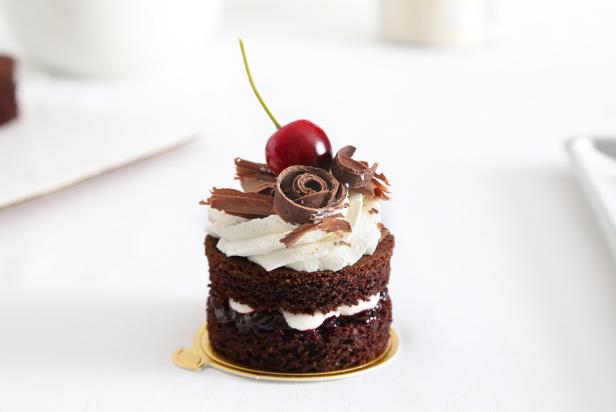 Heather Baird SprinkleBakes.com
Oktoberfest's Sweet Finish
Serve the mini cakes immediately or store in the refrigerator until ready to serve (Image 1). For the ultimate backyard Oktoberfest feast, include the mini cakes as part of a larger spread (Image 2). If kids will be part of your celebrations, make a few cakes kirsch-free so they can enjoy them, too (Image 3).