Jam-Filled Linzer Cookies
Raspberry and apricot jam are sandwiched between two buttery crusts with a small cutout on top to create this classic holiday dessert.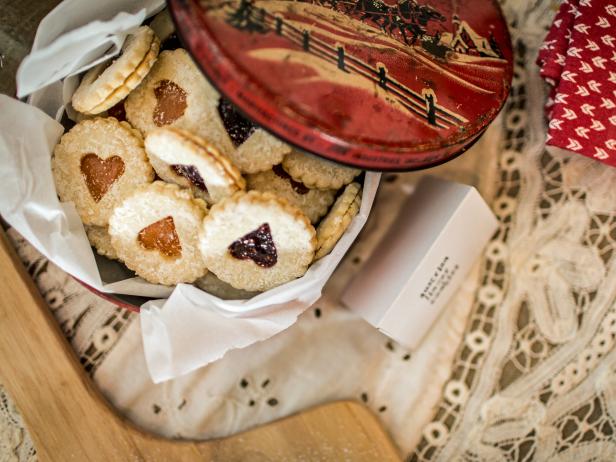 Austrian Linzer Tortes
Add an elegant touch to your holiday buffet table with classic Austrian linzer tortes. Raspberry preserves are sandwiched between two buttery crusts, with a small cutout on the top, to create this holiday classic. Pile them high in a vintage tin for a nostalgic presentation.
1 cup raw almonds
1 cup (2 sticks) unsalted butter
1 cup granulated sugar
2 large eggs
1 teaspoon pure vanilla extract
2 cups all-purpose flour
1 teaspoon baking powder
1/4 teaspoon salt
1 teaspoon orange zest
1/2 cup seedless raspberry jam
1/2 cup apricot jam
confectioners' sugar, for dusting
Special Equipment:
3-inch fluted round cookie cutter
1-inch heart-shaped cookie cutter
1. Heat oven to 375 degrees F.
2. Toast almonds on baking sheet until they start to turn golden brown.
3. Remove from oven and let cool.
4. Place nuts in a food processor, and pulse until medium fine.
5. Line two baking sheets with parchment paper, and then set aside.
6. In the bowl of an electric mixer, beat butter and sugar at medium-high until light and creamy (approximately 2 minutes).
7. Add eggs one at a time, beating after each addition. Add vanilla.
8. In a large bowl, combine flour, ground almonds, baking powder, salt and orange zest.
9. Add to butter mixture and incorporate on low until just combined.
10. Place dough in freezer for 30 minutes, until firm.
11. Dust a clean surface with flour, and roll out dough to 1/8-inch thickness.
12. Using a 3-inch fluted round cookie cutter, cut out 3 dozen circles (Image 1).
13. On only half of the rounds, use a 1-inch heart-shaped cookie cutter to cut out centers; these will be the tops of the finished cookies (Image 1).
14. Transfer cookies to prepared baking sheets and bake until golden brown (approximately 8-10 minutes).
15. Transfer to a wire rack and let cool completely.
16. On half of the cookie "bottoms," spread 1 teaspoon raspberry jam.
17. Spread 1 teaspoon apricot jam on the other half of the bottoms.
18. Use the reserved cookie tops to sandwich both halves together.
19. Dust confectioners' sugar over the tops of all cookies.