These sweet, spongy treats are especially delicious when dipped in melted chocolate.
1 1/4 cups granulated sugar
6 large eggs, at room temperature
1 teaspoon pure vanilla extract
1 teaspoon lemon zest
1/2 teaspoon kosher salt
2 cups all-purpose flour
1 teaspoon baking powder
2 sticks unsalted butter, melted and cooled
coarse salt
nonstick cooking spray
confectioners' sugar, for dusting
1/2 cup semisweet chocolate, melted (optional)
Special Equipment:
nonstick madeleine pan
1. In the bowl of an electric mixer, beat sugar and eggs on high until pale and fluffy, at least 5 minutes.
2. Reduce speed to medium, and beat in vanilla, lemon zest and salt.
3. Whisk together flour and baking powder in a medium bowl.
4. Fold flour mixture into wet ingredients in 2 additions.
5. Fold in melted butter in 2 additions.
6. Refrigerate, covered, for at least 2 hours.
7. Preheat oven to 375 degrees F.
8. Generously spray madeleine pan with nonstick cooking spray.
9. Let batter stand at room temperature for 10 minutes.
10. Spoon batter into each indentation in pan, filling each about three-quarters full.
11. Bake on middle rack until pale gold (approximately 10-15 minutes).
12. Immediately shake madeleines out of pan, and repeat with remaining batter.
13. Dust baked madeleines with confectioners' sugar.
14. If desired, dip half of cooled madeleines into melted chocolate, and transfer to a baking rack to allow chocolate to harden.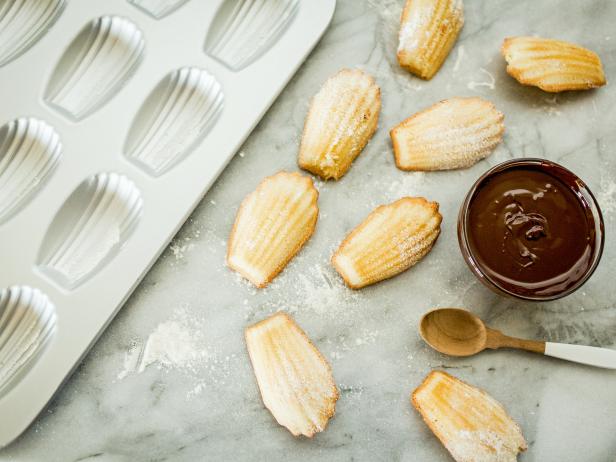 French Madeleine Cookies
These sweet, buttery treats are especially delicious when dipped in melted chocolate. Get the recipe.