Rugelach With Raisin-Walnut Filling
These Eastern European pastries are known for their crescent-roll shape, and can be filled with nuts, fruit preserves and spices before baking.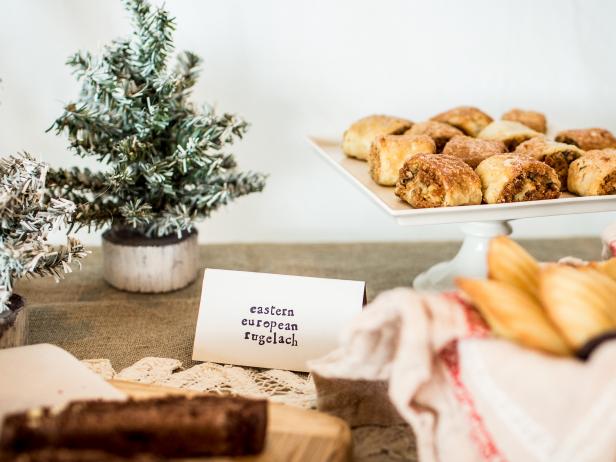 Holiday Rugelach
Eastern European rugelach are a Jewish pastry known for their crescent-roll shape. Fill with any combination of raisins, cinnamon, chocolate, nuts or fruit preserves, then roll up and slice before baking.
For the cream cheese dough:
8 ounces (2 sticks) unsalted butter, at room temperature
8 ounces cream cheese, at room temperature
1/4 cup sugar
3 large egg yolks
1 teaspoon pure vanilla extract
1/2 teaspoon kosher salt
2 1/4 cups all-purpose flour, plus more for rolling out dough
For the apricot-walnut filling:
2/3 cup apricot preserves
3/4 cup brown sugar
kosher salt
1 cup walnuts, chopped fine
1 cup golden raisins
For the sugar glaze:
1 egg, beaten
1/4 cup sanding sugar
1. In the bowl of an electric mixer, beat together butter and cream cheese on medium high.
2. Slowly add sugar, then beat until fluffy.
3. Add egg yolks, one at a time, beating to combine after each addition.
4. Add vanilla and salt, and beat to combine. Reduce speed to low, and add flower 1/2 cup at a time, mixing only to combine.
5. Remove from bowl, and divide into 4 equal pieces.
6. Using floured hands, pat into disks and wrap in plastic wrap.
7. Refrigerate for at least 1 hour until chilled.
8. Preheat oven to 350 degrees F.
9. Line 2 large baking sheets with parchment paper.
10. Working with one dough disc at a time, spread 2 1/2 tablespoons preserves, 2 tablespoons brown sugar, a pinch of kosher salt, 1/2 cup walnuts and 1/2 cup raisins (Image 1).
11. Use a rolling pin to gently press filling ingredients into dough.
12. Starting from the long side, roll the dough into a cylinder, taking care not to squeeze any filling out of the sides.
13. Cut a 1/2" bit off the end of each cylinder to even them out.
14. Then, cut the roll into 1-inch pieces.
15. Place roulades, seam-side down, 2 inches apart on prepared sheets.
16. Repeat with remaining dough and filling ingredients.
17. Brush tops with beaten egg and sprinkle with sugar.
18. Bake until golden brown (approximately 20 to 25 minutes).