Chocolate and Candied Orange Christmas Cookies Recipe
Dress up a basic chocolate cookie dough recipe for the holidays by adding candied orange.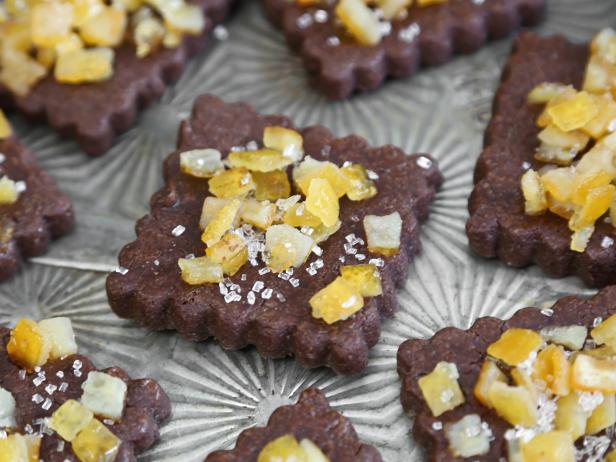 Chocolate Cookies With Candied Orange Topping
Chocolate cookie dough gets a holiday upgrade from sweet candied orange topping. Get the recipe.
1 cup unsalted butter, softened
1 cup, plus 2 tablespoons granulated sugar
1 egg
1 teaspoon vanilla extract
2 cups all-purpose flour
1 cup unsweetened cocoa powder
pinch of salt
1 egg white, beaten
8 ounces candied orange
1. In a stand mixer fitted with the paddle attachment, mix butter and sugar together until just incorporated.
2. Add egg and vanilla extract. Mix again on low speed, stopping to scrape down the sides of the bowl intermittently as needed.
3. In a medium bowl, whisk together cocoa powder and salt. Add to butter and egg mixture. Mix on low speed until a dough is formed and there are no longer any streaks of butter in the mixing bowl.
4. The dough will clump around the paddle attachment while being mixed. If your mixture does not come together and is crumbly, add ice-cold water 1 tablespoon at a time until the dough clumps.
5. Line two baking sheets with parchment paper.
6. Turn the dough out onto a sheet of wax paper and top with a second sheet. Roll dough into an oblong disc between the papers with a rolling pin.
7. Transfer dough — wax paper and all — to a large cookie sheet. Wrap dough tightly onto cookie sheet with plastic wrap and refrigerate for 1 hour.
8. Preheat oven to 350 degrees F.
9. Remove top sheet of wax paper and roll dough a little thinner (Image 1). It should not be sticky. You may dust the surface lightly with flour if it is sticky, but not too much.
10. Roll dough to a 1/4-inch to 1/2-inch thickness.
11. Cut dough into 3-inch squares using a cookie cutter (Image 1) and place on parchment–lined baking sheets.
12. Lightly brush squares with egg white (Image 2).
13. Evenly divide candied orange between the cut dough squares (Image 3).
14. Bake for 12 to 15 minutes or until golden around the edges and fragrant. Let cool completely.