Gooey Chocolate Crinkle Cookies Recipe
Delight chocoholics on your gift list with these soft-centered cookies that are a snap to bake.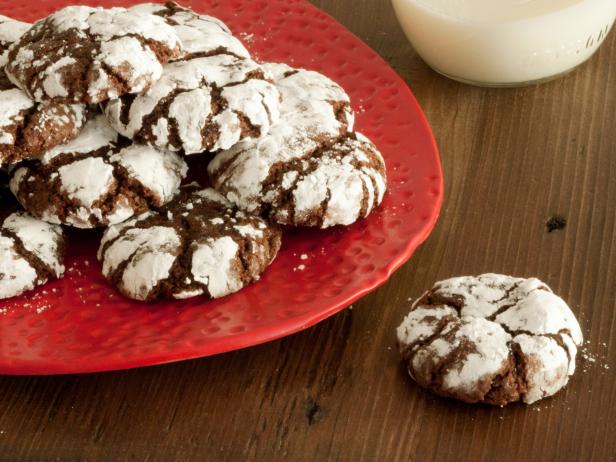 Chocolate Crinkle Cookies
Part cookie, party brownie, this soft chocolate cookies are as simple as it gets. Since there's no creaming or rolling involved in this recipe, you can make them even if you're without a rolling pin or a mixer. Get the recipe.
Growing up, I always looked forward to the holidays when my mom and grandma would whip up dozens of different holiday cookies. These gooey chocolate crinkle cookies were always my favorite and they literally couldn't be any easier.
1 cup unsweetened cocoa powder
2 cups white sugar
1/2 cup vegetable oil
4 eggs, at room temperature
3 teaspoons pure vanilla extract
2 cups all-purpose flour
2 teaspoons baking powder
1 teaspoon kosher salt
1/2 cup powdered sugar
1. In a stand mixer, fitted with a whisk attachment, combine the cocoa powder, white sugar and vegetable oil and mix for 2 minutes.
2. Add the eggs and vanilla extract and mix until evenly combined.
3. Add the flour, baking powder and salt and incorporate all the ingredients together. Remove the bowl from the stand mixer and cover the dough with plastic wrap and refrigerate for at least 3 hours.
4. Preheat oven to 350° F.
5. Line a baking sheet with parchment paper.
6. Measure out small balls of dough, 1 tablespoon each, and roll the dough into balls with lightly oiled hands. Coat each ball in powdered sugar before placing onto prepared baking sheets. 12 cookies can fit on each sheet.
7. Bake for 10 minutes. Let cool slightly before transferring the cookies to a cooling rack to finish cooling.