How to Make an Easy Christmas Tree Centerpiece
Create an easy 3-D pine tree centerpiece this holiday season using honeycomb paper.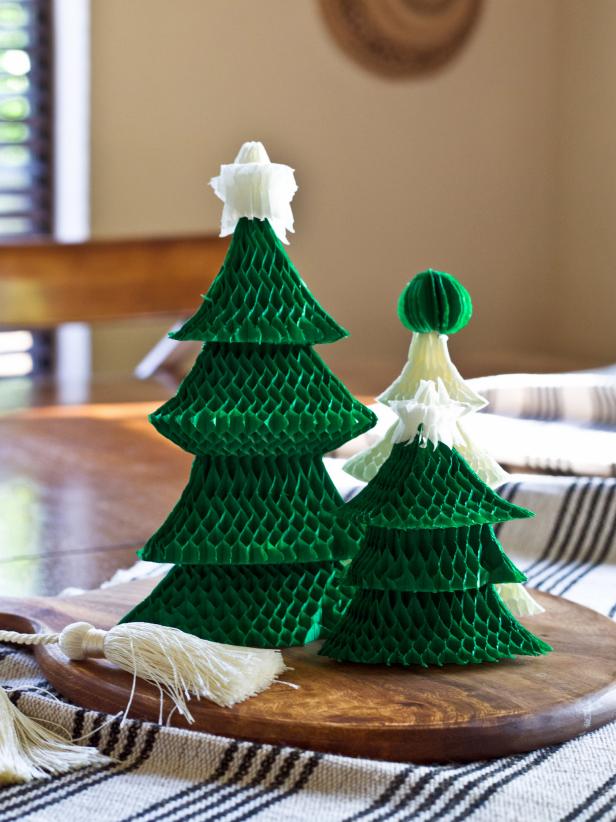 Honeycomb Christmas Tree Centerpiece
Christmas tree-shaped honeycomb paper is an easy, budget-friendly holiday centerpiece idea.
honeycomb paper
pencil or pen
scissors or X-acto knife
craft glue
Using a pencil or pen, outline half of a pine tree silhouette on the edge of the honeycomb paper. Cut the outline, and fan and stretch the honeycomb so both flat sides meet in the back (images 1 and 2).
For tree topper details, cut out half circles or stars from white honeycomb paper on the edge of the honeycomb sheet as you did with step one. Bend tree toppers all the way around to create a full orb or multidimensional star (image 1). Use craft glue to secure the two ends together, creating a 360 degree object (image 2). Let dry. Glue tree topper to the top of the tree, and use as place setting decor (image 3) or as a centerpiece.