How to Cross Stitch a Poinsettia Design on Napkins
Add a little modern folk to the holiday table with these adorable, easy cross-stitched napkins with a Scandinavian-inspired poinsettia design.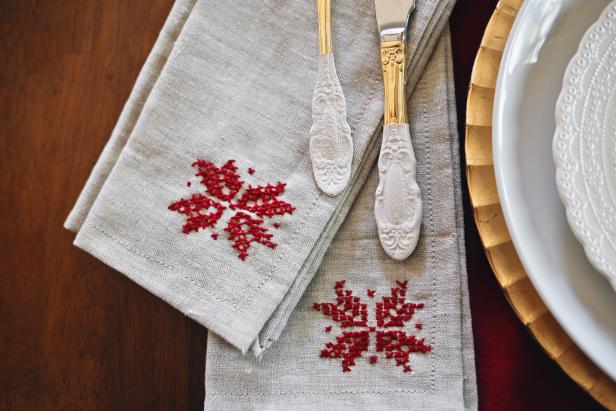 Cross-Stitched Poinsettia Napkins
Add some modern folk to your holiday table with cross-stitched poinsettia napkins. [Download our free printable poinsettia pattern](http://www.hgtv.com/content/dam/documents/HGTV/2015/Original_Kristin-Guy-HostingHolidays-poinsettia-napkins.pdf?syc=applenews_hgtv-christmas-dinner-recipes-for-the-novice-host), and [follow our easy instructions to make your own>>](http://www.hgtv.com/design/make-and-celebrate/handmade/how-to-make-poinsettia-cross-stitch-napkins?syc=applenews_hgtv-christmas-dinner-recipes-for-the-novice-host)
embroidery needle
scissors
embroidery Floss
unbleached natural linen (24x24" fabric piece for each napkin)
thread
straight pins
measuring tape
sewing machine
scissors
To make your own napkins, cut a 24x24" piece of fabric, fold edges inward and pin 1" on all sides of both panels. Make sure pins remain on the outside for easy removal.
Create an envelope fold, cut a 45-degree angle from the corner of the fabric, and tuck 1/2" of the remaining material inside to pin.
Pin all four sides of the napkin into place, and crease edges using a hot iron. Sew the edges.
Thread the needle, and tie a small knot at one end. Starting with the needle coming up from the underside of the napkin, create your first short diagonal stitch approximately four inches from the corner of the napkin.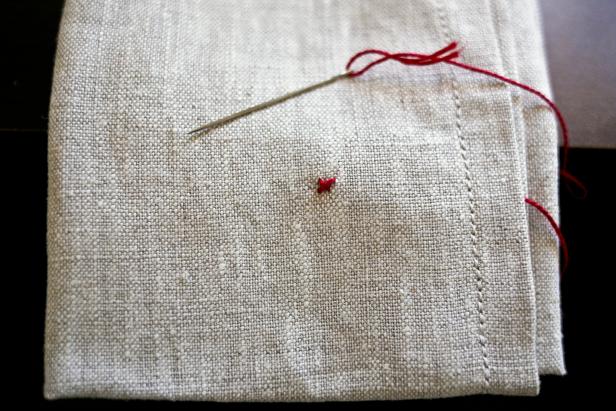 Stitch First 'X'
To make a poinsettia design on a napkin, cross-stitch "X's" in a row.
Following the provided downloadable pattern, continue creating small X's row-by-row keeping a straight grid in mind. Repeat the pattern along the entire bottom of the napkin if desired.