Festive Seashell Beach Party Decorations
Use seashell souvenirs from previous beach vacations to decorate candles, glasses and appetizers at your next dinner party.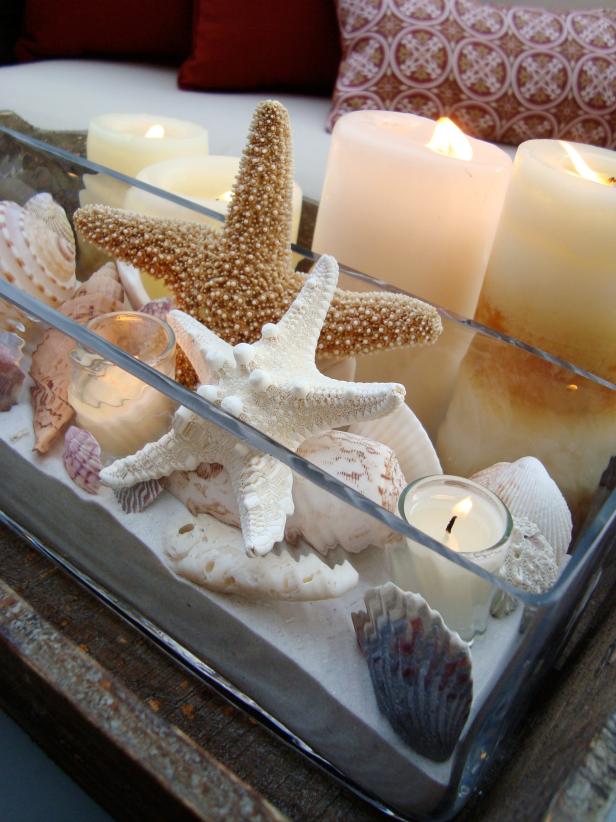 Centerpiece of Coastal Decor
Longing for that summertime feel during the winter months? Bring the beach right to your table. This sea-inspired centerpiece is easy to make and can be used all year round. "A rustic wooden tray provides the base for the rectangular glass vase filled with sand, candles and a variety of seashells," Katrina Giles of Seaside Interiors says. Add vibrant shells and starfish for an extra boost of summer hues.
Weeks after your vacation is over and you're back at work, you might be wishing you were still at the beach. If going back right away isn't an option, throw a beach party using your new beach souvenirs. Relive the trip by making these beach party decorations.
Beach party votive candles
1. Glue a small shell flat side down onto the curved underside of a large cockle shell.
2. Place small wired wicks with bases inside the cockle shell and pour in melted paraffin wax.
3. Optional: Scent the wax with coconut or pina colada candle.
4. If the wax caves in when it dries, melt more and top off until even. Make several and scatter them around your patio tables, deck or pool.
Star-shaped candle holders
Make star or flower candle holders for longer tapers using smaller shells. These are so simple that you can make a party's worth in half an hour.
1. Trace the base of the candles on a piece of cardboard or scrap cardstock and cut around them about 1/4 inch larger than the candles.
2. Glue rounded scallop or small cockle shells around the traced circle like a flower, or glue five or seven long cone shells around to make a star. Hold the candle in place while you glue the shells to make sure it will fit snugly.
3. Dab hot glue onto the candle's base and glue it upright in the center of the paper circle. To create a more secure bond, touch the bottom of the candle to the tip of a glue gun. That will melt the wax a little to allow the candle to hold itself in place. Prop the candle or hold it up until the glue sets.
Drink stirrers and kabob sticks
Add special details to your party by gluing small shells to the ends of toothpicks (colored or plain) and drink stirrers. These party decorations are likely to end up in the trash, though, so don't use any shells you're attached to for this project.
Serve the toothpicks in a larger (clean) shell filled with some salt or sugar (depending on what you're serving, as a few crystals are sure to stick to the toothpicks). Leave them for guests to use themselves, or make hors d'oeuvres by adding grape tomatoes, chunks of cheese or other on them.
Adorn stemmed glasses with these simple seashell wine charms. The different shells will help your guests remember which glass is theirs. You'll need about 3 inches of wire (we used 20-gauge copper) and several shells with holes in them.
1. Bend one end of each wire into a loop and the other end into a hook.
2. Slide on a shell or three and hook the charm around the stem of each glass.