Last-Minute Christmas Candle Centerpiece Ideas
Learn how to create Christmas decorations and centerpieces using candles.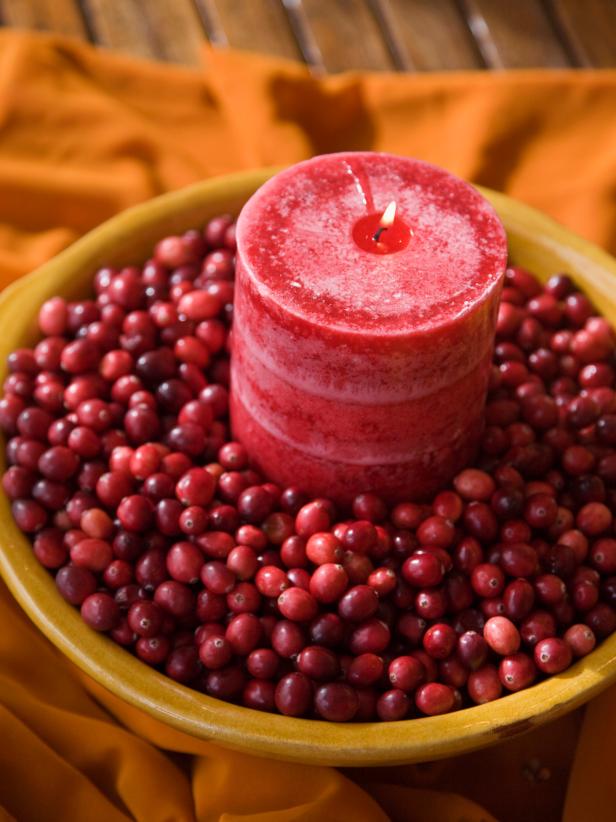 Avoid Holiday Mishaps: Burning Advice on Candles
According to John Drengenberg, consumer safety director at Underwriters Lab, placement is everything with candles. Keep candles away from curtains, bedding, paper, walls or any other areas with a potential to ignite, as candle flames can heat up to 1,000 degrees Fahrenheit.
Designer Nadia Ramirez demonstrates how to create Christmas decorations and last-minute centerpieces using candles.
individual tart pans
6-hour votive candles
candle rings
1. Place one candle into each tart pan and top with a candle ring of your choice.
All of these items can be bought at craft and kitchen-supply stores. Feature the wreath candles at place settings or along the fireplace mantel. This centerpiece is perfect for the coffee table, dining-room table or even a bathroom, where the warm glow of the candles and potpourri scents will give the room a cozy feel.
large three-wick pillar candle
glass fruit bowl
holiday-colored potpourri
1. Place the candle in the center of a glass fruit bowl and surround it with potpourri.
2. Add dried fruit pieces or evergreen pieces as additional decoration if you prefer.
This arrangement takes only minutes to throw together.
wall mirror
3-pillar candles
fresh cranberries
1. Place the candles on the mirror surface and surround with cranberries. This centerpiece looks great on the coffee table or on a kitchen countertop.
Decorative Outdoor Candle
mason jar
thin wire
needle-nose pliers
small amount of sand
6-hour candle
artificial greenery
long matches
1. Wrap wire in a few layers around the rim of the mason jar and tighten with pliers. Double-wrap a strand of wire to serve at the handle and attach around the rim as well.
2. Pour sand into the bottom of the glass to the height at which you would like the candle to rest. Place the candle inside the jar.
3. Insert greenery between the wire and rim of the jar all around the rim. Greenery should also be wrapped around the length of the handle.
4. Use the long matches to light the candle. These candles look gorgeous on a walkway, hanging from a fence post or from trees leading up to the home.