Curried Butternut Squash Soup With Fried Sage Leaves
Warm up your fall guests with this creamy and oh so satisfying soup. Great as a first course or as a healthy, light meal when served with rustic bread and artisanal cheeses.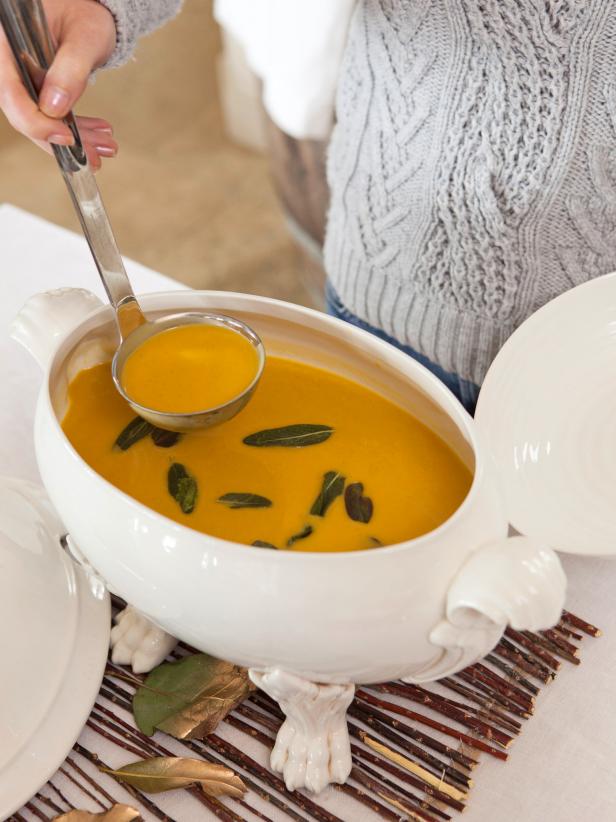 Curried Butternut Squash Soup
No fall meal is complete without a piping-hot bowl of soup. A spiced-up version of the Thanksgiving favorite, this curried butternut squash soup is a warm and creamy addition to your meal. Serve in a large footed tureen and let guests serve themselves. Get the recipe: http://www.hgtv.com/entertaining/curried-butternut-squash-soup-with-fried-sage-leaves/index.html
1/4 cup butter
1 sweet yellow onion, chopped
3 garlic cloves, minced
1/4 cup minced fresh-peeled ginger
2 medium-sized butternut squash, peeled, de-seeded and cut into 1" cubes
2 teaspoons curry powder
1/2 cup fresh orange juice
kosher salt and freshly ground pepper
1/4 cup extra-virgin olive oil
1 bunch fresh sage leaves, stems removed
Melt butter in a stockpot over medium heat. Sauté onion about 2 minutes. Add garlic and ginger, and sauté for 30 seconds, then add butternut squash and curry powder. Cook, stirring occasionally, for 10 minutes. Stir in 8 cups water and bring to a boil over high heat. Reduce heat and simmer for 20-30 minutes, until squash is tender.
Transfer half of soup to a blender and let cool down for a few minutes before blending so the heat doesn't get trapped and cause too much pressure in the blender. Purée soup, then stir in half of the juice and a teaspoon of salt. Repeat with remaining soup, then re-warm in stockpot if necessary.
In a medium skillet, heat olive oil over medium-high heat. Add as many sage leaves as will comfortably fit in one layer, fry for 10 seconds, then remove with a slotted spoon to paper towels to drain. Repeat with remaining sage leaves, then sprinkle them all with a pinch of salt.
Serve soup in bowls or a large tureen. Before serving, top with freshly ground pepper and fried sage leaves.