How and Why You Should Clean Your Dryer Today
Dryer vents and lint traps loaded with build-up can be a huge fire hazard; stay safe by making a habit of cleaning your dryer inside and out.
Don't underestimate the importance of keeping your dryer clean. Failure to properly remove dust, fibers and lint is the leading cause of fires in residential dryers according to the National Fire Protection Association (NFPA). Keeping your appliance properly maintained is a multi-step process — it goes beyond emptying the lint trap — but you can make it easier and rest better at night if you buy a few tools (like the rotary bristle brush below) to simplify the process.
Clean Your Washer and Dryer
02:04
Keep your washer and dryer in tip-top shape with these simple tips.
Helpful Tools and Materials
flashlight
screwdriver
vacuum with a crevice attachment
soap and water
old toothbrush
rotary vent cleaning brushes with cordless drill
utility (workshop) vacuum
metal duct tape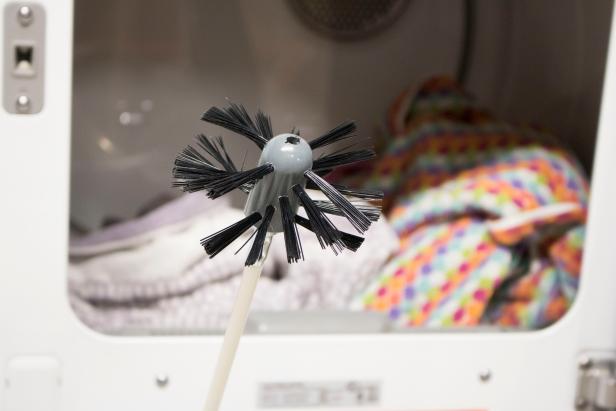 How to Clean a Dryer, and Why to Do It Today
Removing lint that's captured in the mesh screen of your lint trap is critical to preventing fires because a dust-free trap allows for better airflow. When cleaning your dryer, it's also a good practice to remove the lint trap and vacuum the area with a crevice attachment to keep dust and debris that evaded the trap at bay.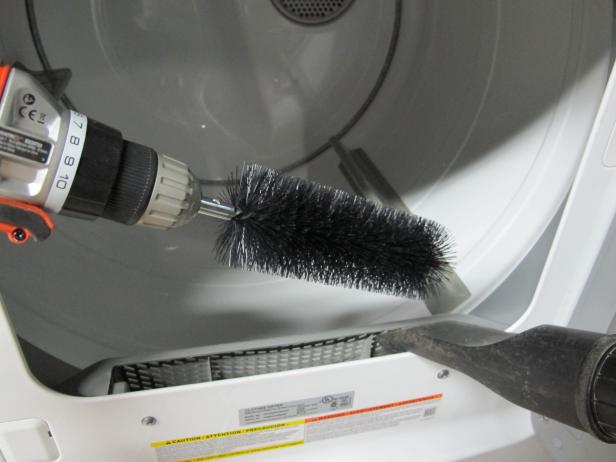 How to Clean a Dryer, and Why to Do It Today
If you use dryer sheets and fabric softeners, there's an increased likelihood of residue buildup on the mesh lint trap. Be wary of this buildup, and proactively use an old toothbrush dipped in warm, soapy water to clean the mesh. Allow the trap to dry completely before putting it back into the machine.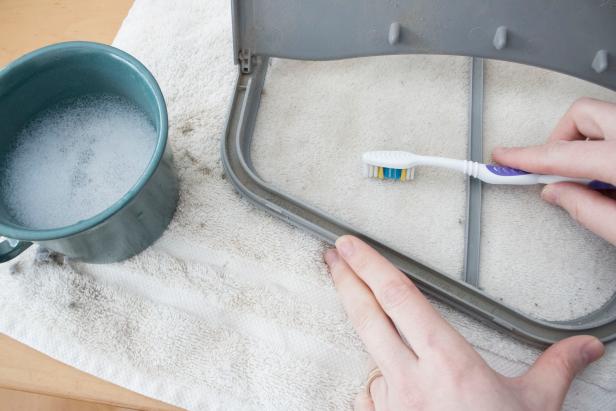 How to Clean a Dryer, and Why to Do It Today
In addition to reducing the risk of fire, a clean lint trap helps airflow which directly improves the speed at which your dryer can do its job. And when you shorten the running time of the appliance, you'll also reduce your overall energy bill.
Residue from dryer sheets and fabric softener not only clog your lint trap but can add a film to the inside of your machine. Once a month, use a spray of 1/2 white vinegar and 1/2 water to mist the inside of the drum. Wipe it down with a microfiber cloth, and leave the dryer door open so it can air dry.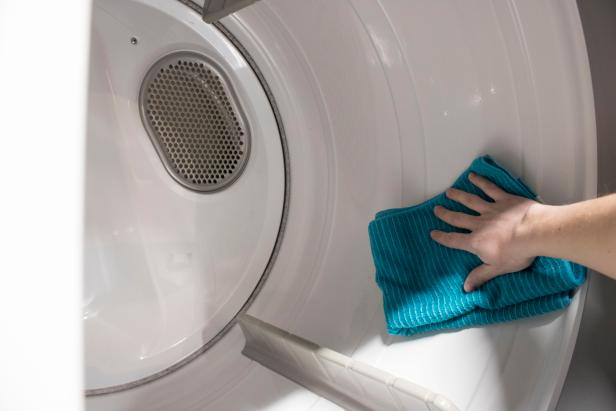 How to Clean a Dryer, and Why to Do It Today
Clean the Dryer Vent Ducts
Maintaining the vent ducts that lead from the back of your dryer to the exterior of your home is also critical to maintaining an efficient, safe appliance. Manufacturers have made it easier for homeowners to maintain their dryer vents without the help of a pro thanks to the invention of rotary cleaning brush kits — do yourself a favor and add one to your shopping list right now.
Here's how to use a rotary brush to clean the inside of your vent piping.
First, unplug your dryer, and roll it away from the wall. Familiarize yourself with what you see:
Vent ducts are ordinarily four inches wide, by code.


Most metal vent piping is rigid and straight; it also is manufactured at 45- or 90-degree angles to accommodate turns, but cannot be bent or flexed by hand.


Some vent ducts are flexible or semi-rigid metal that look more like a vacuum cleaner hose. Semi-rigid construction allows them to be more easily angled to bend and flex in small spaces. The folds in semi-rigid vent ducts are more apt to gather dust and debris.


You'll also see duct tape and/or couplings that piece together lengths of ductwork, and attach them to the appliance and to the outdoor vent. Metal duct tape is durable (don't confuse it with "Duck" tape) and simultaneously works to create strong connections and increase the efficiency of the piping by minimizing any leaks in the ducting.
How to Clean a Dryer, and Why to Do It Today
While the dryer is unplugged, get down to ground level and inspect the connection between the appliance, and the vent duct piping. Loosen any couplings (a screwdriver might be necessary) and peel back any tape.
When you disconnect the piping from the back of the dryer, use a vacuum with a crevice attachment to clean any visible dust and lint at the base of the appliance and around the edges of the ductwork.
Most rotary brush mechanisms designed for cleaning dryer vents will come with a coupling that allows the four-inch ducting to attach to the smaller vacuum nozzle. Make this connection – but keep the vacuum turned off for the time being.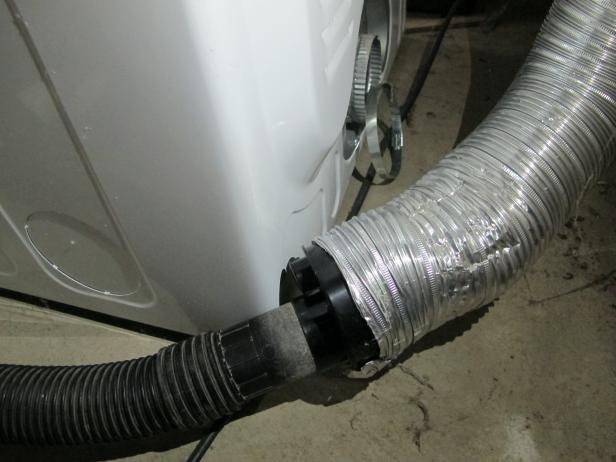 How to Clean a Dryer, and Why to Do It Today
Next, go outside and locate where the dryer exhaust exits the house. It's important to maintain this vent – not just with the rotary brush as I'm about to demonstrate, but to be sure bugs and small animals aren't nesting inside the opening. Any blockage will prevent the release of fumes including carbon monoxide, and increase the risk of fire (not to mention that it wouldn't be great to have animals crawling down the vent and into your dryer).
Attach a four-inch bristle brush to the flexible plastic rod that came with your kit, and then connect it to a cordless drill. The end of the rod should be formed to mimic the shape of a drill bit so that it can securely attach to your tool.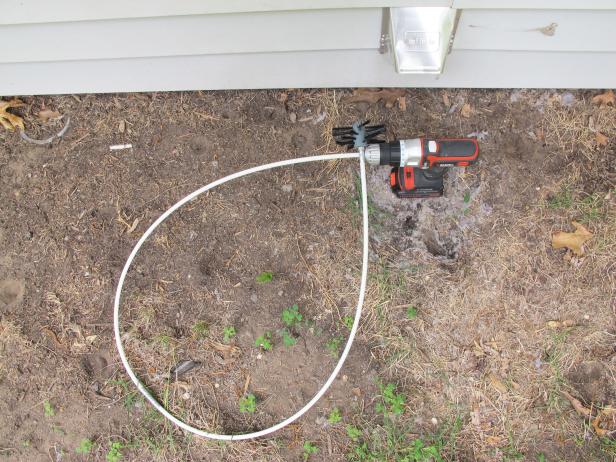 How to Clean a Dryer, and Why to Do It Today
Reach inside the vent and feel for a flapper valve; it will lift up and I recommend clipping it out of the way so that it doesn't get damaged when you're operating the tool. When you lower the brush into the vent exhaust and pull the trigger to activate the drill, the brush will spin inside the vent to agitate dust and dirt. The vacuum attached to the other end will collect the debris.
It's best if you have a partner in the process at this point — you'll need someone indoors to turn on the vacuum and initiate suction. The vacuum will collect dust, lint, and debris in the vent piping as you rotate the brush on the end of the drill. Plunge the brush down, and then pull it back up to the exterior of the home. You're done!
How to Clean a Dryer, and Why to Do It Today
When you reconnect the vent pipe back to the dryer, check the length of the piping (both rigid and semi-rigid areas) to make sure it is intact with no holes or cuts. If it's all good, tighten the coupling and supplement the connection with metal duct tape as a reinforcement.
How often should dryer vents be cleaned?
This process can be repeated a few times every year to prevent buildup. Consider putting it on your calendar as a daylight-savings chore, and commit to cleaning this critical vent.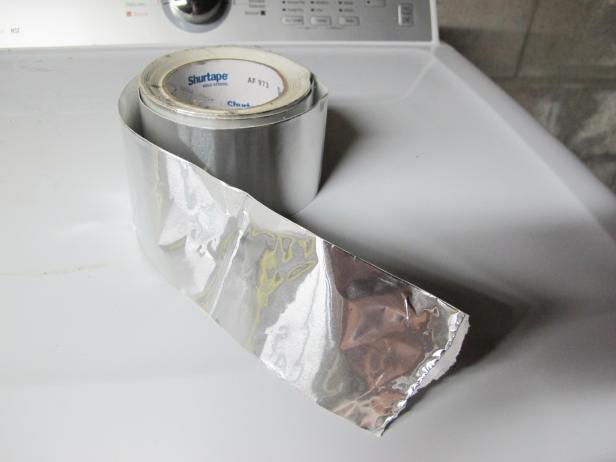 How to Clean a Dryer, and Why to Do It Today
Stock up on products that will help you get your house in tip-top shape — all eco-friendly and without harsh chemicals.
Follow our simple spring cleaning checklist to get your home organized in no time.
Make tackling messes a little easier with our favorite tried-and-true cleaning tools.