5 Space-Clearing Tips to Uplift the Energy in Your Home
Keep in mind: Price and stock could change after publish date, and we may make money from these affiliate links.
Resolutions can often end up like a belly flop in a pool. There are ways you can resolve to do certain things without setting yourself up for failure right off the bat. If one of your goals is to declutter your mind, a positive, organized home can certainly make that much easier.
Holly Star, celebrity spiritual healer and founder of home accessories brand Matter & Home, shares her top five space-clearing tips for the new year to lighten and uplift the energy in your home.
But wait — what's space clearing?
"Just as we put time and energy towards healing ourselves, so too does our environment require the same attention," Holly says. "Clearings help provide harmonious settings for prosperous businesses, healthy residences and any appreciated space. Once an environment is attuned to a healing vibration, all people in that space will re-attune to a more peaceful level. Raising the space's energetic frequency allows spirit and love to flow within it."
There's definitely a process that Holly tackles in person with her clients, but the tips below are ones that you can resolve to do yourself.
Burn sandalwood to ground the space, or burn pine to uplift the space. If you want to bring in love or kindness, add lavender, rose or jasmine flowers. When you have fresh flowers in your home, they can absorb negative energy (since plants help oxygenate the home).
Move furniture around to create space where energy can flow, and get rid of anything that doesn't feel good in your home. Old things passed down? If they don't bring in a good vibe, let them go.
Purchase a diffuser and use lavender for an antibacterial and uplifting feeling in a room, or add some lemon, litsea cubeba or pine for an additional uplifting of your spirit. In the winter months, amber (or anything in-season) creates a supportive energy.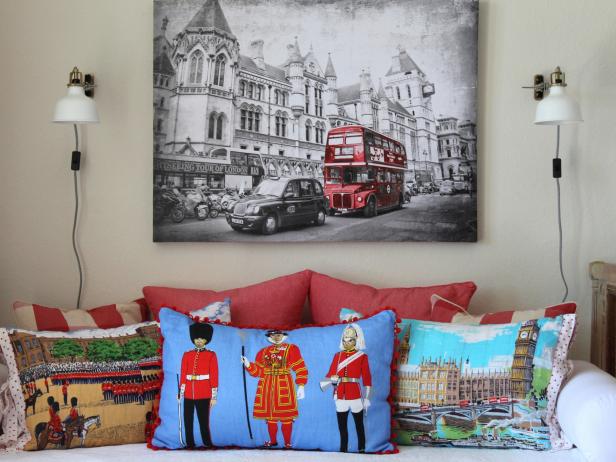 DIY Tea Towel Pillows
Each time Laura Ingalls Gunn of Decor to Adore visited family in England, she was drawn to the colorful souvenir tea towels she spotted in the shops. When her son asked to inject a bit of British flair into the family's sunroom, she finally had a perfect use for those stashed-away linens. "The beauty of tea towels is that they are sold everywhere and generally inexpensive to purchase," Gunn says. "You can create an envelope-back pillow in a matter of minutes." Finishing off the cushions with coordinating remnants and fun trim really makes them pop.
Buy art or handmade crafts from people you know, locals you love or your favorite travel adventures. Let your home remind you of love, connections, memories and things that are dear to you.
Make something for your home — paint it, weave it, design it. Add love, care and something that expresses a part of you. Add whatever makes you feel that the art or object is alive and even a talisman of where you're headed in the future.
Space-Clearing Enhancements
This spray uplifts the energy of your space and yourself, clearing out the negativity. Made with eucalyptus, pine, orange, frankincense and myrrh, your home will truly feel refreshed. Hydrangea is added to refresh the mental, emotional and physical senses and makes everything come together in unity; dandelion is used to detoxify; thistle clears distractions and helps with focus; sunflower is added to bring light and an uplifting energy.
This candle is an easy way to lift the energy of a space or clear out negativity, whether it be work, home or physical healing. This is a double wick candle made of eucalyptus, pine, frankincense and myrrh.