Episode Featuring Leslie Jordan in One of His Last TV Appearances to Air on HGTV
The sweet comic actor's humor, kindness and charm shine through in the season-premiere episode of HGTV's Celebrity IOU, shot not long before the star's untimely passing.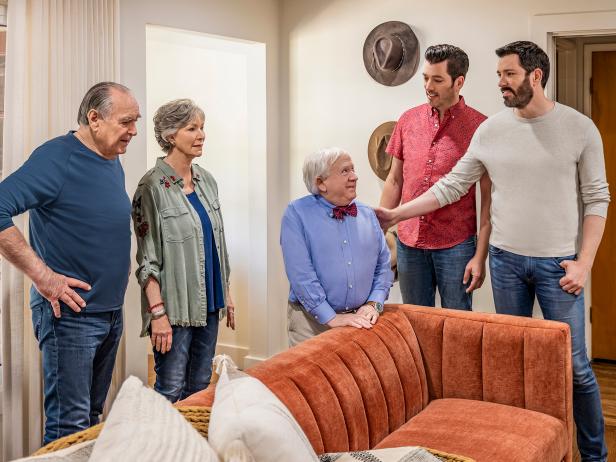 In Season 3 of HGTV's Celebrity IOU, Leslie Jordan (CTR), with help from Drew and Jonathan Scott, surprises his long-time friends Newell and Rosemary (L) with a makeover of their home.
DENNYS ILIC
In Season 3 of HGTV's Celebrity IOU, Leslie Jordan (CTR), with help from Drew and Jonathan Scott, surprises his long-time friends Newell and Rosemary (L) with a makeover of their home.
Recently the world lost one of its most beloved and engaging comedic actors and one of its most genuine shining spirits. I'm talking here about the perfectly inimitable, charming and delightfully Southern Leslie Jordan.
Fans knew him as the diminutive but unforgettable character-actor who would pop up here and there across film and TV — usually in deliciously quirky and campy supporting roles — beginning around the mid-1980s.
With that unmistakably southern voice and phraseology that captivates in the tradition of Dolly Parton, Truman Capote and Eudora Welty, Jordan hailed from the same Deep South that gave rise to those iconic heroes. Born in Memphis, Tennessee, he grew up in a conservative, Southern Baptist household in Chattanooga before eventually moving to Los Angeles to pursue a career in acting.
He may be best known to TV viewers for his wildly popular appearances in the recurring role of Beverly Leslie on Will & Grace — in which he traded blistering, sharp-tongued barbs with Megan Mullally playing the boozy and filthy-rich New York dilettante, Karen Walker.
In their unforgettable on-screen moments together, Leslie gave as well as he took in their epic rounds of wicked (but always hilarious) insult trading. It was that on-screen chemistry that won Jordan an Emmy in 2006 for outstanding guest actor in a comedic role.
Leslie also appeared in more than thirty films, including in the cultish 2000 feature Sordid Lives — billed at the time as "a black comedy about white trash" — and the Oscar nominated 2011 film, The Help.
Somewhat ironically, perhaps Jordan's most widespread fame came during the Covid pandemic of 2020, at which time he started an online Instagram journal which, much to his own complete amazement, went uber-viral, making Jordan almost instantly into an internet celebrity.
This was surprising to Leslie, in particular, since he admittedly was by no means at the "savvy" end of the tech spectrum, and essentially began posting photos and low-tech videos out of profound boredom. When someone broke the news to him that he had "gone viral," his first thought was that they were worried he had become ill. No, it was explained, this was a different kind of "viral."
As his Instragram profile grew and caught on, Jordan's impromptu and intimate self-shot videos would often begin with intros that would eventually become pandemic catchphrases — like "Hello, hunker-downers!" or "Well, sh*t ... What are y'all doin'?"
Though lacking in slick production, it was this modest, personal online narrative that managed somehow to encapsulate the zeitgeist of an era of lockdowns, isolation and supply-chain issues. Followers on Jordan's Instagram profile now number more than six-million.
In what will be one of his final TV appearances, Leslie stars alongside HGTV hosts Drew and Jonathan Scott in an episode of the hit series Celebrity IOU — which features actors and other celebrities who surprise individuals who were instrumental in their lives or careers with a much-needed home enhancement or makover.
Here's an excerpt the HGTV summary of the episode, which premieres on HGTV, and begins streaming on Discovery+, on Monday, November 14 at 9|8c:
"The late Leslie Jordan — actor, New York Times best-selling author and recording artist — wants to give back to Newell and Rosemary, his best friends of 40 years who helped jump start his career. When he moved to LA from Tennessee in the 1980s to pursue acting, Leslie met fellow actors Newell and Rosemary who helped him get into theater and eventually became more like family. Leslie says the couple has always been there for him especially through some hard personal struggles. Although he admits to having no construction experience, Leslie is ready to swing sledgehammers alongside Drew and Jonathan Scott to thank Newell and Rosemary with a striking renovation of their charming but dated ranch-style home."