5 Simple Acts That Can Boost Your Well-being According to Positive Psychology
From savoring moments to talking to strangers, these tips will help you live a happier life.
Positive psychology looks at the science of human flourishing. In other words, how can people be more creative, happy and engaged with their lives? It might surprise you to learn that psychology hasn't always prioritized the study of what makes people thrive. In fact, the field of positive psychology is fairly new — just a little over 20 years old.
The American Psychological Association's (APA) three original missions (as laid out before World War II) were curing mental illness, making the lives of people more productive and fulfilling and identifying and nurturing human potential and talent. When Martin E.P. Seligman was elected as the new head of the APA, he realized that although most mental illnesses are treatable to date, the two latter pillars of the APA had mainly been neglected. In his 1998 APA presidential address, Seligman said that psychology had "moved too far away from its original roots, which were to make the lives of all people more fulfilling and productive, and too much toward the important, but not all-important, area of curing mental illness." And so, the field of positive psychology was born.
"Given that we have a strong evidentiary basis of what it is humans need for their well-being, it seems a shame not to be teaching that every bit as much as it's important to focus on mental illness," says Wendi Gardner, a social psychologist who teaches a positive psychology class at Northwestern University.
"I'm really interested in the positive humanities — how can things like literature, history, music, theater and art be accessed more effectively to support our wellbeing." Pawelski says. "So, when I heard Martin [Seligman] initially talking about positive psychology, I thought, this is terrific."
To give you a glimpse of positive psychology's impact, Gardner and Pawelski share five tips — that aren't too complicated — to help boost your well-being.
1. Pay attention to the pleasures that already exist in your life.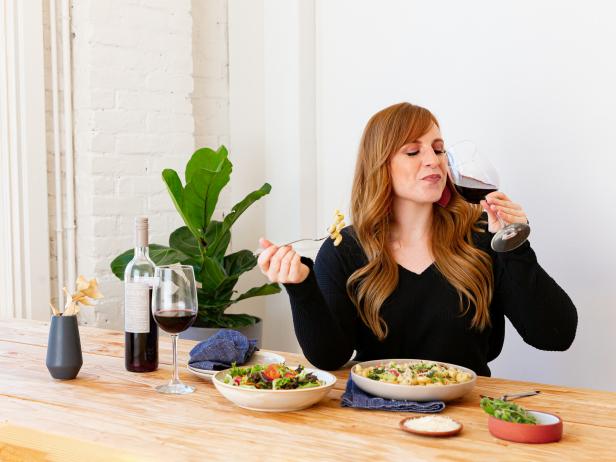 The Benefits of Intuitive Eating
A review article from Cambridge University identifies intuitive eating as: eating when hungry, stopping eating when full, and having no restrictions on certain types of food eaten, unless for medical reasons. The university also notes that intuitive eating has been correlated with a lower BMI, better long term weight maintenance, and improved psychological health, as well as positive improvements in cholesterol and blood pressure
We sometimes take for granted the access we have to enjoyable moments. Gardner says that being consciously present for the pleasurable experiences we're already having, also known as "savoring," is a way in which people can acquire happiness from positive events — and a 2012 study in the Journal of Positive Psychology suggests this too.
"So many of us are so mentally busy — multitasking or creating a to-do list in our heads — while we're, you know, taking a shower, for example," Gardner says. "Showers are pleasurable. Eating lunch is pleasurable. Why shouldn't we allow ourselves to enjoy these things?"
Whether hugging a loved one a little tighter, munching a delicious salted chocolate or dancing while listening to a favorite song, we don't have to look too far to experience the beauty around us. All we have to do is be present for the small, pleasurable moments in life.
2. Write about three good things that happened to you.
In a study conducted by Seligman and his colleagues in 2005, participants were asked to write down three good things that happened to them each day for one week. The results showed that this task had a significant impact on the participants' reported levels of well-being.
A simple exercise you can do right before going to bed is thinking about three good things that happened to you (and why they happened). Then, writing them down can be a good habit to nurture. At the end of the week, you can look back over what you've written and see what patterns you might discover: Is there one thing that you kept writing about over and over again?
"We tend to think: Well, that's going OK, so I don't need to focus on that. I need to focus on my problems," Pawelski says. "But positive psychology has a different perspective. If that's going really well and you're constantly writing about it, how can you do that even more?"
After looking at your list at the end of the week, you might realize that some things happen to you because you are surrounded by people who care for you — which is a really good thing to be aware of. There might be other things that you realize happened because you made them happen, because you used your agency and showed up.

There are also variations on this "gratitude" list. For example, for those who are visually oriented, you can share a photo of something good that happened to you with your friends (or through Seeing Happy). "If you're doing this, it means that you'll be looking, all day long, for things that are good," Pawelski says. "That's really important because it's a psychological framework that we bring to that experience."
3. Have meaningful conversations throughout the day.
This one might take a little bit of effort, but it is guaranteed to boost your wellbeing, Gardner says. "Don't just interact through social media. Try to have at least one meaningful conversation or one pleasurable social connection with someone per day." And you don't have to ask your best friend to book some time for you — talking to strangers will do the trick.
A 2021 study proposed that although we might avoid meaningful conversations with strangers due to potential awkwardness, these chats are not only easier than what we expect, but can also leave people feeling better about themselves. Social researcher Barbara Fredrickson defines love as a series of "micro-moments" of connection — and not just one strong emotion. In these small episodes of interpersonal relatedness, we can share positive emotions and mutual concern in just a few seconds.
Whether saying "hello" to your barista or making sure you go to the same dog park every day at the same time to get to know the people in your community, having micro-moments of connection throughout your day can be really good for your wellbeing, Gardner says. If you were looking for a sign to call your grandparents or invite a friend over for dinner, this is it.
4. Make a "gratitude visit."
The idea behind a "gratitude visit" is to write a letter to someone who has been a mentor or has helped you in some way. Other than simply sending a thank you text or dashing off two lines in an email, the idea is to write a thoughtful and polished letter. In the message you can describe what the person has done, what effects that has had on you and, most importantly, what that says about that person.
"Oftentimes we think about gratitude in terms of what someone gives. For example, you might thank someone for helping you," Pawelski says. "That is not the same thing as telling someone that they are a very giving person and that you appreciate and admire them — that's another level of gratitude." This "other-focused" gratitude is different to "self-focused" gratitude, he adds, as you are truly seeing the person and recognizing what they do.
Once you've polished the letter, you can call them or invite them to lunch without telling them why you want to meet them. Then, in the middle of lunch you can pull out the letter and read it to them. "It is so powerful," Pawelski says. "It's one of the positive interventions that has the biggest leap in well-being."
5. Harness (and share) your signature strengths.
The basis of this idea is to take the free VIA Survey of Character Strengths, which will give you your signature strengths, or the positive parts of your character that give you a unique personality. "Recognizing that we all have different strengths also makes social comparison with others irrelevant, and instead allows for admiration of another person's gifts without envy or anxiety," says Gardner.
Once you know your strengths, there are a few activities you can do from that too. For example, you can think of stories or times where you used one or more of your signature strengths and share those with other people. Whether as an "ice-breaker" or even while on a date, this could be a really great way of getting to know others on a level you might not yet know them, Pawelski says.
One of the ways Pawelski likes putting this concept into practice is at birthday parties. For example, he says that you can have a round where you ask the people attending the party to share a story about the person whose birthday you're celebrating — and a way they've used one of their signature strengths. "That can be really powerful because it lets the person know that their friends and family really see and appreciate them," Pawelski says. "And it also helps other people in the room to get to know the person better."