How to Keep Home Office Equipment Clean
Clean your computer, keyboard, mouse and other home office electronics with these easy tips.
Whether it's a small desk for taking care of household expenses or a full home office, the equipment in your home workspace is bound to attract clutter and dust. Here are some tips for keeping your home electronics clean.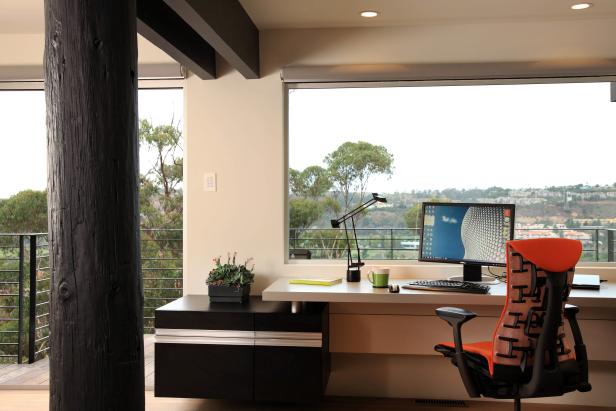 Contemporary Home Office With Floating Desk
The original 1970s house was constructed on a series of telephone poles cantilevered off the canyon floor, so the unique structural system becomes a part of the design renovation. For the home office, a floating desk looks out through a picturesque window. A bright orange chair brings a burst of color to the space.
Cleaning Electronic Equipment
Computers, telephones, monitors, televisions, printers and audio equipment all collect dust and dirt. These items should be cleaned periodically so that dust doesn't get trapped inside and create problems with connections. There are many options available for cleaning electronics.
How to Clean Computer Screens and TV Monitors
Use a damp cloth to clean the screen of a computer monitor or television. As with all computer-cleaning situations, turn off the equipment first. Distilled water is good for dampening the cloth because it doesn't contain small particles that can scratch the glass surfaces.
MORE TIPS
Get the low-down on how to safely remove dust, fingerprints, smudges and streaks from any type of laptop screen or computer monitor.
Commercial screen cleaners, which are available from office-supply or computer stores, also work. They are designed to remove dirt without scratching or streaking the surface. Be sure to choose the right cleaner for the right surface. Some are specifically designed for laptop computer screens.
Anti-static cleaners offer protection against dust and can also be used to clean casings for computers, printers, fax machines, televisions, phones and video and audio equipment. These cleaners also work well to clean desktops and desk-blotter pads.
Try to place the computer, audio and office equipment in a dust-free area that is well ventilated. Keep pet hairs, smoke and other contaminants away from the computer. Even when you take care to keep the area clean, computers will still collect dust, so every once in a while they need to be examined for possible cleaning. Look at the fan on the back of the case. A buildup of dust and lint on the fan is a sign that there's also a buildup inside the computer.
To clean that out, first unplug the system, then carefully remove the case. (You may need to unscrew it.) Clean the dust out with a mini-vacuum cleaner or by carefully using a normal vacuum cleaner with a small nozzle attachment.
Do not vacuum any of the chips or other electronic components in a computer or other electronic equipment.
Do not use any kind of liquid cleaner inside the computer. Compressed air will thoroughly clean interior areas.
As you clean, touch the power supply or any metal part of the computer with your finger periodically to dispel any static-electric buildup. Static electricity can destroy the tiny circuits inside computer chips.
Avoid having food and drinks around the computer. While this will prevent damage from fluids, it will not prevent the keyboard from becoming sticky and full of dust. A good way to clean out a keyboard is by turning the keyboard upside down and blasting a shot of compressed air between and under the keys. Be careful not to push dirt further into the device. Another alternative for cleaning the keyboard is to use a mini vacuum cleaner to pull the dust out.
SHOP OUR PICKS
These products will have your electronics, from cellphones to computer screens, looking shiny and new in just minutes.
Wipe the keys off with a damp clean cloth or use cotton swabs. Never spray liquid cleaner directly on the keyboard. If liquid or dirt gets under the keys, they will stick and will not be able to make contact, thus preventing the key from working.
If a key does get stuck, unplug the keyboard and pry off the key cap. Clean the key cap thoroughly, and spray the area underneath with a contact cleaner, a type of cleaning typically used to clean electrical contacts.
To clean an optical mouse, first unplug it from your computer, or remove the batteries if it's wireless. Moisten a cloth with rubbing alcohol and wipe down the entire surface of the mouse, paying special attention to any particularly dirty areas. If your mouse is wireless, avoid getting alcohol in the battery compartment. If needed, use a toothpick to gently dislodge any grime in the small crevices of the mouse. Let the mouse dry completely before plugging it back in or replacing the batteries.
If a non-optical mouse sticks or just doesn't move as well as it used to, it's probably dirty. To clean it, turn the computer off and unplug the mouse. Turn the mouse over and open the housing that covers the tracking ball by either twisting or sliding the retainer. Remove the tracking ball and clean it with an electrical cleaner or simply with soap and water. Just make sure that any cleaner you use doesn't have any lubricant in it. Use a damp cotton swab to clean out dust inside the housing. You may actually need to use tweezers to pull dust out.
To prevent dust and dirt buildup on the bottom or inside of the mouse, use a mouse pad. Keep the pad clean by wiping with a damp towel.
How to Clean Other Office Equipment
Use commercial cleaning products on the plastic casings of office equipment, but be very careful when using spray cleaners by spraying onto the cleaning cloth first. Use it on the casings only. Make sure that the commercial product is OK to use on plastics. (Many glass cleaners will scratch plastic.) Stubborn marks on the casings only can be cleaned well with light penetrating oil such as WD-40.
Even if you only have a few electronics on your desk, it's easy for cords to become a tangled mess. If at all possible, run cords behind or under the desk. A wide variety of clips and guides are available at office supply stores to manage the jumble that various cables can become while also protecting children and pets from playing with them.
MORE TIPS
Take the time to organize all those electrical wires in your home office with these simple tips.
Every household experiences electrical surges. Use a surge protector to prevent electrical surge damage from affecting any computer components. Make sure the surge protector is rated for computers. Although electrical surges won't usually destroy a computer, they will wear them down and shorten the life of the equipment. A surge protector will prevent this. They also come in handy for organizing power cords and outlets.
When using a halogen desk lamp, remember not to use bare hands when changing the halogen bulb. The smallest residue of oil from a human hand can rub off on the bulb, creating an atmosphere where the bulb warms too quickly when the lamp is turned on, which can cause the bulb to explode.
To avoid touching the new bulb, use gloves. Disposable rubber gloves work well by protecting the bulb while still allowing easy maneuverability.
MORE TIPS
Follow these easy tips on how to clean everyday gadgets safely and effectively.