The Best Cordless Vacuums, Tested by HGTV Editors
If it's time to cut the cord with your outdated vacuum, upgrade to one of these lightweight, cordless vacuums that we've tried and loved.
Keep in mind: Price and stock could change after publish date, and we may make money from these links.
Our Top Cordless Vacuum Picks
Vacuuming is a never-ending chore made more cumbersome and annoying by not-so-great equipment like a cord that's always getting caught, a heavy machine that weighs as much as a toddler or annoying bags you constantly have to change. Do yourself a favor and make the chore of vacuum a little easier (and maybe even a little… fun?!) with a cordless vacuum. Cordless vacuums can be easier to navigate, store and transport, but there are several important features to consider to find the right one — adding the first off-brand stick vacuum you see to your Amazon cart is not the way to go. You'll want to consider bin size, charge time, battery life, surface capabilities, price, attachments, weight, brand reliability and more. When researching and testing, we've considered all of these factors, as well as customer reviews, and we've found three cordless options worth the price, including a handheld vacuum, an upright vacuum and one model with both configurations.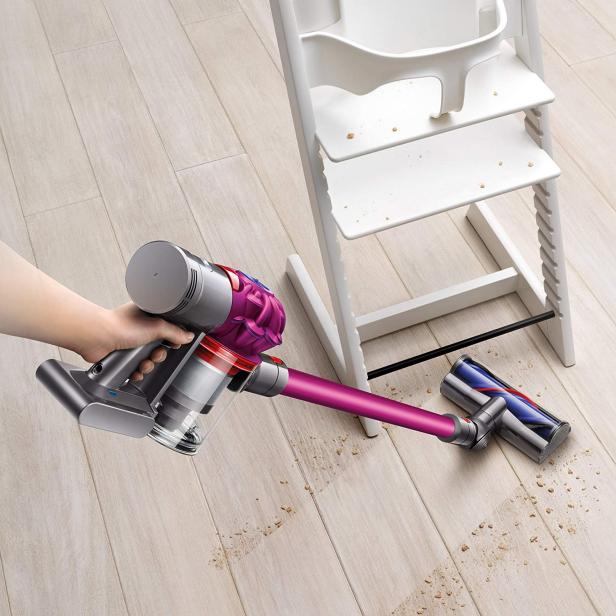 A great overall vacuum should have both an upright configuration with powerful suction that can tackle larger floor spaces, as well as a handheld configuration for getting corners and hard-to-reach nooks and crannies. This Dyson V7 Motorhead satisfies both. Dyson vacuums are popular for many reasons. They're powerful, reliable and easy to use, but with so many models, many of which can cost more than $500, it's tricky to know which model is the best. The V7 Motorhead is by no means the fanciest Dyson, but with up to 30 minutes of battery life (our tester usually gets about 20 minutes of max suction and 30 minutes on low suction), a .14-gallon dustbin that's super easy to empty, multi-surface capabilities and two included attachment heads, this model checks all the key boxes without breaking the bank. One of the best features of the V7 is how easy it is to maneuver. At just 5.3 pounds, it's light enough to reach cobwebs in ceiling corners but can also transition to a handheld for vacuuming cars, furniture or other hard-to-reach spaces. It also can handle pet hair and transitions seamlessly from hard to carpeted floors. Since the docking station charges the vacuum when not in use, the max 30-minute battery life and 3.5-hour charge time will be sufficient for vacuuming an entire apartment, small house or single level of a multi-story house. If you live in a space larger than 1,500 square feet and prefer to do your entire house in one vacuuming session, you may want to upgrade to the Cyclone V10 Motorhead model, which has a max battery life of 60 minutes and usually costs at least $100 more.
Buy It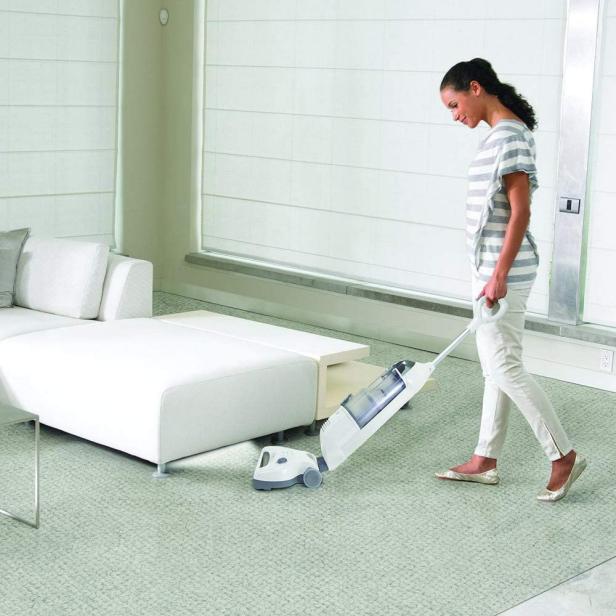 If you're not ready to splurge on a Dyson or live in a much smaller space where floors are your primary focus, an upright vacuum might be what you're looking for. This budget-friendly Shark Navigator Freestyle weighs just 7.5 pounds, has an extra-large, .64-gallon dustbin, works well on both carpet and bare floors and is fully equipped to handle pet hair. A full charge can last up to 24 minutes on the bare floor setting, and the carpet setting can vary, depending on the carpet type, but the manufacturer's site says 17 minutes is the average. While it has a shorter battery life than the Dyson V7 Motorhead, the charge is enough for most vacuuming jobs. Its narrow footprint makes it easy to store and charge in a closet or laundry room. If you don't have an out-of-sight place to store this one, the neutral white finish of this model is also a plus since most vacuums come in unsightly, bright colors that can also leave scuffs on walls. The main downside to this model is that it doesn't come with attachments or convert into a handheld, so corners and spots, like under the sofa, can be hard to reach, meaning you'd need to use this in conjunction with a broom or duster to do a thorough cleaning.
Buy It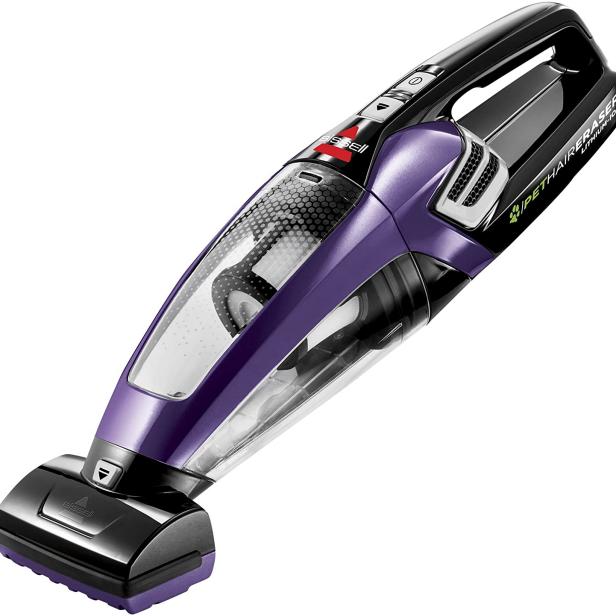 If you already have a larger upright vacuum that takes care of your more extensive vacuuming jobs, but you want something that's smaller and easy to maneuver for quick pickups, cars, furniture and raised surfaces, this cordless handheld might be exactly what you need. The budget-friendly Bissell Pet Hair Eraser Lithium-Ion Vacuum has a .14-gallon dustbin that's easy to empty, 17-minute battery life and three suction heads: a motorized brush tool, upholstery tool and crevice tool. It also weighs just 3.5 pounds and can handle pet hair, dust, crumbs, litter and more. It's convenient to have on hand near a kitchen or pet station where small everyday messes are likely because it's so much easier and hassle-free to grab for quick pickups versus hauling a larger corded vacuum in and out of storage. Plus, it's more efficient and faster to use than a broom and dustpan. While this cordless handheld is definitely smaller than most vacuums and still fairly easy to store, one con is the charging base is not wall mountable.
Buy It
More Editor-Approved Products We Love
Bissell designs floor cleaners and shampooers to target pet messes on hardwood, tile, upholstery and carpet. Here's what I thought of three of their most popular models.
No more waking up drenched in sweat — beat the heat with one of these lightweight, breathable sheet sets, tested and approved by HGTV editors.