8 Things That Make Your Home Look Messier Than You Think
The chair in the corner of your bedroom. You know the one.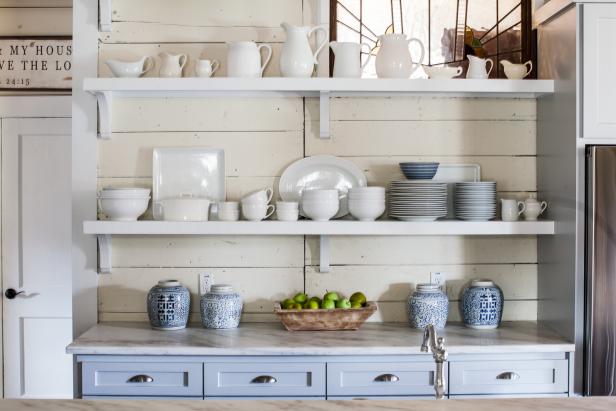 Country Kitchen Features Charming Open Shelving
Crisp white shelves pop against the creamy walls in this country kitchen. The open shelves keep the dishes organized and create a charming display. Lovely blue vases complement the light blue hue of the cabinets below.
Open shelving can be ultra-sleek and uber-functional — or it can be a source of everyday chaos in your kitchen. The key to achieving the sleek, simple shelving of your dreams? Color cohesion. Avoid the messy look of mismatched plates and opt for an all-white dining set to give your space a feeling of cleanliness and order.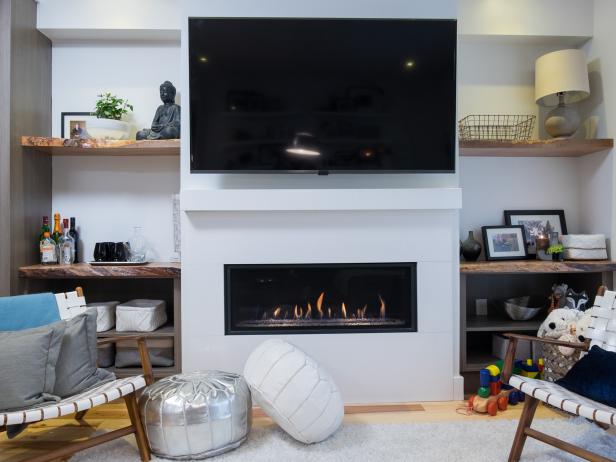 Modern Fireplace With White Surround, Floating White Mantel and Surrounding Natural Wood Shelves
This long modern fireplace is framed with a white surround lightening the look as it blends with the rest of the room. A simple floating mantel separates the mounted flatscreen TV. Natural wood floating shelves on either side of the fireplace set up add color with personal decor.
Get creative with cord covers and free your walls from any HDMI or TV wires that are obscuring your view. You'll be surprised how much keeping tech-tangles out of sight can tidy up your space.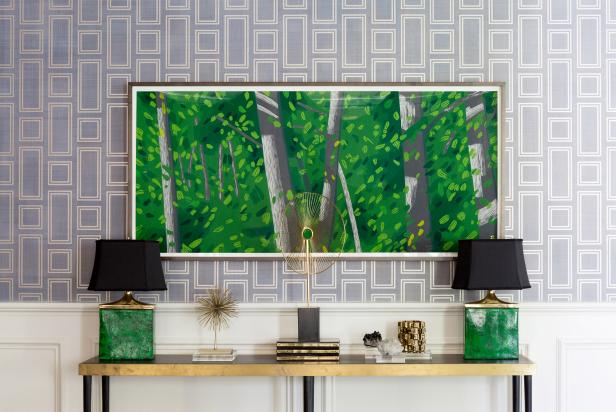 Green Art With Graphic Wallpaper
The color inspiration throughout this home came from the homeowners' beautiful art collection. Here, in the foyer, the painting's rich green is pulled into the twin table lamps. Graphic gray-and-white wallpaper is an exciting—and still neutral—backdrop.
Be mindful when playing with prints in your home. One too many patterns can yield dizzying results. And, in all seriousness, who wants to greet guests with a headache? Avoid this blunder with patterns of varying sizes and textures that share a similar core color palette.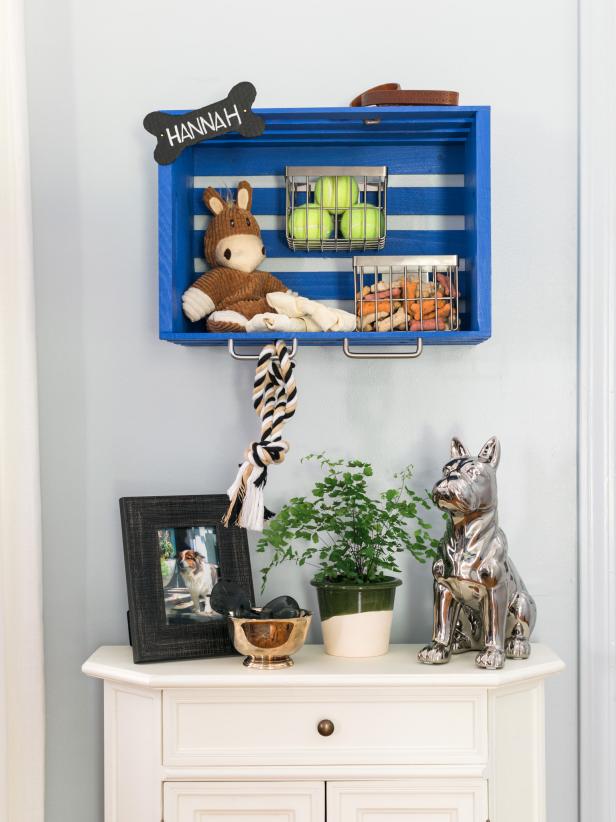 Pet-Friendly Entryway Storage
Pet owners can make their walks much more efficient by outfitting their entry as a pet station. Here a shallow console table is used to keep framed photos of the family dog on display along with a crate to hold essentials neatly and within arm's reach.
Flynnside Out Productions
A sure-fire spot that looks messy in your house right now? Your entryway. It's likely littered with mail, keys and whatever else you toted home from work today, right? Our fix: designate a catch-all storage unit in this space that can wrangle anything from boots to backpacks.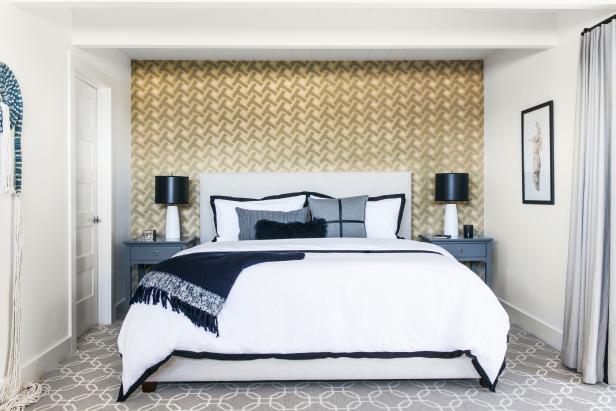 Contemporary Master Bedroom is a Serene Retreat
Two geometric patterns, a wallpaper focal wall and the gray-and-white carpeting, bring visual texture to the space. The rest of the furnishings are kept simple, from the crisp white to the flanking nightstand and sleek table lamps.
Listen to that little voice in your head that's telling you to make your bed. It's not your overbearing mother whispering in your ear, it's us. Make your bed! Not only does it instantly make your room look cleaner, but it's been suggested that people who make their beds daily actually sleep better.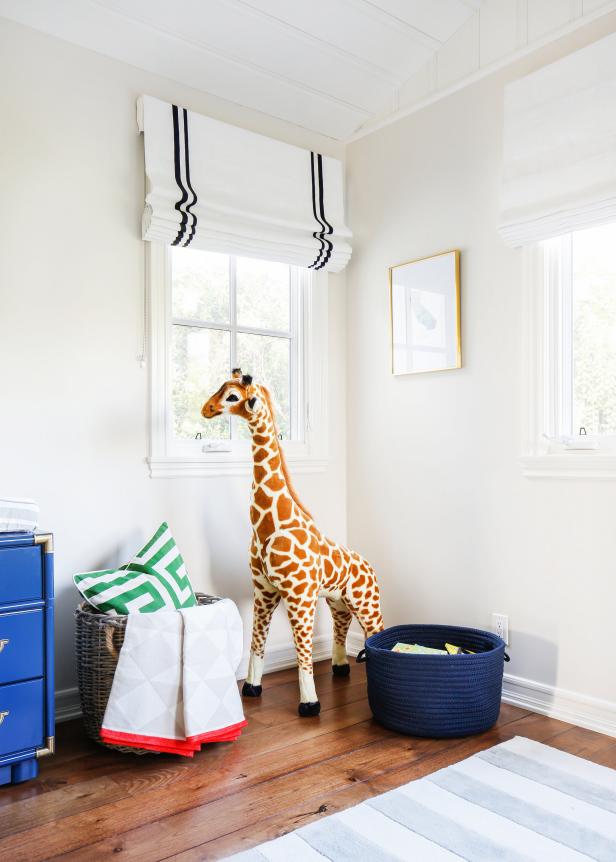 Simple Storage in Contemporary Boy's Nursery
A striped area rug softens the rustic hardwood floors in this boy's nursery. Classic Roman shades dress the windows, while woven baskets are used to quickly store blankets, pillows and toys. A tall giraffe adds a whimsical note.
A toy dog toy here, a pile of papers there, a less-than-impressive dress curled up in the corner. A littered floor seems to start small but eventually, and inevitably, everything you own is strewn across your carpet and you're overwhelmed. Try to hold yourself accountable and pick up whatever you're putting down. And grab your vacuum/broom while you're at it.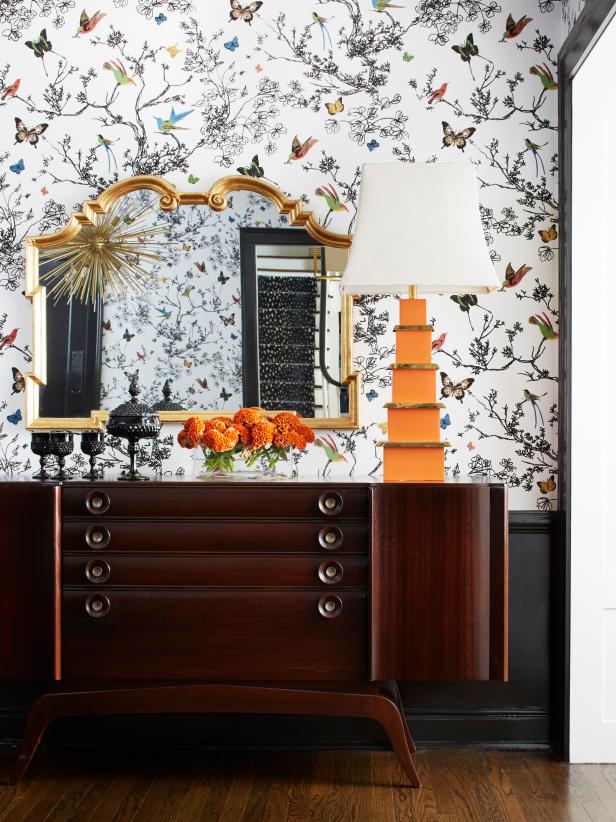 Bold Design in Master Bedroom
In the hall opposite the stairs, designers paired a bold, funky patterned wallpaper with a rich dresser and gold details. The dresser anchors the design, while the gold details add a bit of pizzaz as well as connecting this space to the design of the rest of the house.
A straggling sock here and there is one thing, but the perpetually-present mound of clean clothes, neatly folded and stacked on "the chair" in the corner of your bedroom? Trust us when we say, it's taking away from your space in a major way. Chip away at the chair and stick everything in the proper drawers.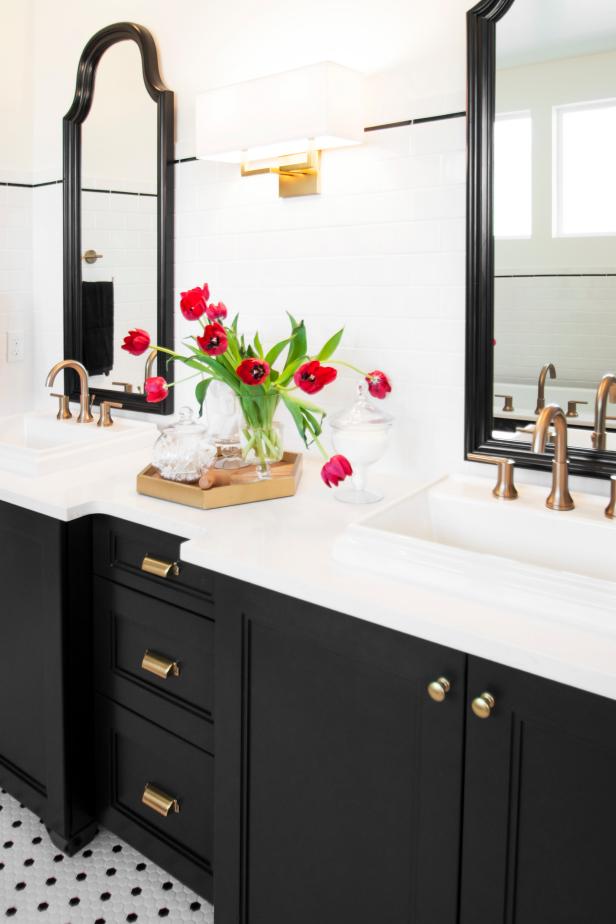 Bright Bath with Dark Wood and White Counters
Most people want a bathroom that looks, above all other things, clean! This space reflects that desire, using a classic black-and-white design that always feels sharp and pulled together. The brass sconce and fixtures are a current-day update to the chrome and silver that have dominated the market in past years. Drawers under the double vanity hold essential bathroom items, and an angular brass tray between the sinks displays flowers in simple crystal vases.
Allison Corona Photography, Let It Shine Photography, Doug Petersen Photography
Clear the counter of your product pile-up once and for all. Whether you create storage under the sink, along the walls or even move your must-haves to a different spot in the house, you'll be grateful to have a clean slate of crisp counter space back in your life.