Decluttering the Entryway
An organized entryway makes life easier and creates a beautiful entrance to your family's home.
Jeff Herr
The entryway brings the outside in — along with boots, umbrellas and overcoats. Plan storage for outerwear and foul weather gear near the front door for an organized home.
It's the portal of passage between home and the outer world: the entryway. For the family, it's the place from which they launch themselves each day and hit the road; for guests and visitors, it's the place where they form their first impression of the house or apartment that lies beyond the front door. Try these tips to organize door areas and entryways:
In the entryway, the outside meets the inside and brings plenty of mud and moisture with it. Place entrance mats on both sides of the door to trap tracked-in dirt and rainwater before it hits your clean house.
Family comings and goings tend to deposit mail, paperwork, newspapers, magazines, library books, broken items and extra clothing at the door. Schedule regular STOP clutter sessions in the entryway.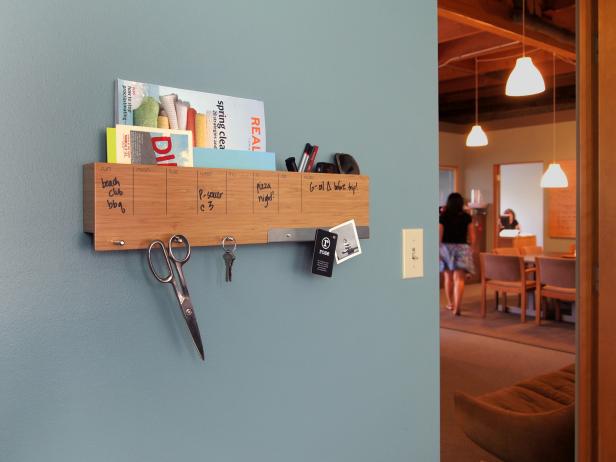 Dry-Erase Wall Organizer
Great for an entry, home office or kitchen, this dry-erase wall caddy gives you a functional way to organize all your daily essentials. The caddy includes a dry-erase surface with a day-by-day planner for planning your week, a magnetic strip for posting cards and photos, and three rear compartments for glasses, magazines, mail and more.
Make the most of wall space for storage. Hang a key rack near the door for easy access. Pegs and hooks hold rain gear, jackets and summer hats.
Hang or attach a shoe organizer on the back of the door. Roomy pockets hold mittens and scarves, sunglasses and suntan oil, pet leashes, and garden gloves and shoes where they're accessible but not in the way.
Provide a mix of open and closed storage to house entryway contents: cubbies or shelf units for baskets or dishpans used as family Launch Pads. Add a low storage bench for seating when changing shoes or donning galoshes. Label containers to help family members remember to use them.
Mission Control: Family Launch Pads
Just as a spaceship must have a dedicated structure to support liftoff, so family members need a Launch Pad to stabilize them as they blast out the door in the morning. What is a Launch Pad? It's a dedicated space — perhaps on a bookcase shelf — to contain all the "out-the-door" essentials for each person.
First Principle: Corral, Corral, Corral
So you've cleared a shelf on that bookcase? Give each family member a different-colored plastic dishpan for their Launch Pad, and nobody's field trip permission slip will walk to school with the wrong sibling or disappear behind the shelf.
Second Principle: Make Putting Away Easy
Child comes home from school, tosses homework and lunch menus in her dishpan. Dad comes home and tosses paycheck, keys, billfold, receipts and pocket change into his. There things stay, safe and segregated, until they are needed next morning.
Third Principle: Think Creatively
A Launch Pad need not be a space on shelf or table. In one family, each child has a backpack that lives on the back of its owner's dining chair. Lunches, papers and gym clothes go directly to the packs.