There are two ways to cut plexiglass. For thin sheets, a simple utility blade will work. But for thicker pieces, a power tool is recommended. Read on to learn both methods.
Some would say that learning how to cut plexiglass is an essential skill. Acrylic sheeting can be used for a myriad of purposes. It has replaced conventional glass in many applications, from picture frames to replacement windows. It became commonplace throughout the pandemic when businesses used it as barriers in stores and restaurants.
Plexiglass sheets are available in a variety of colors, transparencies and thicknesses. Acrylic is more durable than glass, making plexiglass an obvious solution for many projects.
There are several different tools that you can use to cut a sheet of plexiglass. Options will vary based on the thickness of the plastic sheet. Thin acrylic sheets (3/16" or less) are very easy to cut by hand using a scoring knife or dull utility blade. Thicker plexiglass can also be cut by hand, but it's much easier and more efficient if you use a power tool to achieve clean, straight cuts.
You don't need complicated tools to successfully cut thin acrylic sheets of plexiglass.
How to Cut Thin Plexiglass With a Hand Tool
Using a ruler, a permanent marker and a straight edge, mark where you will cut. This is the critical first step whether you're using a scoring knife or a power tool.
Keep in mind: Measure twice, cut once. When you begin scoring the plexiglass with the blade, there's no reversing the damage. Mismeasured marker lines can be easily removed with rubbing alcohol.
Use the straight edge as a guide as you begin to score the smooth surface. Using a utility blade or a scoring knife, slice gently over the marker line to create a groove. Repeatedly use the tool to deepen the score. Score the line 8-10 times.
Scoring the backside of the plexiglass helps guarantee that you will have a crisp, straight break in the plexiglass. Flip the sheet of acrylic over, realign the straight edge and score gently another 8-10 times.
The scored lines aren't deep enough to cut all the way through the acrylic, but when forced, the plastic sheet will snap on that line. Move the sheet of scored plexiglass to the edge of your work surface. Clamp it into place so that the plexiglass slightly overhangs the edge of the worktable. Hold the edge of the acrylic firmly and push it downward in one forced motion. The plexiglass will snap cleanly on the scored line.
Sam Henderson
Use sandpaper to smooth rough edges on cut acrylic.
If the edges of the plexiglass will be visible for the project, you can easily smooth out any irregularities or frayed bits of plastic with a piece of fine sandpaper.
How to Cut Thick Plexiglass With a Power Tool
While cutting a straight line through thin acrylic can be done using a simple utility blade, here are other tools to consider for your project. The tool of choice may vary based on the thickness of your plexiglass and the complexity of your cut: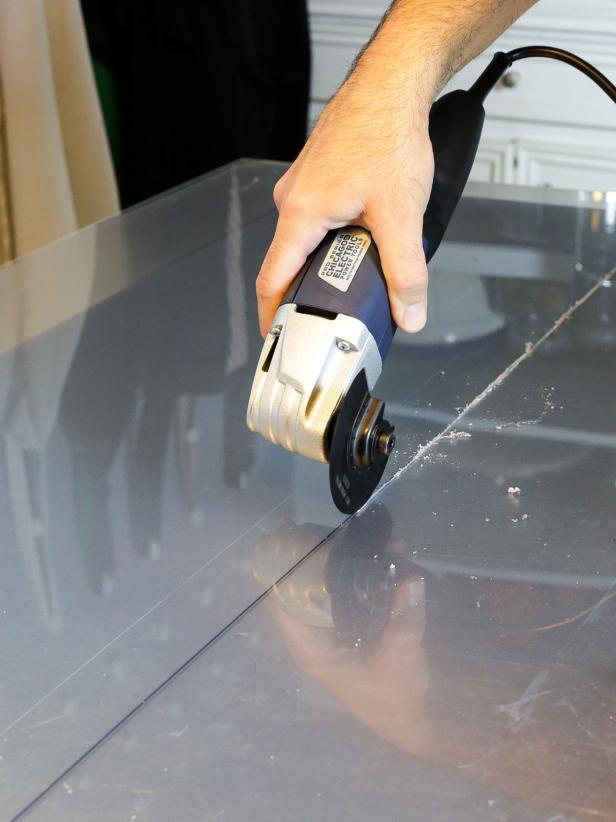 DIY Acrylic and Fabric Kitchen Backsplash, Cut Acrylic Sheet
Use power tools with acrylic blades to cut through thick plexiglass.
Use power tools with acrylic blades to cut through thick plexiglass.
While the goal is the same, the process of cutting thick plexiglass is slightly different because it requires the use of power tools.
Mapping your path is just as important on a thick piece of plexiglass. Use a straight edge and a permanent marker to indicate your cut line.
Circular saw and table saw blades can cut straight lines. If you're using a jigsaw or rotary tool, you will be able to follow curved lines.
3. Clamp Down the Plexiglass
Acrylic can "bounce," especially with the up/down agitation from a tool like a jigsaw. Securing the material to your work surface can make it easier to cut.
4. Saw in a Continuous Line
Fewer stops with the blade will reduce the likelihood of rough edges.
Pass a piece of fine sandpaper along the edge of the cut plexiglass to smooth away bits of acrylic that remain after the product is cut.
Replacing a broken window pane? Making a picture frame? Learning how to make your own stained glass? With a few simple tools, anyone can learn how to cut pieces of glass.