Replacing a broken window pane? Making a picture frame? Learning how to make your own stained glass? With a few simple tools, anyone can learn how to cut pieces of glass.
Keep in mind: Price and stock could change after publish date, and we may make money from these affiliate links.
Cutting glass need not be left to the pros. With the right tools, patience and a delicate hand, you can easily learn how to cut glass at home. This beginner tutorial shows you how to trim pieces of large glass down to smaller sizes for window and door repairs, how to cut new pieces of glass for projects or just taking your craft game to the next level.
Two common tools used for glass cutting include a traditional glass cutter and a wheeled tile and glass nipper. Both tools are inexpensive and easy to use, but they come in handy for different purposes.
Traditional glass cutters are best used for large sheets of glass, such as pieces you may be cutting down to size for replacement window panes or to right-size a piece for a picture frame.
Wheeled tile and glass nippers are best used for precise cuts that are needed for stained glass or for trimming other hard-to-cut materials like mosaic tiles or porcelain.
In this tutorial, we'll demonstrate how to cut large pieces of glass and then summarize best practices for other small, precise methods of cutting glass.
safe cutting surface
glass cleaner
dry rag or paper towels
tape or marking pencil
straight edge ruler
glass cutter
sandpaper
safety goggles
safety gloves
Step 1: Prepare Your Area
Setting up a large work surface that's covered with an old towel or blanket helps to prevent surface damage and collect any unexpected shards of glass that result from the project. Wear safety goggles and gloves while working with glass.
Clean cuts start with clean glass. Spray glass cleaner across the surface and use a dry cloth or paper towel to remove dirt and dust before measuring and cutting the glass.
Step 3: Measure Your Cuts
Use a framing square or ruler to plan and measure your cuts. For the straightest of lines, clamp a straight edge to the glass.
Step 4: Apply Cutting Oil
While it's not necessary to apply a cutting oil lubricant to the surface of the clean glass, it does make it a lot easier to slide the cutting blade and score the glass. The resulting edge is cleaner because the oil reduces friction.
You can also add a dab of cutting oil to your cutting blade for ease of use.
Line the glass cutter onto the surface of the material where you've measured and marked your cuts. Apply pressure to the cutter, rolling it away from you slowly along the straight edge.
Repeat these slow and controlled motions until the groove in the glass becomes pronounced (usually two-four passes depending on the thickness of the glass).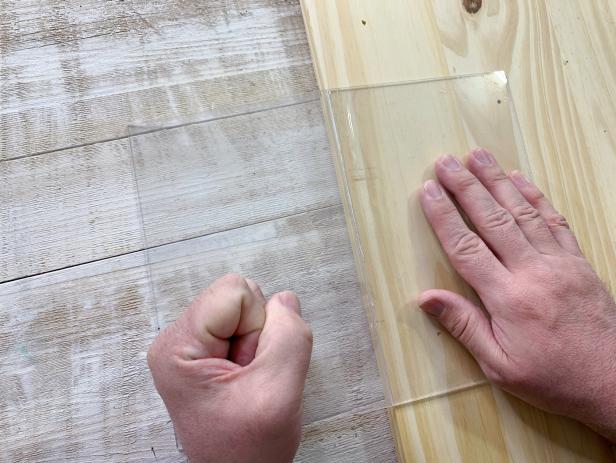 Score and Break the Acrylic Sheet in Half
Remove the protective layer from one side of the acrylic sheet. Lay the sheet down on a cutting mat and find the center. Use a ruler as a guide to carefully score the acrylic sheet about 10-15 times using the acrylic cutter. Place the sheet on an edge of a table or box with the scored line on the edge. Break it in half by pushing down forcefully on the overhanging side of the sheet until it snaps off. Tip: Sand down any rough edges for a clean smooth edge.
Once you've scored the glass, you're just about ready to snap it in half by hand. Place the cutter under the scored line to elevate the glass panel. Apply pressure with both hands at the far edges of the glass panel, on either side of the scoreline. When you fold the glass, it will snap in half. If it doesn't completely break, gently apply more pressure to encourage the glass to split.
Pass the sandpaper along the cut edges to ensure that any loose pieces are smoothed to prevent injury.
Tools to Cut Stained Glass Pieces
Trimming small pieces of glass to size for crafts is often a skill acquired for stained glass design. While you might use a traditional glass cutter like described above for initial cuts on larger pieces of glass, smaller cuts and precise trims are best handled by a different tool called a wheeled tile and glass nipper.
These trimming tools have carbide wheels that can cut precisely on direct lines without chipping or shattering the glass. Furthermore, it's a great tool to use if you craft with other hard-to-cut materials like porcelain mosaic or ceramic tile, terrazzo, agate or seashells.
Cutting the end off a glass bottle takes more practice and finesse, but once you have the hang of it, it's a great crafting skill to have. Like with large sheets of glass, it's important to score a line around the edge of the bottle with a glass cutter, but avoid going too deep because it can crack the bottle. Instead, heat the scored groove with a candle and dip the hot glass into cold water. You'll need to do this repeatedly, but eventually, the glass will cut clean at the line. Sand the edges of the glass before using it in any projects.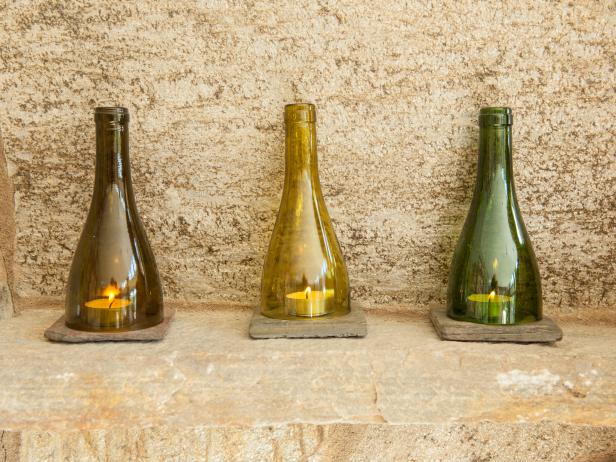 Handmade Maine: Wine Bottle Tealight Holders by Conversation Glass
Matt and Grace Staudenmaier's Etsy store was inspired by a toast and a great conversation. They turn cast off bottles into stunning, conversation-worthy glass pieces for home and business. Each glass is hand-cut and hand-sanded, and one of a kind. These upcycled wine bottle tealight holders were featured in the family room of DIY Network's Blog Cabin 2015.