Creating a Family-Friendly Kitchen
Add features like accessible food storage, durable surfaces and an open floor plan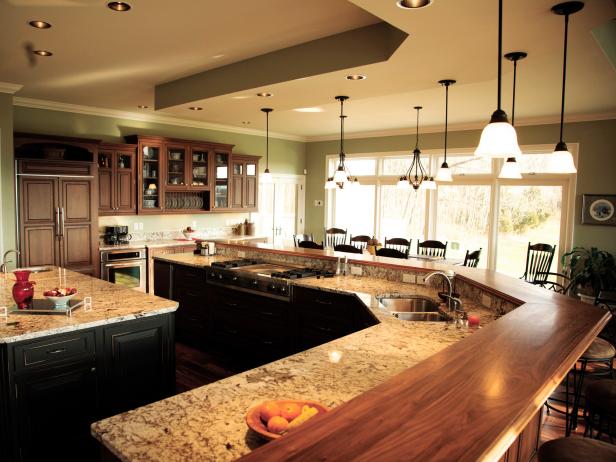 A Kitchen Built for Entertaining
The dramatic breakfast island of this large kitchen offers plenty of seating and multipurpose counter space. Pendant lighting keeps the room from feeling too dim against the flat-grain walnut wood and granite counters, while the center island boasts a deep espresso finish, which brings out the darker veins of the granite. Image courtesy of The Grothouse Lumber Company
The Grothouse Lumber Company
While gourmet and entertaining kitchens certainly can be outfitted with family-friendly features, some households focus entirely on creating a space that works for the hectic daily lives of everyone who lives there. This means accommodating children who might fix their own after-school snacks, a parent who needs a space to organize meals and activities, and even pets that eat in the kitchen. (After all, their food and treats need to be stowed away somewhere.)
Interestingly, many homeowners plan kitchen remodeling projects around their holiday plans, says Nancy Divita, showroom manager at Trevarrow Inc. "That's the time they want to show off their cooking because it brings joy and validation," she says. So if keeping side dishes warm while the turkey roasts is typically a pain, they might justify installing a warming drawer, for example. But keep in mind as you choose features for a family kitchen, the real value comes from space planning and cabinetry features that improve how the kitchen functions every day.
And, remember those children grow, and a kitchen remodel should last at least 10 years. "You want the kitchen to be adaptable so it will work for having kids around the house and empty nesters," says Mary Jo Pierce, principal, Mary Jo Pierce Inc.
How many children do you have, and how old?
How does each family member use the kitchen?
Do children prepare their own snacks and/or meals?
What about pets?
Who hosts the family gatherings, and how large are these events?
Do you cook for family gatherings (or order take-out, rely on a caterer)?
How many family members cook in the kitchen at one time?
What is each person's role in the kitchen? (For example, dad cooks on weekends, mom makes everyday meals, children prepare their own breakfast, etc.)
Describe a day in the life of your kitchen. What works? What doesn't?
Easy-to-clean surfaces. Wipeability is key with family. Quartz surfaces, a man-made product, are durable, not as porous as natural stone (so less likely to stain). For budget-savvy households, laminate is available in a variety of colors and patterns that can even emulate granite. It's not the real deal, so don't expect to fool home buyers if you put the house up for sale. But it does stand up to spills. When choosing materials, consider their forgiveness if glasses are carelessly clunked on the countertop. For example, glass tile is not shock absorbent; and quartz cushions impact better than granite.
Accessible pantry. Storage for groceries is a top concern for families, and the "consumables" zone often doesn't get the attention it deserves during planning, according to Blum, Inc., a producer of cabinet hardware. Pantry cabinets with drawers that fully extend make it easy to reach items. Perhaps children have designated pantry drawers that are lower and contain parent-approved foods. "Promoting self-sufficiency in the kitchen and healthy eating habits is important to consider," Pierce says. "If you can, make it easy for kids to make the things they like to eat."
Open plan. The kitchen and living room are practically synonymous in a family's home. One should flow into the other, and the lines between the two are getting more blurred. "The whole point is to build this beautiful kitchen that is user-friendly, but now you have to have those comforts that you used to have in your living room," Bergin says.
Snack bar. Features like an island will multi-task in a family kitchen, serving as a snack bar, dining area or place for children to do homework while a parent prepares dinner.
Refrigerator drawers. Refrigerator configurations that include separate drawers are convenient for families that stock specific items for children, giving them permission to help themselves to food in the kids' drawer. Also consider point-of-service refrigerators placed in convenient zones—even mudrooms.
Convection microwave. Speaking of multi-tasking in the kitchen, this microwave works double-time as a device for reheating and cooking, and a fast-speed oven. "A microwave can take up a great deal of real estate in the kitchen, whether installed over an oven, in a pantry or built into cabinetry," Divita says. "The ability to use the microwave as a real convection oven takes the use of that microwave one step further. It acts as a small oven, which saves you money as opposed to putting in a double-oven."
A 30-inch baker's height countertop in one zone; or a pull-out countertop that is lower and gives children ample workspace
Floor surfaces that are easy to wipe down, such as porcelain tiles
A family seating area, such as a breakfast nook, small table or even lounge chairs and a coffee table
Media such as a computer or flat-screen television
A family organization center that can be hidden away in a cabinet space, containing calendars, a bulletin board and other scheduling/messaging tools
Pet food storage bins built into cabinetry
Define work zones for each task you will do in the room, like cooking, supply storage and food prep