How to Make a Felt Ball Mobile
Add colorful charm to a kid's room or nursery with this simple, colorful mobile.
14"-16" embroidery ring
measuring tape
pencil
10 yards rattail nylon cord
scissors
yarn needle
50-60 multi-colored felt balls in various sizes
transparent tape
Remove the outer ring from the embroidery ring set. Measure the distance around the circumference of the inner ring. Divide the total distance by nine. Use that number to mark nine evenly spaced spots on the top rim of the inner ring.
Cut six pieces of cord at varying lengths between 18 and 24 inches. (Image 1) Cut the remaining cord into three 36" pieces. Divide the felt balls into nine random groups of color and size. Lay the balls in nine parallel lines and arrange them in the desired pattern. Thread the yarn needle with cord and thread the balls in order on each string. (Image 2) Group some together and leave space between some for a random pattern overall.
Adding the balls to the frame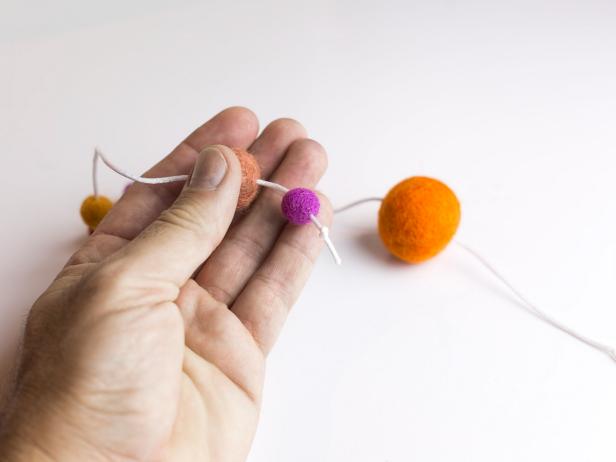 Sam Henderson
Create a colorful felt ball mobile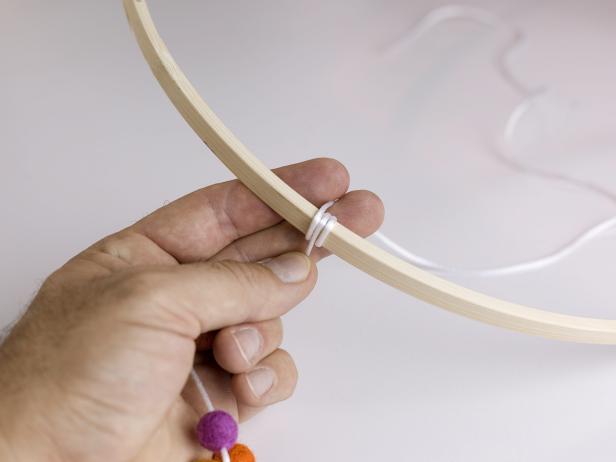 Sam Henderson
Create a colorful felt ball mobile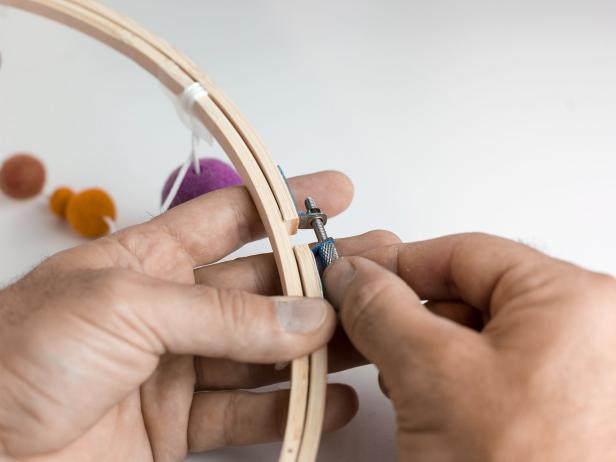 Sam Henderson
Create a colorful felt ball mobile
Tie a knot at the bottom of each string with a very small amount of tail. (Image 1) Wrap the top of the string over the outside of the ring and then around the right and left side of the first pass, finishing with the tail facing upwards and on the outside of the ring. (Image 2) Use a small piece of tape to hold the tail in place. Attach the next of the six shorter strings in the same manner. For the third string, attach one of the long 36 inch strings 16"-18" below the ring and a long tail above the ring. Repeat the process two more times using two small stings and then a long string. Place the outer ring over the inner ring and tighten it securely. (Image 3) Remove the small pieces of tape and snip the tails of the short strings as close to the rings as possible, leaving the three long tails intact.
Gather the three long strings together and hold the mobile up. Use one of the strings to tie a knot around the other two long strings about 16 inches from the top of the ring. (Image 1) Pull the other strings as necessary to make the top of the ring balanced and level and then tighten the knot.
Lay the mobile on a flat surface and braid the three long pieces of cord together to make the hanger. (Image 2) Tie a knot at the end of the braid. Tie a loop with the braid to place over a hook in the ceiling.
Make adjustments in the pattern by sliding the balls up and down on the strings to achieve the desired design.