Which Countertops Have to Be Sealed?
Natural stone countertops are a classic addition to any kitchen or bathroom. But that beauty comes with regular maintenance, such as sealing, to protect from wear and tear.
There are many details to consider when deciding on a countertop material for your kitchen or bathroom, from cost to durability to appearance. One factor you don't want to overlook is what happens after installation? Will your countertop require consistent maintenance or do you want something that needs no attention? There are dozens of countertop materials to choose from, but a handful of them require more TLC to ensure a long life.
Why Do Stone Countertops Need Sealing?
Natural stone material such as granite and marble is porous, and if left unsealed, will allow liquids to seep in and cause damage. Keep in mind that the more porous the stone, the more susceptible it is to liquid damage and stains. Here's what can happen to "naked" natural stone:
Unsealed stone will quickly absorb spilled food and liquids, leading to unsightly and sometimes irreversible stains.
Kitchen and bathroom countertops get wet, and water permeates into stone and causes stains and water damage.
Cleaning products are the enemy of natural stone. Citrus is a common ingredient in household cleaners and can easily damage or discolor a countertop finish.
Which Types of Stone Need Sealing?
Before you dive into a big countertop project, let's look at some of the most popular countertop surfaces that need regular sealing, to help gauge what material fits best with your home and lifestyle.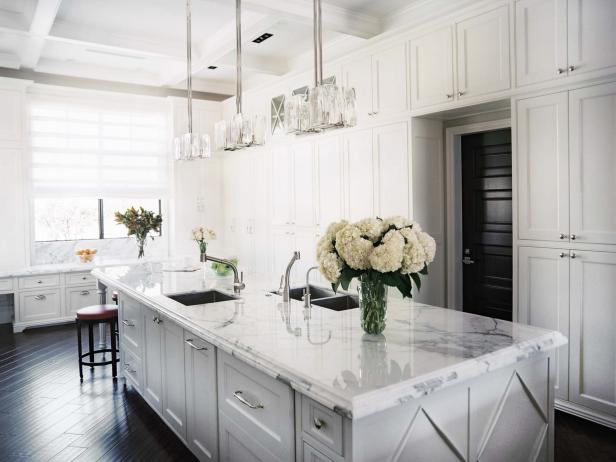 Traditional White Kitchen Featuring Floor-to-Ceiling Cabinets
Statuary marble counters top the cabinets in this elegant gourmet kitchen.
One of the most luxurious countertop materials available, marble will instantly elevate your kitchen or bathroom, but it requires some regular sealing to ensure its legacy.
Incredibly good looks

High maintenance cost

Not a good choice for heavy use areas

Susceptible to chips and stains
The natural inspiration for engineered quartz countertops, quartzite's natural beauty and glassy luster is a hit in any room.
Toughness built into its DNA

Attention-grabbing appearance

Will last forever if regularly sealed

Resistant to scratching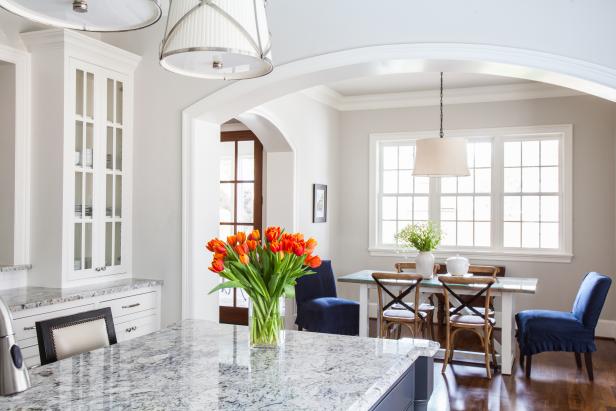 White Open Plan Transitional Kitchen With Tulips
In a white kitchen, it's helpful to incorporate texture as it visually breaks up the stretches of cabinetry and walls. Glass-front cabinet doors and granite countertops do the job nicely in this pretty kitchen.
Granite is super tough and a very popular choice in kitchens and bathrooms alike. Like marble, some granite varieties need maintenance and sealing at regular intervals.
Sophisticated looks that dress up any room

Durable and very heat resistant

Thousands of available colors

Medium to high maintenance cost
Natural stone right out of the ground is indeed tough stuff, but "hard as a rock" doesn't mean an impenetrable force. Even the mightiest are susceptible to wear and damage if not given adequate care. Your rock-solid countertop can still be roughed up and left with unattractive scars or stains.
But it's not all gloom and doom because maintaining a stone countertop is easy. All it takes is a stone-specific sealer applied at regular intervals to ward off the bad stuff. Never sealed stone before? Here's how:
First up, thoroughly clean the countertop with a stone-safe cleaner. Then grab the sealer and spray it onto the stone in two-to three-foot sections. Immediately wipe it into the counter with a clean, lint-free cloth, followed by buffing until dry. The end result is a mirror-smooth shine protected from the elements.